Guide to Samsung Pay
Samsung Pay is a feature of Samsung Wallet, which allows you to make contactless payments through Samsung devices
What is Samsung Pay? 
Samsung Pay is a feature of Samsung Wallet, an online payment system which you can use on your Samsung devices. Initially released in 2015, Samsung Pay works similarly to other popular contactless payment types, such as Google Pay and Apple Pay.
You can make payments using NFC (Near-field communication) and MST (magnetic secure transmission) smartphones with Samsung Wallet. 
Near Field Communication (NFC) technology allows you to make contactless payments. For NFC to work the transmissions need to be at a close distance (4cm or less).  
Magnetic secure transmission (MST) works by emitting signals that mimics the magnetic stripe found on payment cards. Because of this MST can be used at older card readers and not just newer ones built for contactless. 
You're able to link Samsung Wallet with your credit and debit cards so you can make payments. You can link up to 10 payment cards to use with Samsung Wallet.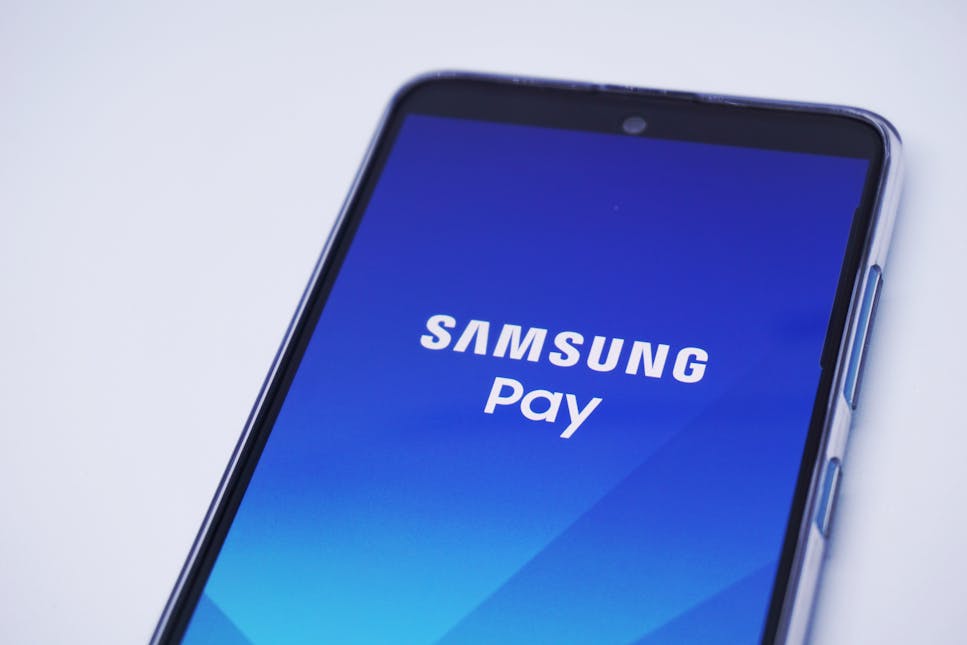 How does Samsung Pay work? 
Here are the two ways you can set up Samsung Pay: 
On your smartphone 
You can activate Samsung Pay on your smartphone by visiting your home screen and touching 'Apps'. You will need to sign in and enter your Samsung account ID and password. You'll be able to set up fingerprint and PIN verification to authenticate your payments. You can then add your credit and debitds to be able to make payments.   
On your smartwatch 
On your phone, open the Galaxy Wearable app. Go to the Home tab and then tap on Samsung Wallet. You then need to tap 'Import cards' which will import your card from the Samsung Pay app to your smartwatch. You may need to verify your card with a one-time passcode depending on your bank. 
Samsung Wallet operates as a digital wallet and you can also use it in conjunction with your loyalty cards e.g. Boots advantage card. Another nifty feature of Samsung Wallet for Londoners is that it can be used to pay for Transport for London services. Samsung Wallet allows you to set up a 'transport card' which can be used on TFL by tapping your phone against the card reader. You can use Samsung Wallet wherever you see the contactless payment symbol. 
Is Samsung Pay safe? 
You can keep your Samsung Wallet transactions safe and secure by: 
Iris scanner: You can authorise payments with your eyes using the iris scanner, which is a form of biometric authentication 

PIN verification: You can secure payments by using your Samsung PIN 

Fingerprint verification: You can also scan your fingerprint to authenticate your transactions 
 In addition to this, Samsung Pay uses tokenisation which creates a random set of numbers every time you make a new payment. This means your actual card number is never needed from your Samsung device. Samsung Wallet also doesn't have direct access to your bank account, just the transactions you make with the payment system.  
If you lose your smartphone, you need to contact Samsung who will give you a new Samsung Pay + number which will keep your linked payment cards safe. You'll have to answer security questions so you can add Samsung Wallet to your new device. If Samsung knows you've lost your smartphone, they'll protect you by blocking all unauthorised transactions. 
Where can I use Samsung Pay? 
You're able to use Samsung Pay wherever you see the contactless logo – four curved lines which look similar to the Wi-Fi Symbol. However, because Samsung Pay uses magnetic secure transmission (MST) technology it can also be used on card readers which aren't built for contactless payments. By being MST-enabled, Samsung Pay uses the technology that's used when you swipe your card. You should be able to use Samsung Pay in most shops and venues which accept contactless payments.  
Samsung Wallet is supported by devices in the Galaxy range, Note range, S range, A range and J range. You can use Samsung Wallet with Gear S3, S2 and Gear Sport smartwatches. 
What are the pros and cons of Samsung Pay? 
There are advantages and disadvantages to using the contactless payment system:
 Pros 
Safe and secure: Samsung Pay uses different types of verification to authorise your purchases including PIN verification, fingerprint authentication and iris scanning. These layers of security can give you added confidence when you use the payment system 

Not limited to phones: Samsung Wallet can also be used with selected Samsung smartwatches 

MST equipped: Unlike Google Pay which is NFC-enabled, Samsung Pay is powered by MST technology and supports NFC transactions. This means you can use it on card readers which don't support contactless payments 

Quick and convenient: With Samsung Pay, you no longer have to reach for your wallet or even bring it. Samsung Wallet allows you to make payments quickly all from the comfort of your smartwatch or smartphone 

Loyalty cards: You can also use Samsung Wallet to store loyalty cards meaning you can gain points from your favourite shops while on the go 
Cons 
Not accepted everywhere: Samsung Pay isn't supported by as many banks as Apple Pay and Google Pay. Also, not all retailers will accept Samsung Pay so you should still carry cash, debit and credit cards just in case 

Not compatible with a wide range of devices: When compared with Apple Pay and Google Pay, Samsung Pay isn't supported by a wide range of devices. Apple Pay is compatible with Touch ID-enabled iPhones, iPads and Macs and Google Pay supports a variety of Androids. Samsung Pay only works with a selected range of Samsung devices which can feel more limiting 
Which banks support Samsung Pay? 
In the UK, the following banks support Samsung Pay: 
HSBC 

Nationwide 

Santander 

American Express 

Starling Bank 

Wise 
What is the Samsung Pay limit? 
Although Samsung Pay isn't subject to the £100 limit, it will depend on the limit the merchant has set for Samsung Pay. So, you may be unable to make payments over £100 if the merchant has put it as their limit for Samsung Wallet. 
Other useful guides  
If you want to know more about contactless payments, we have a range of guides for you to read: 
Compare credit cards with MoneySuperMarket 
If want to apply for a credit card, make sure you get the right card for you.   
We have a wide range of credit card deals for you to compare. Searching won't harm your credit score as we use a 'soft search'. You can compare credit cards with confidence as we'll show your chances of being accepted and also if  you're pre-approved for any deals.  
MoneySuperMarket is a credit broker – this means we'll show you products offered by lenders. We never take a fee from customers for this service. Instead, we are usually paid a fee by the lenders, but the size of that payment doesn't affect how we show products to customers.