How credit card contactless payments work  
Contactless payments are a popular way to pay. Here we cover how 'tap and go' works on credit and debit cards, the limits on spending, and what happens if your card is stolen.
What is a contactless payment?
A contactless payment is a method of paying for something by tapping or waving your contactless device (usually your credit card, debit card, or smartphone) over a reader, which then accepts the payment. It allows you to make low-value payments quickly, rather than entering your PIN (personal identification number).
They have grown in popularity over the last few years, largely because of the covid pandemic which saw a big fall in the use of cash, and you can now choose contactless at most retailers across the country.
You can set up your credit card or debit card for contactless payments on the card itself (through your bank), with your mobile phone, smart watch, or other contactless device. Contactless payments are also often referred to as 'tap-and-go' by some banks and retailers.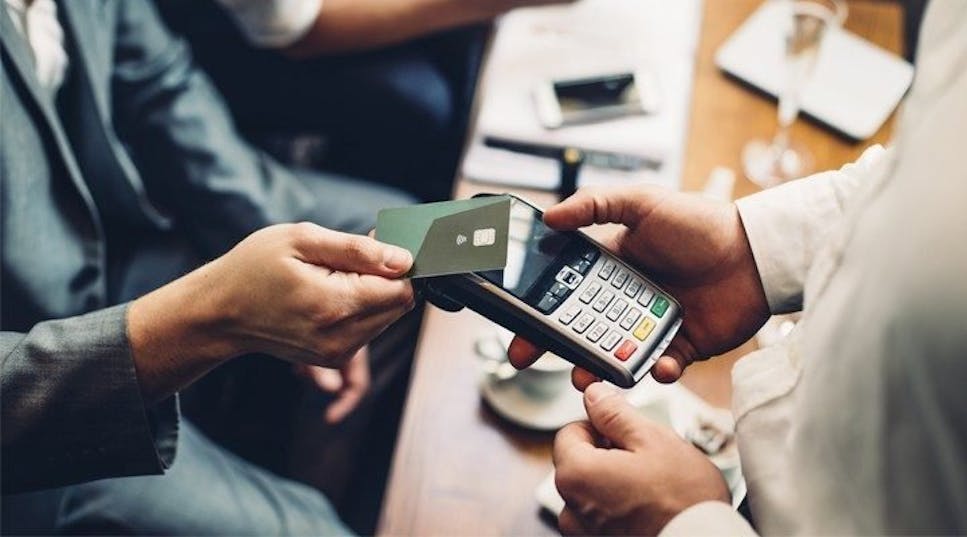 How do contactless payments work?
Contactless payment cards have a chip inside them that emits radio waves. An antenna is built into the plastic to secure the connection with a contactless reader. This is known as radio frequency identification (RFID) technology. 
To pay for something with a contactless credit or debit card, you hold the card near a payment terminal (known as an RFID reader) and it picks up the signal, communicates with the card and processes the payment.
The payment terminal will say if the payment was successful or not. Sometimes it doesn't work, and you'll need to use your PIN instead. If you've used your credit card and the payment was declined, you may have reached your credit card limit.
What does the contactless symbol look like?  
You can tell whether your credit or debit card can make contactless payments if it has the contactless symbol. You can find the contactless symbol on the back of your card. The contactless symbol is four curved waves and looks similar to the Wi-Fi symbol. You can tell if a payment reader will accept contactless payments if you can see the contactless symbol on the machine.
How do I use a contactless payment card?
Whether you're using your debit card or credit card, the contactless payment works in the same way. Here's how to use a contactless payment card step-by-step:
When making a payment, look for the contactless symbol on the card machine. If the card machine accepts contactless payments, the four curved lines that are on your card should also appear on the reader

When prompted to pay, tap or hold your card on top of the contactless symbol on the card reader

You'll receive confirmation that your transaction is successful, by either a beep, green light, or a checkmark on the screen.
What is the limit on contactless?
The limit for a contactless transaction increased from £45 to £100 on 15 October 2021. Any card transactions higher than £100 will still need you to enter your PIN.
If you pay with your mobile phone, you can pay contactless for amounts up to £100. If you're spending between £100 and £300, you can touch and pay by entering your PIN into your phone. To pay with your smartwatch, you'll usually need to press the side button to pay with contactless.
Where can I use my contactless card?
You should be able to pay using this method in most retailers including shops, restaurants, bars, cafes, taxis, and automated services like vending machines. Some shops may require you to spend a minimum amount to use contactless payment e.g. £5. 
Contactless payments are also often now accepted on public transport such as busses and trains.
Data provided by UK Finance, based on credit and debit card transactions in July 2021, accurate as of October 2021
What are the pros and cons of contactless cards? 
There are several pros and cons that come with paying with contactless, including: 
Advantages of contactless 
Speed and convenience: Contactless payments mean you won't have to spend time entering your PIN.

Extra security: Contactless payments have extra security measures in place, like limiting the number of transactions you can make before needing to enter your PIN.

More hygienic: Paying with contactless is said to be a more hygienic way to pay as you aren't touching physical cash or the pin pad on the payment terminal.
Disadvantages of contactless 
There are risks associated with contactless payments, such as: 
Easy access for criminals: If your card is lost or stolen, someone might be quickly and easily able to make contactless payments using your card. This means it's even more important to report your card as stolen to your provider as soon as you notice it's missing 

Travelling: Contactless hasn't been as widely adopted abroad so you may need to enter your PIN or take currency when travelling overseas 

Temptation to overspend: Because contactless payments just require a tap on a payment reader – it can be easier to overspend. When using cash, you can physically see how much money you're spending and it may make you reconsider your purchases 
Do I have to activate my contactless card?
When you receive your contactless card in the post, you'll need to make a Chip and PIN payment to activate it as you would with any other bank card before you use contactless for the first time.
There'll usually be a sticker on the front of your new card, with a telephone number of the activation line. Some banks also allow you to activate your card in a branch using a paying-in terminal or cash machine. Then you'll just need to make a normal chip and PIN payment for your first payment and from there, your contactless card should automatically work.
If you're looking to set up contactless on other devices like your phone, you should be given instructions by your provider on how to do this. For Apple phones, for example, you may be asked to use your fingerprint or facial recognition to activate contactless.
Is my contactless card protected if it gets lost or stolen?
The chip on your contactless card can protect you against fraudulent activity. The chip uses a sophisticated system of unique codes and electronic signatures every time a payment is made, which reduces the likelihood that your card details can be cloned or intercepted.
Your bank will contact you if they spot any suspicious activity on your account. You'll also be asked from time-to-time to input your PIN after making a series of contactless payments, to improve your account's security.
Concerned that your contactless card has been lost in the post? If your card hasn't arrived within 10 days of ordering it, contact your bank. That way, you can check if it's been stolen or lost, and discuss alternative options like cancelling your card and getting it sent to your nearest branch.
Looking for more information on credit card safety? Our guide explains how credit card protection works.
Our expert says...
"Technology has moved on in leaps and bounds in the last few years, thanks largely to the Coronavirus pandemic when many retailers stopped accepting cash and shoppers often had no choice but to use contactless payments. There are many benefits too, they're easy, quick, and eradicate the hassle of rooting around for your payment card and remembering multiple PINs. Yet as with anything new, it's important to be extra vigilant and to report anything suspicious as soon as you spot it."
Other useful guides 
Want to learn more about contactless payments and credit cards? MoneySuperMarket has got you covered: 
Compare credit cards with MoneySuperMarket
Most credit cards offer contactless payments and if you're looking for your next credit card, MoneySuperMarket is here to help. We compare deals from the UK's leading card providers to find you the best deal to suit you.
To find out which cards you'll be accepted for without affecting your credit score, try our quick and easy eligibility checker. You'll see your personalised chance of approval for all credit cards, so you can easily compare your options and make an informed decision before you apply.
MoneySuperMarket is a credit broker – this means we'll show you products offered by lenders. We never take a fee from customers for this broking service. Instead, we are usually paid a fee by the lenders – though the size of that payment doesn't affect how we show products to customers.
Frequently asked questions
What if the contactless card doesn't work?
If your contactless card doesn't work, you should contact your card provider and request a replacement.
If you're trying to pay for something and your contactless payment doesn't work, just insert your card and enter your PIN for the transaction to go through.
Can I opt out of a contactless card?
If you'd prefer to opt out of having a contactless credit card, it's best to contact your bank or card provider. Whether you can opt out of having a contactless card will depend on who you bank with. If the bank isn't able to let you 'opt out' of contactless it may be worth comparing credit cards, to find a provider that better suits your preferences.
How do the payments show up on my bank statement?
When you make a contactless payment, your transaction will show on your bank or credit card statement with the universal contactless wave symbol next to it.
It's wise to keep an eye on your payment history, just as you would with chip and PIN transactions and bank transfers. If you notice anything suspicious or unfamiliar contact your bank immediately.
What happens if I am charged multiple times for the same transaction?
Being charged twice for one transaction when paying with contactless is highly unlikely. This is because once you've placed your card or smartphone on the card reader, the transaction is complete.
Payment terminals have been designed to prevent you paying for the same thing twice, so the chances of you getting charged double are highly unlikely.
Some terminals will ask you to only present one card if it can detect two, while others might cancel the transaction entirely to avoid overcharging.
Can I use my contactless card abroad?
You should be able to use your contactless card abroad if the option to pay with contactless is available to you. If the retailer doesn't display the contactless symbol on their card reader, you may have to pay by inserting your card into the card reader and punching in your PIN or with cash.