Credit card fraud
Credit cards can be handy but in the wrong hands – there can be dire consequences. Find out how to keep your plastic safe and secure
Millions of us rely on credit cards, perhaps for major purchases we can't afford to pay for outright, or just to manage our money from week to week. In the vast majority of cases, things run smoothly and we don't encounter any problems. 
But fraudsters are always trying to find ways to con us out of our cash, so it's a good idea to swot up on the different scams they use so you can avoid being caught out.  
What are the most common credit card scams?
Phishing
One of the fraudsters' main tactics is to contact you by email, phone or post, pretending to be your bank or building society, and ask you to reveal security information, such as your account number and PIN. This is known as 'phishing'.  
Your bank will never do this, and neither will the police or any other legitimate organisation, so never give out yourbank account, card details or PIN to anyone.  
Try to avoid using family birthdays as your PIN, it can be easy for fraudsters to track down these dates and work out what your PIN is. 
Skimming
Scammers are always finding new ways to clone or copy your credit card and then use it fraudulently. They may use an electronic device to 'skim' card details from victims, often when you are using it in shops, restaurants and bars.   
Your bank will be in touch if they spot any unusual, or potentially fraudulent, transactions and will cancel your card after verifying with you if the transactions were yours.  
ID fraud
Criminals can also use your personal details, such as your name, address and PIN number so that they can pose as you and set up new credit card accounts or take out loans in your name.  
Sometimes the first you'll know about the crime is when the lenders try to chase you for the debt.  
Always take care when disposing of correspondence and documentation – don't put bank statements or similar items in the rubbish without shredding or destroying them first. 
How to protect yourself against credit card scams
Don't give out your bank details or PIN or write them down.  If you do you could be accused of negligence by your bank or lender and that means if you are defrauded that you won't be able to get your money back. 

NEVER share your PIN. If you're asked for personal information, such as your PIN over the phone, via email or in person, do not share it. A legitimate company will never ask you to provide this information. 

Be cautious around emails asking for personal information. If you receive an email asking you to verify personal or card details, play it safe and delete it. Never click on a link within an email as this may give the scammers access to information stored on your computer. 

Use public Wi-Fi sensibly. Beware of carrying out financial transactions or logging onto your online banking on a laptop, tablet or mobile phone usinga public Wi-Fi network as criminals might try to intercept your communications. 

Dispose of confidential documents appropriately. Shred documents which contain personal information that could be used by fraudsters. 

Don't choose an obvious PIN. Try to avoid using family birthdays as your PIN, as fraudsters might track down these dates and work out what your PIN is.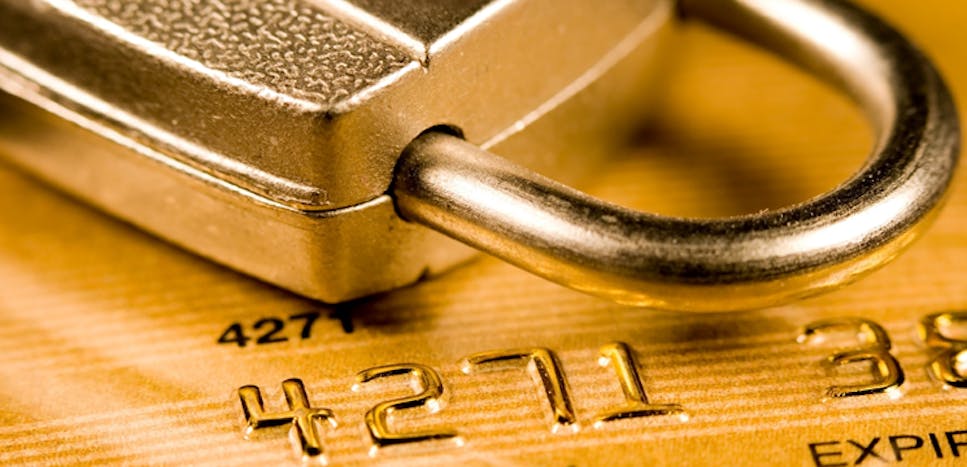 What to do if your card is lost or stolen
If your credit card is lost or stolen call your card issuer as soon as possible so it can be 'stopped' – that is, no more transactions permitted and the account is frozen. If you don't, the card could be used fraudulently. 
What is the credit card security code? 
Sometimes called CVV or CVC, the credit card security code is a 3 or 4 digit code on the reverse side of the credit card. The code is an extra layer of protection to make sure that you physically have the card. Security codes are also commonly used to verify online purchases. 
Why should I check my credit history  
As well as regularly checking your card statements carefully to see if your details have been used without your knowledge, it's a good idea to keep a close eye on your credit file. 
You can get hold of this for free from any of the main credit reference agencies. MoneySuperMarket's free credit monitor service uses theTransUnionCRA. You can use credit monitor to check your credit score and seeif anyone has opened any credit card accounts in your name, or has made other credit applications, for example, for a personal loan. 
What to do if you're a victim of credit card fraud 
If you fall victim to credit card fraud, or you are suspicious of an email or phone call, contact your card provider immediately. You should also report it to Action Fraud.  
Other useful guides
If you want to understand more about credit cards, we have a range of helpful guides including:   
Advantages and disadvantages of credit cards 
Compare credit cards with MoneySuperMarket

If you're looking to apply for a credit card, make sure you get the best card for you.  You can search our wide range of card deals from leading UK lenders. And searching won't affect your credit score in any way. We'll show you your chances of being accepted – and if you're pre-approved for any cards.   
MoneySuperMarket is a credit broker – this means we'll show you products offered by lenders. We never take a fee from customers for this service. Instead we are usually paid a fee by the lenders, but the size of that payment doesn't affect how we show products to customers.