When is my MOT due?
Do you know when your MOT is due? Find out how long your MOT certificate is valid for, how to check it's due date, and whether you can drive without a valid MOT.
When is my car MOT due?
Your car will need an MOT by the time it reaches its third year anniversary of registration – or the anniversary of the last MOT if it's more than three years old.
How do I check when my MOT is due?
You can easily check when your MOT is due by using the vehicle enquiry service on the GOV.UK website. All you need to do is enter your vehicle registration number and you will be given access to information such as your MOT expiration date, your road tax due date, your vehicle specs and more.
Through the GOV.UK website you will also have access to a range of DVLA and DVSA services. You can:
Register your vehicle as off the road

Get a duplicate or replacement log book (V5C)

Update the main address of your vehicle

Update the information of a vehicle you've sold or bought
How up to date is the MOT expiry date information?
I can take up to five days for the DVLA to update the data on the MOT database. If it's been longer than five days since you had your MOT and it's still not updated, you should contact the DVSA.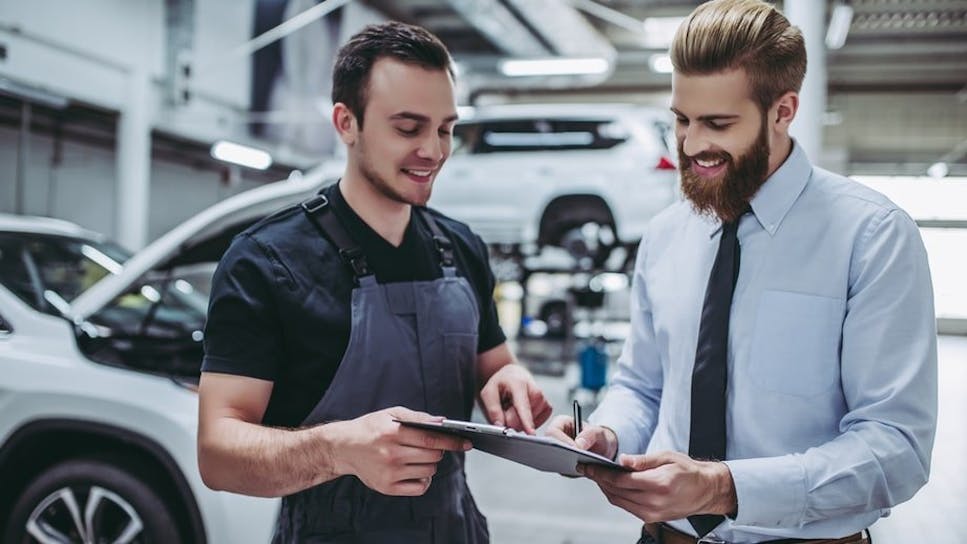 Can I get a reminder for when my MOT is due?
You can sign up for an MOT reminder service on the GOV.UK website after entering your licence plate number. When you opt-in to receive reminders, you will receive email and text messages leading up to your vehicles next MOT renewal date to remind you to renew.
How long is an MOT certificate valid for?
An MOT certificate is valid for 12 months, starting from the date of your last MOT test. However, you don't have to wait for your MOT to expire before you renew it. You can renew your MOT up to a month before it expires (minus one day) without changing your renewal date. Renewing your MOT any earlier than that will change your renewal date.
Do I need an MOT?
Once your car is three years old, you'll need to get an MOT once every year. It's a good idea to get your MOT before your old one runs out, though – that way, if your car needs repairs, you can still drive it until your certificate expires.
Luckily, you can get your car retested up to a month before its MOT expires, and still keep your renewal date. So if your MOT expires in September and you get your car checked in August, you still won't need to check it again until the following September. 
Is my car exempt from MOT?
Some vehicles don't need an annual MOT. If your car was built in the last three years, it won't need a check-up – but you might also be exempt if your car is much older.
Classic cars are exempt from MOTs, so long as they meet the government's definition – that's any car more than 40 years old, and which hasn't had any modifications in the last 30 years. 
A car also doesn't need an MOT if it's been officially taken off the road. 
How early can I get an MOT
You'll be able to get your MOT done up to a month (minus one day) before your last certificate expires, while still retaining the same renewal date.
Our expert says
"Nearly a third of vehicles fail the MOT but there are some simple checks you can do before the test to help prevent your car from failing. These include checking all the lights are working correctly, inspecting your tyres and checking the tyre tread depth (the legal minimum is 1.6mm), checking the condition of your windscreen wipers, and topping up the screen wash, brake fluid and oil, if necessary."
What happens if I drive without an MOT?
Driving without an MOT is against the law. You could be fined up to £1,000 if you're caught. If the MOT finds that your car is 'dangerous' and you drive it anyway, the penalties are even stiffer - £2,500, 3 penalty points, and you could be banned from driving. 
The only legal reason you can drive a non-exempt car without an MOT is if you're driving to an approved MOT centre for a pre-booked appointment. Even then, it's best to keep your appointment confirmation with you, just in case you get pulled over.
If you forget to renew your MOT, your next step should be to book one as soon as possible at an approved MOT test centre. You are still legally allowed to drive your car straight to your test but there are garages that will pick up and and return your car for you.
Can I park my car on the road if it doesn't have an MOT?
You won't be able to park your car on the road without a valid MOT and tax – you may receive a fine or your vehicle may be seized if you don't have the right paperwork.
Do I need an MOT if my car is kept on private lands?
If your car is kept on private lands with a SORN (statutory off road notice) it won't need a valid MOT – but you'll still need to tell the DVSA it's being kept off the road.
Compare car insurance quotes
Car insurance, like MOTs and road tax, is a legal requirement to drive on UK roads – and finding cheaper cover is easier when you compare quotes with MoneySuperMarket. Just tell us about yourself, your driving history and the vehicle you want to insure, and we'll search the markets for deals that match your needs.
You'll be able to compare quotes by the cost, the overall cover you get, and the excess you'll need to pay to make a claim. Once you've found the deal you want, just click through to the provider to finalise your purchase and you'll be ready to hit the road.