Finding affordable van insurance for convicted drivers
If you've been convicted of a criminal offence, related to motoring or not, it can be harder to find an affordable quote for van insurance, but there are steps you can take to help
How do driving convictions work?
If you commit a criminal offence on the road, you'll be fined by the courts and your driving record will be endorsed. These endorsements can stay on your driving record for 4 or 11 years, depending on which offence you committed. You'll also get penalty points on your licence.
The number of points you receive also depends on the nature of the offence. But if you collect 12 penalty points within three years, you may be disqualified from driving.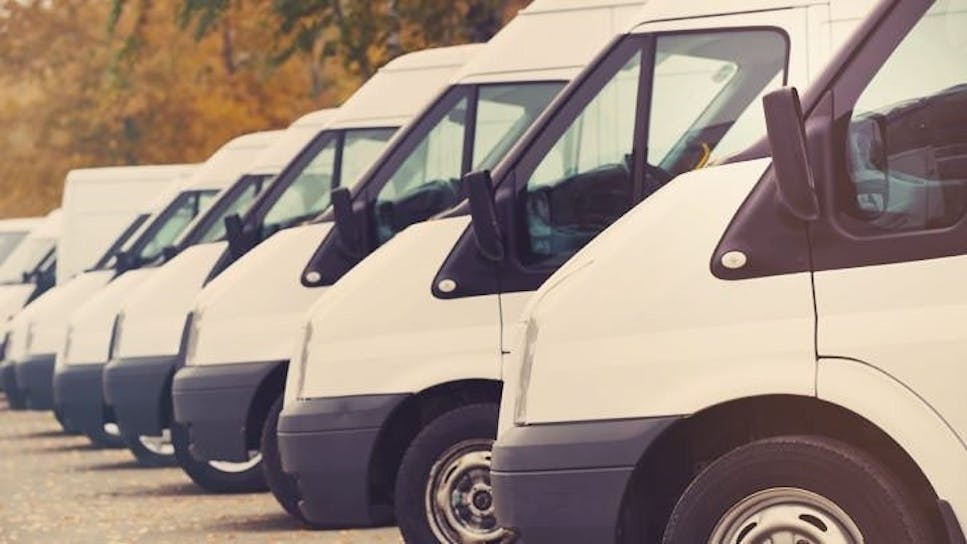 Do I need van insurance for convicted drivers?
If you have criminal convictions on your record, it could make getting a van insurance policy difficult. It doesn't have to be a driving conviction, as any minor offence could have an impact.
Even if you do find cover, there is a possibility that you'll have to pay a lot more than someone without any convictions. This is because drivers with criminal convictions are seen as high claim risks, as they are statistically more likely to be involved in accidents.
However, due to the continuous insurance enforcement rule, you won't be able to drive your van without insurance. Unless you declare it 'off road' with a statutory off-road notification with the DVLA, it will have to be insured either way.
Remember, you must declare any unspent convictions on your record when you apply for insurance. A criminal conviction becomes 'spent' – meaning it can be ignored – following a set period of time, after which you won't need to declare it. The length of this time period depends on the offence you've committed.
What do I need to declare?
When getting a quote for your van insurance, you must declare any convictions. Whether they are motoring or criminal, you need to inform your insurer about any convictions unless they are spent.
All convictions become spent after a certain amount of time, depending on the seriousness of the offence. This is not the case, however, if it resulted in a prison sentence of two and a half years or more.
When it comes to making a claim, failure to declare your unspent convictions could make your policy invalid. Plus, it will end up costing you a lot more.
What offences can turn into a driving conviction?
There are many different offences that can easily result in a driving conviction. Here are the most prominent:
Speeding – Speeding is deemed as a dangerous driving offence, as it significantly impedes your ability to stop in a situation of emergency. If you're driving at a speed that's 10% over the limit, you could receive a £100 fine and three points on your driving licence.
Driving with no insurance – By law, every motorist needs to have vehicle insurance to drive on UK roads. If you're driving without insurance, you are committing a serious offence. Being caught without valid insurance can result in fines, a mark on your record, and a minimum of six points on your driving licence.
Drink or drug driving – In the case of a drink driving conviction, you could face hefty fines, several points on your licence, a driving ban, or even a prison sentence. When it comes to driving under the influence of drugs, no matter how much is in your body, you will always have to deal with severe consequences.
Driving penalty codes
Each driving offence and its corresponding endorsement has a unique code and a set number of penalty points attached. The penalty points can be given as an exact number or a range of numbers.
Here are the most commonly declared driving penalty codes*:
| Penalty code | Offence | Points |
| --- | --- | --- |
| SP30 | Exceeding the statutory speed limit on a public road | 3 - 6 |
| SP50 | Exceeding the speed limit on a motorway | 3 - 6 |
| IN10 | Using a vehicle uninsured against third-party risks | 6 - 8 |
| CU80 | Breach of requirements as to control of the vehicle, such as using a mobile phone | 3 - 6 |
| SP10 | Exceeding the speed limit of a goods vehicle | 3 - 6 |
Data supplied by AutoNet Insurance, accurate as of April 2022.
Do I need to tell my insurance provider if I'm convicted while I have van insurance?
If you already have van insurance at the time you commit an offence, you don't need to declare it to your insurance company. You only need to inform them when renewing your policy, unless it is stated otherwise in your contract.
How long does IN10 affect my insurance?
An IN10 is a driving without insurance conviction, and it stays on your licence for four years from the date of the offence. You can also get up to eight penalty points on your licence.
How long does a DG10 stay on your driving record?
DG convictions relate to motorists that have been caught driving under the influence of drugs. DG10, specifically, concerns offenders that have been driving – or attempted to drive – whilst their drugs levels were above the limit.
In this scenario, your offence will stay on your driving record for 11 years after the conviction. Not only that, but you are likely to be banned from driving for at least one year, and receive pricey fines, a community order, and/or up to six months in prison.
How do I find affordable van insurance for convicted drivers?
There are steps you can take to help reduce the cost of van insurance if you're a convicted driver. For example, you could:
Pay more excess

: An excess payment is the compulsory amount you contribute to your claim before your insurer pays the rest. Some insurers let you make voluntary excess payments in addition to the compulsory amount. The more you pay voluntarily, the cheaper your quote is likely to be.

Reduce your estimated mileage

: Reducing the amount you intend to drive your van can also help lower your premiums. In fact, spending less time on the road cuts down the chances of you having to claim.

Improve your van's security

: Keeping your van locked up in a garage and installing security features can prevent theft. This means you'll be less likely to claim on your insurance.

Try a telematics policy: Telematics or 'black box' insurance sees a device fitted to your van, allowing your insurer to monitor your driving habits. They'll use this to regularly alter your premium.

Sign up for driving courses: If you were banned from driving as a result of a conviction, you may be able to shorten the ban by taking certain driving courses. For instance, if your offence was speeding, you can attend a speed awareness course rather than accepting points. You will have to pay for the course, but you will avoid pricey insurance hikes. Overall, driving courses could also then lower your premium costs.

Use a smaller van: Generally speaking, smaller vans are easier to control. Therefore, you'll be less likely to make a claim on your policy.

Reduce your add-ons: Adding extras to your insurance policy can be useful due to the improved level of cover. However, cutting down on any unnecessary extras can help you keep your premiums down.
Compare van insurance for convicted drivers
If you're looking for van insurance for convicted drivers, comparing your options on MoneySuperMarket is the easiest way to find the best possible deal. All you need to do is tell us a bit about yourself, your driving, and claims history. Moreover, you should mention any convictions, as well as the van you want to insure.
Then, we'll show you a list of quotes tailored to your needs. This way, you can browse through and compare deals by the monthly and annual cost, the excess amount, and the level of coverage you'll get. Once you've found the ideal quote, just click through to the provider to finalise your purchase.
However, you should remember that the cheapest available quote isn't always the most suitable. It's better to aim for a balance between the price and the level of cover you get. This way, you'll get the right policy without being over- or under-insured.