Find the best senior dog insurance UK
Our guide will help you find the best pet insurance for senior dogs. Get to grips with finding the right cover for the right cost and compare policies online
While it's always recommended to get pet insurance when your pooch is young and healthy, we understand that it's not always possible. Senior dogs shouldn't have to miss out on valuable insurance protection just because they're a little more experienced. 
Many pet insurance providers allow you to purchase pet insurance for senior dogs as old as 10 and up, and some will even enrol dogs as old as 15. These policies will cover important vet bills as well as some valuable extras to help you afford important healthcare for your senior dog. 
What to know before buying senior dog insurance 
Before you start browsing pet insurance for older dogs, there are a few questions you can answer to help you find the best policy.
How much cover do I need? 
The most difficult part of shopping for pet insurance is deciding on the amount of cover you need. You're going to be presented with a lot of policy options, including extra cover options that some providers offer for you to add to your policy.  
Most providers will not cover treatment for dogs with pre-existing conditions, although some providers may offer limited cover for some conditions. The more conditions you want your policy to cover the more expensive your pet insurance will be. That's why you should decide how much cover you need to get the best value from your policy.  
How much am I willing to pay? 
You should be thinking about not just the cost of your policy, but also how much you would be willing to contribute to your dog's vet bills. Almost all pet insurance providers will expect you to contribute a certain amount to cover the cost of your dog's medical bills and increasing your contribution can actually reduce the cost of a senior dog insurance policy.  
Can I afford to go without senior dog insurance? 
Most vet clinics will publish their prices on their website, so you can get a rough idea of how much you can expect to pay if you didn't have a pet insurance policy. With this information at hand, you will be in a better place to decide whether a pet insurance policy is worth the cost.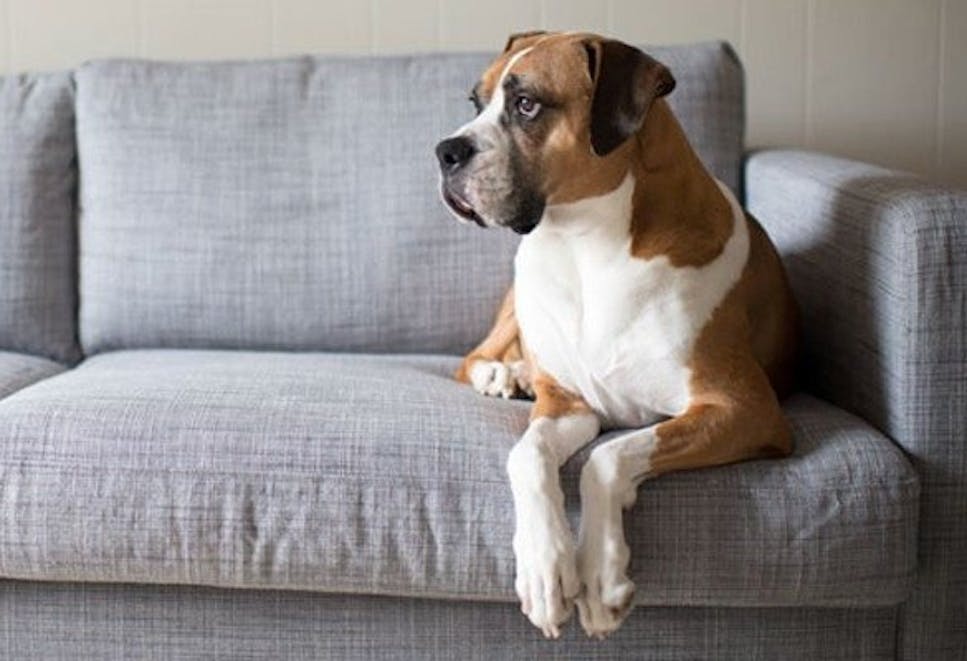 What is the best pet insurance for senior dogs? 
There are four different types of pet insurance cover for you to choose from, each with their own benefits and drawbacks. The best option for you and your senior dog is going to depend on whether you're looking for cheap or comprehensive cover. 
Lifetime 
Lifetime pet insurance will cover vet bills up to an annual limit, which will be refreshed each year. They cover any accident or illness that isn't a pre-existing condition, making them the most comprehensive option.  
For senior dogs, Lifetime pet insurance policies can be especially expensive, so may not be the best option. It's also unlikely that a lifetime policy will cover any pre-existing conditions or conditions that your dog may be showing signs of developing.  
Accident only 
Accident only pet insurance will only cover vet bills related to an accident. If you are looking for a cheaper option to protect your senior dog against injury, this could be a great option and very affordable compared to comprehensive policies. However, you will still need to cover vet bills for illnesses and ailments, which can become more frequent as your dog gets older. 
Maximum benefit 
This policy will cover the cost of vet bills for injury and illness up to a limited amount. Once you've reached that limit, that condition becomes excluded from the policy, and you can no longer claim for it. This type of policy can be a good middle-of-the-road option if you want cover for senior dog's health problems without committing to an expensive Lifetime policy.  
Time limited 
Time limited pet insurance is a step up from accident only but a step down from maximum benefit, making it one of the cheaper cover options. Time limited policies will cover each condition for a limited time (usually 12 months), after which your policy will no longer cover it. Most time limited pet insurance policies will also have a maximum benefit limit.  
If saving money is a big priority for you, this is a good option to consider. However, senior dogs that experience recurring or long-term health problems might miss out on important cover later on in their lives.  
How to get the best price pet insurance for senior dogs 
Certain details about you and your pet will affect the cost of pet insurance, such as your location, your dog's medical history, and the breed of your dog. 
It's unavoidable that dog insurance will be more expensive for senior dogs. This is because older dogs are at a greater risk of health complications than young dogs. However, there are some things you can do to get the best possible price for a policy. 
Increase your excess 
Excess is the amount that you agree to cover for each claim you make. This can be either a percentage or a specific price. You can reduce the cost of your policy by agreeing to cover more of the cost of your dog's vet bills.  
Don't auto-renew your policy 
When you auto-renew your policy, you might automatically agree to increases in premiums. To keep the cost of your policy from rising unexpectedly, consider haggling with your provider when the time comes to renew. Choosing not to auto-renew your policy also gives you a chance to see what other providers are offering and potentially find a better deal. 
Keep your dog's treatments up to date 
Insurance providers reward owners for staying on top of their dog's health. By staying on top of your senior dog's vaccinations and routine treatments, you can see a reduction in cost for pet insurance. You can also reduce your premiums by having your dog microchipped and buying your policy when your dog is in good health. 
Pay Annually 
Paying annually poses less of a risk for insurance providers, so they are likely to reduce the cost compared to if you pay monthly. If you can afford it, it can work out a lot cheaper to pay annually for your policy.  
Shop for pet insurance for senior dogs  
There are providers out there that specifically offer pet insurance for senior dogs. These policies have cover that's tailored to the needs of senior dogs. 
Find the best pet insurance for senior dogs 
We're here to help you find great deals on pet insurance for your senior dogs. With us, you can compare policies from some of the top UK pet insurance providers and get accurate quotes you can buy today.  
It's quick, simple, and free to compare with us. All we need are a few details about you and your dog and we'll fetch quotes for policies tailored for you.