How do mortgages work when you move house?
What happens to your existing mortgage when you move house? Can you take it with you, or should you look for a cheaper deal? Our guide explains the options
There are plenty of tasks for homeowners to tick off when moving house and one of the most important is to work out what to do with the mortgage on the property that is being sold. Do you pay it off by taking out a new mortgage deal, or should you – and can you – take it with you to your new home?
What are my mortgage options when moving home?
You have a range of options available to you when you move home. If you have a mortgage on your existing property, many lenders will allow you to transfer it to the new home - known as 'porting' your mortgage. Alternatively, you might find it works better to pay off the mortgage on your old house and take out a new mortgage for the new property.
Here are some of your mortgage options when you're moving house:
Porting your mortgage
If you're on a favourable, low interest rate deal, you may want to transfer your current mortgage to the new property. Even if you can find better rates elsewhere, porting your mortgage could still be the preferred option because it allows you to avoid some of the fees you get with a new home loan.
First, it's worth checking your mortgage details to find out whether your mortgage is portable. You can either look through the documents you were given when you arranged the deal, or ask your mortgage broker or lender. Some mortgages can't be ported, so your house sale would have to pay off the existing mortgage and you'd need to take out a full new mortgage.
Even if porting your mortgage is possible, you'll still need to reapply and go through the same affordability and credit checks you went through to get the mortgage. You'll also have to pay for a valuation, as well as legal fees and stamp duty.
You may find it harder to get approved for the same mortgage if your financial circumstances have changed. For example, if you've changed job or become self-employed, had children or seen some other change in your financial circumstances.
Getting a home mover mortgage
If you can't port your mortgage, you'll need to pay off your existing mortgage from the sale of your old home and then take out a new mortgage for the new property.
The lender will run credit and affordability checks to be confident you can make the repayments. Even if you don't need to borrow more money for the new property, if your financial situation has changed – for example you've recently become self-employed – you'll need to prove you can afford the loan.
As well as any arrangement fees for setting up the new mortgage, you might also face an early redemption charge for paying off your existing mortgage if you are tied into an introductory period.
Borrow more
If the new property is more expensive and you need to borrow more money for the purchase you have three options:
Port your existing mortgage and increase it

This might be the easiest way to borrow more money. It leaves you with just one repayment to make each month and saves any early repayment or arrangement fees which might apply when you set up a completely new mortgage. However, while the lender might agree to it, you may not get the best rates.

Port your existing mortgage, but take out an additional loan or mortgage to cover the extra amount

If you want to borrow more, your existing lender might require you to take out a separate loan to cover the difference. While this could be an option, you may end up with two mortgages, which can mean paying another mortgage arrangement fee and possibly getting locked into a deal that has a less competitive interest rate.

Pay off your existing deal and get a new one

This could be the right option, particularly if mortgage rates have fallen and you can get a more competitive deal than the rate you're already on. Factor in that you may have to pay an early redemption charge to clear your existing mortgage and an arrangement fee for the new deal. But it can give you the ability to shop around to find the best value.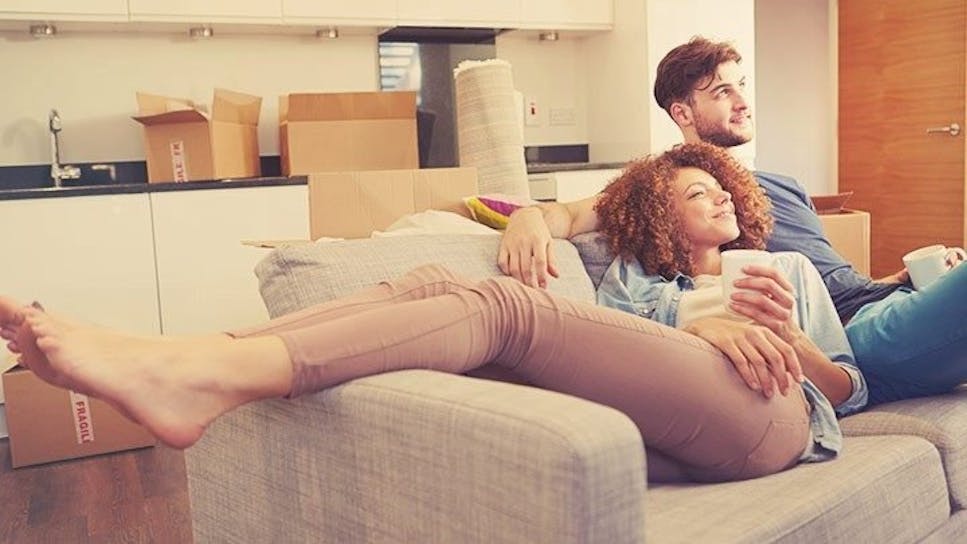 What happens if I need a larger mortgage?
If you need to increase the size of your loan to buy a more expensive property, you'll need to meet the lender's borrowing criteria for the extra amount. You may also have to pay a fee for arranging the new mortgage.
As an alternative to porting and increasing your existing mortgage, you may decide to take out a new mortgage with a new provider - if you can find a more competitive deal. Be aware that you may need to pay early repayment charges and other fees to end your current mortgage deal. You would therefore need to make a number of careful calculations to see which would be the most cost-effective option.
Can I move house without changing my mortgage?
You can often move house without changing your mortgage as long as the mortgage is portable. The lender will run a valuation on the property and check your financial situation to make sure you can still afford the loan.
It's typically more straightforward if the new home is worth the same or less than the existing mortgage, but if you can manage the repayments you may also be able to borrow more and increase the mortgage.
If you do have to change your mortgage, you'll generally need to pay off the existing one and you could then face early repayment charges if you're still locked in a mortgage deal.
Can I use equity as a deposit for moving house?
You can usually use the equity in your home as a deposit on the new property. If your house has increased in value or if you've paid off a chunk of the mortgage (so owe less), you will have built up equity in your property – the money that would be yours if you sold the house and settled the mortgage.
When you look to buy a new home, you'll be able to use this equity to help with the purchase and either port your mortgage or take out a new loan for the rest.
Moving to a bigger house with a larger mortgage
If you're moving to a bigger house and need a larger mortgage, you'll need to show that you can afford to borrow more. The lender will run financial checks to make sure you'll be able to keep up with repayments. You're more likely to get accepted for a larger mortgage if you've had a pay rise or reduced your outgoings, as well as kept up with your existing mortgage repayments.
You may also be able to afford a bigger house by using the 'equity' you have built up in your existing property as a larger deposit on the new place. That way, you won't have to borrow as much through a mortgage.
Moving to a cheaper house with a smaller mortgage
If you're looking to downsize, you should be able to take out a smaller mortgage and reduce your monthly repayments – provided your personal financial situation hasn't changed.
If you own a significant portion of equity in your home, you may be able to get a cheaper home mortgage-free by using the equity you have built up in the new property to buy the new home and clear the mortgage.
What if I'm in negative equity and want to move house?
If your home is in negative equity it's best to talk to your mortgage provider before moving forward with any home purchase plans. This is because you may find it harder to get accepted for a new mortgage if your house is worth less than your existing mortgage. You may find that you can only move home if you need to move due to a new job, for example. There may be certain restrictions on the type of property you can buy.
What fees will I pay when taking out a home mover mortgage?
If you're moving home and need to take out a new mortgage because you can't or don't want to port your existing mortgage, you will typically have extra fees to pay. These should be factored into the overall cost of taking out the new deal and might include:
Early redemption charges: You'll have to pay off your existing mortgage. If you are locked into a deal, this could mean an early redemption fee. These can be up to 5% of your debt, for example

Exit fee: Even if you don't have to pay an early redemption charge, you may have to pay an exit fee. This is typically a smaller administrative charge to end the mortgage

Arrangement fees: Your new mortgage may come with an arrangement fee. Arrangement fees differ from mortgage to mortgage and should be weighed up against the interest rate offered to work out whether it's a good deal

Booking fee: This is sometimes charged when you apply for a mortgage and is not usually refundable even if your mortgage falls through. It can also be included as part of the arrangement fee.
Valuation fee: Your new property will be valued by the lender to make sure it's worth the amount you wish to borrow. You can go one step further and pay for a property survey to identify repairs or maintenance that might be needed

Broker fees: While some mortgage brokers will be fee-free, others may charge you for finding the best new deal
Compare mortgages when moving home
MoneySuperMarket can help you find the best mortgage deal for your new home. We compare mortgage deals from over 90 lenders, covering the whole of the market.
We'll just ask you a few details such as whether you're remortgaging or looking to buy a new property and run a search. This won't affect your credit rating. Then we'll show you the deals that suit you best.
You can then compare by the initial interest rate and term length, monthly cost, product fees and any bonuses such as cashback before making your choice.
Your home is at risk if you do not keep up repayments on a mortgage.