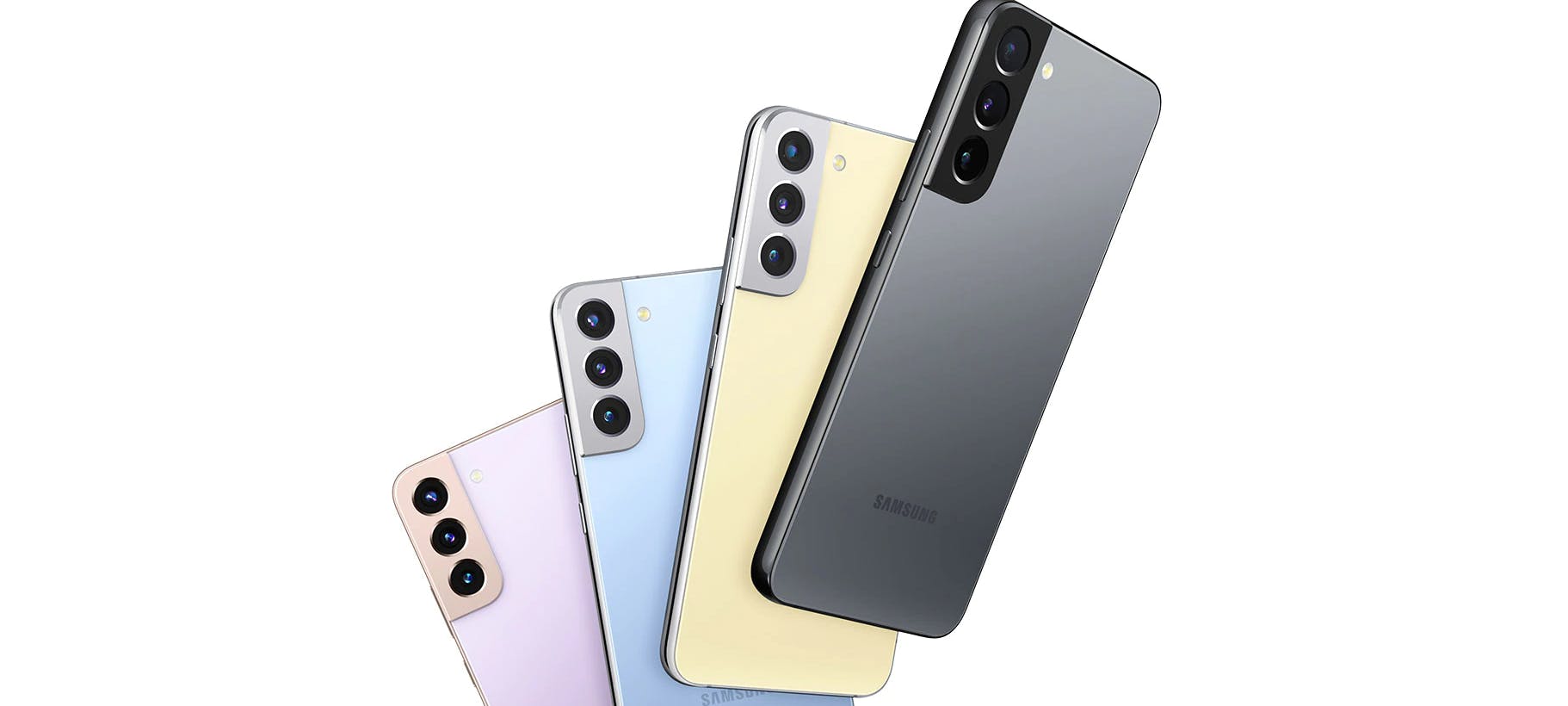 The Samsung Galaxy S series has consistently offered some of the best smartphones on the market ever since its launch. So how does 2022's Galaxy S22 shape up?
In this review, we'll take a look at the S22's specs, hardware, design, cameras, and more, to help you decide whether it's worth it for you.
Our Samsung Galaxy S22 review in summary
It's just a good, solid smartphone. There aren't many exciting features on the S22 worth shouting about – but at the same time, there's almost nothing to criticise.
The display is clear and bright, the platform is speedy and powerful, and the cameras produce snaps worth sharing. It's a joy to hold and use day to day, thanks to a chic, premium design.
The only drawbacks are that the battery and internal storage could both be bigger, just to make the experience completely seamless. Neither are anywhere near poor enough to present a real problem, but they could definitely be zhuzhed up.
Overall, the Samsung Galaxy S22 is worth getting. It may not satisfy those who want the most top-of-the-range features – look to the S22 Ultra for that – but otherwise, the standard S22 is a fantastic choice that you're unlikely to regret.
The Samsung Galaxy S22: Key features
6.1-inch screen, made of Gorilla Glass Victus+
Full HD resolution display (1080 x 2340 pixels)
50MP, 10MP telephoto, 12MP ultrawide, and 10MP selfie camera lenses
Powerful octa-core Exynos 2200 chipset
8GB RAM with up to 256GB storage
Fingerprint sensor under the display
Samsung DeX desktop support, Samsung Pay, Bixby, and other exclusive Samsung software
3700mAh battery, with fast charging and wireless charging
Samsung Galaxy S22 review: Camera
The back camera on the S22 consists of a 50MP main lens, a 12MP f/2.2 ultra-wide lens, and a 10MP telephoto lens with 3x optical zoom.
That's a great setup. The average user can take gorgeous shots with little effort, and it's high enough quality that the more photographically-inclined will be happy too.
The camera's supported by decent software, including features like portrait mode and night mode, and in-depth controls, such as shutter speed and white balance settings.
It can shoot 8K video, too. Performance is very juddery there, but it gets points for being capable at all. 4K recording, meanwhile, is seamless.
Again, however, this isn't the best smartphone camera on the market. You'll find better in the S22 Ultra model, or an iPhone 13 Pro Max. If you're relying on your phone camera to take professional-level pics and videos, then it's not quite there.
Still, it's more than good enough to satisfy most of us. You're able to take all kinds of shots – from stunning landscapes, to close-up macrophotography, to portraits – with absolute ease, and that you'll be proud to share.
Samsung Galaxy S22 review: Design
The S22's design isn't what we'd call innovative – it's almost identical to the previous year's S21, and more than a little iPhone-esque – but it's solid.
The edges are gently rounded, smooth metal, while the back is Gorilla Glass Victus Plus. That makes it exceedingly strong, in matte glass that feels pleasingly premium in your hand.
In terms of size, the S22 is a bit on the small side, especially if you're used to top-drawer flagship smartphones: 14.6cm tall with a 6.1-inch display. In reality, though, that's plenty big enough for everyday tasks – and makes it easy to use one-handed before slipping it right in your pocket.
The colours available are black, white, forest green, and pink gold, plus an exclusive selection of additional options if you buy direct from Samsung. All of which are rather attractive.
Samsung Galaxy S22 review: Display
At 6.1 inches, the S22 display is on the smaller end of the scale as today's smartphones go (though it's by no means tiny).
As for the quality, it's excellent. It's Dynamic AMOLED, making the picture crisp and clear, and is incredibly bright.
The Full HD resolution (1080 x 2340 pixels) isn't the highest on the market. But bear in mind that's still the same resolution you'll find on a lot of laptops.
And the S22 has another trick up its sleeve: an adaptive refresh rate, up to 120Hz, that dynamically changes depending on the task at hand. So scrolling is made smoother, videos play cleanly, and motion in games is fluid – but when you're just looking at a static image or reading a document, the phone keeps the refresh rate low to save on power. It's a brilliant touch that just makes the whole experience of using your phone that bit better.
Samsung Galaxy S22 review: Platform and performance
The Galaxy S22 runs on an Exynos 2200 chip in the UK, which scores high in independent performance tests. It's a little behind Apple's equivalent in the iPhone 13, but better than most other Androids.
That means a nice, powerful phone that you can use for gaming, shooting 4K video, editing photos, and so on, with barely a snag.
The OS is of course the latest version of Android, with Samsung's homebrew UI on top. As overlaid UIs go, it could be worse. It's not too invasive, barely getting in the way of the pure Android experience. But it does add some of its own apps – a browser, calendar, gallery, and so on – and the Bixby virtual assistant. That's all optional, at least.
One slight stumbling block is the storage situation. You can choose between 128GB or 256GB internal storage… and there's no SD card slot. Sure, it's not stingy per se, but anyone with a lot of pictures, videos, and music downloaded will fill it up in no time.
Samsung Galaxy S22 review: Battery life
Battery life on the S22 is absolutely fine. Samsung isn't breaking any records here, but the S22 will at least get through the day on only one charge, even with pretty moderate use. Most independent reviewers report it lasting around 12 hours.
That could be better, to be frank. It wouldn't have hurt to give it a slightly bigger battery, even if that meant the handset was a millimetre thicker.
Thankfully, at 3700mAh, it shouldn't present much of a problem day to day. Especially as there are unintrusive settings you can adjust to stretch it out if you need to, like turning the refresh rate down. It would just be nice if it lasted a little longer.
Samsung Galaxy S22 pricing, deals, and incentives
At launch, the Samsung Galaxy S22 cost £769 for the 128GB version, or £819 for the 256GB.
The price is ok, comparing extremely favourably to the equivalent iPhones. But it's not the cheapest around. Google Pixel or OnePlus phones with similar specs come in cheaper.
There are ways to keep that price down, of course. If you buy outright directly from Samsung, for example, you can take advantage of its trade-in programme.
Or, you can simply get a great deal on a contract plan for a network. The best way to do that is by comparing deals from the huge range of networks and retailers on our comparison tool. Look out for limited-time special offers, too.
Verdict: 8.5/10
The Samsung Galaxy S22 is just a great phone. It may not be the flashiest, and it may not have the advanced features its Galaxy Ultra brethren can offer, but it has everything you could need day-to-day in a mobile phone at excellent quality.
The cameras are top notch, the platform has plenty of power, the display is clear and bright. We'd have loved to see a bigger battery and more internal storage (or at least an SD card slot), so it loses points there. But overall, the Samsung Galaxy S22 is a fantastic smartphone.
Pros and cons of choosing a Samsung Galaxy S22
Pros
Flawless, straightforward design with a solid build quality
Bright, clear Full HD display
Handy size, with plenty of screen space but still able to slip in pockets and bags
Great cameras that can manage all kinds of shots
Can record up to 8K resolution video
Fairly priced
Powerful platform
5G-ready
Cons
Battery life doesn't impress
Internal storage could be higher, and there's no SD card slot
Not the cheapest on the market
Better cameras available on higher-spec phones
Screen will be too small for some
How does the S22 compare against other Samsung Galaxy phones?
The Galaxy S-series of Samsung phones are its cream of the crop. They're the ones with the highest specs, built to last.
The S22 is the flagship of the batch – embodying Samsung mobile at its best. But it's not the biggest or greatest of the bunch.
If you like the specs of the S22 but would prefer a larger screen, look to the Samsung Galaxy S22 Plus – sporting a 6.6-inch display.
Or if you need a seriously powerful smartphone, with pro-level cameras and a stylus, go for the Samsung Galaxy S22 Ultra. You'll need to pay more for the privilege, however.
Other Galaxy phones are lower-spec with lower prices to match. The Galaxy A series keeps costs down, while still offering a good build, smart design, and great quality hardware.