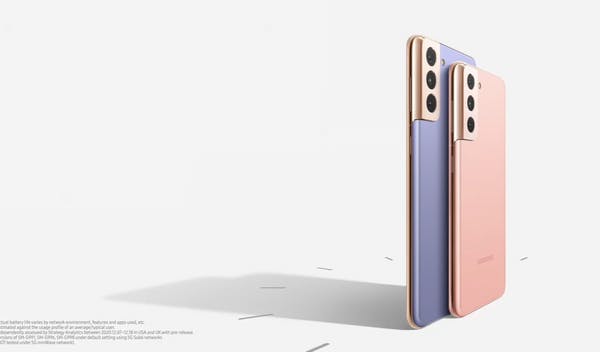 Don't be fooled by its age. The 2021 Samsung Galaxy S21 Plus is still a superb smartphone with a hugely impressive spec sheet. Read on for the full lowdown in our Samsung Galaxy S21 Plus review.
Our Samsung Galaxy S21 Plus review in summary
The Samsung Galaxy S21 Plus sits in between the regular S21 and S21 Ultra. As such, it represents a big screen upgrade on the former, without the cutting edge specs of the latter.
And while the newer S22 range may offer more in terms of speed, the Galaxy S21 Plus is still a stellar smartphone. We're talking some of the finest screen tech around, support for the latest version of Android, and an amazing camera to boot.
About the Samsung Galaxy S21 Plus
If you want a massive screen with eye popping detail, great design and a battery that will keep ticking, then it's hard to look much further than the Samsung Galaxy S21 Plus.
It has one of the finest displays in the business and, thanks to its age, can be picked up on some great deals that come with excellent incentives.
Camera
The Samsung Galaxy S21 Plus comes with a main 12MP camera, which is backed up by a 12MP ultrawide and a 64MP telephoto lens, the latter packing 3x optical zoom.
The results are impressive, with classic Samsung detailing that highlights colours and gives images a real clarity and detail that we can't get enough of. The zoom is great, although newer devices, such as the Samsung Galaxy S22 Ultra, offer better close ups, albeit at a higher price.
The front-facing 10MP camera delivers great selfies and works well for video calls, while the clever Director's View allows you to see the view from both front and back cameras simultaneously.
Video recording stretches to 8K, although the 4K options are also excellent.
Design
The Samsung Galaxy S21 Plus uses a glass backed design that takes things beyond the former S20 range. It also still stands up against the new S22 lineup with a look that remains premium despite the fact that the device is two years old.
The camera module on the back bulges but doesn't feel too big, while Samsung has ditched the curved display for a flat finish that looks great. The large size of the device means it feels more akin to a small tablet than a smartphone, meaning it's best suited to two handed use.
Display
The screen on the Samsung Galaxy S21 Plus clocks in at a massive 6.7 inches, with a resolution of 1080 x 2400. That's lower res than the QHD offering on the Galaxy S20 Plus, but to the naked eye there really isn't much difference. Colours are rendered beautifully, and games and video look the part thanks to the large scale.
The Galaxy S21 Plus also benefits from a 120Hz top refresh rate. This is now standard across top end smartphones and is really welcome here, as it makes fast paced clips and games look their very best.
Operating system and performance
The Samsung Galaxy S21 Plus comes with Samsung's Exynos 2100 chipset. This ensures amazing, rapid performance, with no lag and a general feeling of fast paced switching between apps and screens. 8GB of RAM is more than enough to keep things ticking.
Even though the newer Exynos 2200 chip stars in the S22 lineup, the S21 remains a top performer.
The good news is that Android 13, Google's latest operating system, has begun rolling out to the Samsung Galaxy S21 Plus. You may not get it out of the box, depending on when you're reading this, but the fact it's coming makes the device even more appealing.
Battery life
This is where the large size of the Samsung Galaxy S21 Plus really helps matters. The 4,800mAh battery here means that you can easily get 48 hours out of the device between charges, as long as you keep usage moderate. You'll need to find power sooner if you like gaming or watching loads of video, but even then you're looking at 24 hours before having to plug in.
There's support for 25W fast charging and Qi wireless chargers too, so you can get back up to full power easily.
Samsung Galaxy S21 Plus's deals and incentives
Deals and incentives for the Galaxy S21 Plus are changing all the time. Check out MoneySuperMarket's Samsung Galaxy S21 Plus deals now to see what extras you can get.
Samsung Galaxy S21 Plus pricing
At the time of writing (January 2023), you can snag the Galaxy S21 Plus for as little as £23 per month, with an £159 upfront fee, which will secure you a massive 100GB of data. Costs rise depending on how much you want to pay upfront and how much data you want.
Pros and cons of choosing the Samsung Galaxy S21 Plus in 2023
Pros:
Great screen
Superb battery
Support for latest Android software
Cons:
Newer S22 Plus has better specs
How does Samsung Galaxy S21 Plus compare against other Samsung phones?
The Galaxy S21 Plus marks a step change compared with the older Galaxy S20, with a better overall spec sheet, even if its screen isn't quite as striking.
The newer Galaxy S22 Plus has a better chipset, while the top end Galaxy S22 Ultra takes the crown thanks to its amazing screen and camera.
Samsung Galaxy S21 Plus review: Verdict
The Galaxy S21 Plus may be an older model, but it's still a great smartphone. Its display looks great, it has an excellent camera and, thanks to being outdated by newer phones, it won't break the bank. Throw in support for Android 13 and you've got all the trappings of a cutting edge handset.