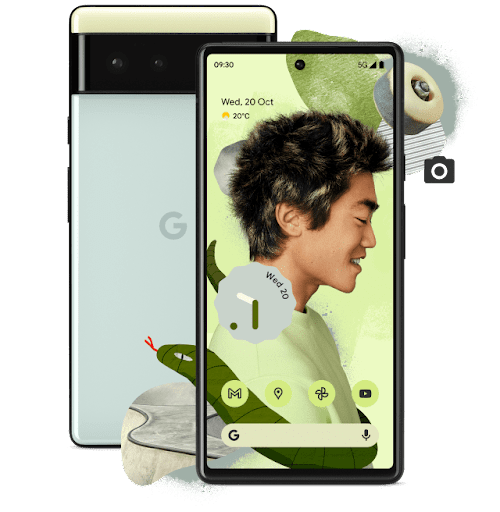 In the market for high-powered Android phone that won't break the bank? The Pixel 6 fits the bill. We've picked out our best Google Pixel 6 deals here.
Features and specs
6.4-inch display Full HD OLED with 1080 x 2400p resolution
Dimensions: 159 x 75 x 8.9mm
Weight: 207g
Dual rear camera
8MP front camera
4,612mAh battery
8GB of RAM
Storage options: 128GB (256GB not available in the UK)
With a superb dual lens camera system, Google's Android-powered Pixel 6 is a strong contender for the best camera phone of 2021.
Teamed with a large, bright screen and a good price point, it all adds up to a very attractive smartphone, indeed.
We take a look at some of its key features below...
Availability and price
The Google Pixel 6 was released in October 2021, with a launch price of £599.
It's since dropped in price, so you can snap it up for a good deal.
How good is the Pixel 6's design and display?
Considering it's a large phone, the Pixel 6 looks pretty sleek. We love the two-tone rear and distinctive visor-style camera bar. In an era where most phone manufacturers stick with monochrome colours and an upper corner camera array, the Pixel 6 really stands out from the crowd.
The phone's overall look and feel is very premium too, with a lush glass back and sturdy metal frame.
And as you've probably learned to expect, there's no 3.5mm headphone port. So you'll need to use wireless headphones.
As for the display, it's very good. At 6.4 inches, it's big enough for easy viewing on the go. Plus, Google's use of Full HD Plus 1080 x 2400 screen technology means it's bright, crisp and performs well in bright sunlight.
How good is the Pixel 6's camera?
Google is usually best in class when it comes to smartphone cameras, and the Pixel 6 certainly proves that reputation.
At the heart of the Pixel 6 is an excellent dual camera that pairs a 50MP main lens with a secondary 12MP ultra-wide camera with 114-degree field of view. Even with minimal expertise, it serves up striking photos that are packed with colour and detail.
The Pixel 6 also home to an impressive 8MP selfie camera at the front that's as good as any we've used.
But this phone's standout feature is the Magic Eraser tool that lets you remove objects or people from your shots simply by drawing a circle around them. It's super handy and makes editing easier than ever.
The only thing it lacks is optical zoom – that's reserved for its higher-spec sibling, the Google Pixel 6 Pro.
Is the Pixel 6 good for video?
The Pixel 6's main camera can capture video up to 4K at 60fps, while its ultra-wide lens can record 4K at 30fps.
Footage from the main camera is very good, demonstrating accurate exposure, excellent dynamic range and punchy colours. It copes well in low light, too, managing to capture pretty good levels of detail. Dynamic range isn't quite as wide, though, and video from the ultra-wide camera can be a little soft and noisy.
There's video stabilisation, meaning video quality is smooth and uninterrupted even when you're shooting in shaky, hand-held conditions.
Google Pixel 6 full review
All in all, the Pixel 6 is an excellent device. With most top smartphones hovering around the £1,000 mark, it's great to see a flagship that's more budget friendly.
And cutting costs doesn't mean a compromise in performance, either. In fact, the Pixel 6 packs plenty of top-notch features, most notably an outstanding camera and impressive voice-recognition capabilities (courtesy of Google's very own Tensor chip).
For more on the Pixel 6, read our full review.
What are the key differences between the Pixel 6 and Pixel 5?
In a nutshell, the Pixel 6 is bigger and more powerful than its predecessor, the Google Pixel 5. It's got a beefier processor, a brighter screen, a much larger battery and a substantially improved camera. Overall, it's a very worthy upgrade.
The downside? The Pixel 6 is a much bigger handset, which may not suit everyone.
How does the Pixel 6 compare to other flagship handsets in the UK market?
Although its Pixel phones are more culty and sell less well thaniPhones and Samsung handsets, Google is right up there in the top tier of smartphone-makers.
Pixel phones' key selling point is that they're the first handsets to have the latest version of Android. Which means you get all the latest features before anyone else.
They're also known for excellent cameras and often bring with them exclusive, innovative imaging features.
In this case, for instance, you've got the Magic Eraser. And in previous years, Google massively improved low-light photography with its game-changing Night Mode.
Moneysupermarket's expert rating
Our rating: 4/5
With an A-grade camera, appealing looks and a bright, crisp screen, the Pixel 6 does a lot right.
Software-wise, it's not quite as reliably failsafe as the iPhone 13 or Galaxy S22. Nevertheless, it's still a strong performer, with its stellar camera punching far above what its price tag suggests.
Google Pixel 6 contract options
Looking for a pay-monthly contract? You can pick up the Pixel 6 from most of the big networks, including O2, Vodafone, EE and Three. Choose from 12-month, 24-month and 36-month contracts.
Can I get a Pixel 6 with no upfront cost?
Potentially, yes. While many providers will charge an upfront cost for the Pixel 6, you might be able to snag a deal without an upfront charge.
Use the filters in the comparison table to adjust the upfront cost you'll be willing to pay.
Can I get the Pixel 6 with unlimited data?
Yes – you can get the Google Pixel 6 on an unlimited 5G data deal. If that's too much for you, you can also get deals with large amounts of data, such as 150GB per month.
Use the comparison table above to sort by data allowance. You can also use the filters to adjust the minimum and maximum data you'd consider.
What's the cheapest way to get a Pixel 6?
Generally speaking, the cheapest way to get any handset is to buy it outright, then get a cheap SIM-only deal to go with it.
Nevertheless, a pay-monthly contract can be a good way to spread the cost and make payments more manageable. If you're looking for an affordable Pixel 6 contract, you can use our comparison table to sort by total cost and average monthly cost. That way, you'll know exactly what you're paying.
Can I get the Pixel 6 with poor credit?
That largely depends on the network. Most will run a quick credit check before accepting you for a phone contract.
Nevertheless, different networks have different criteria on what credit score they'll accept. You'll also have more luck choosing a deal from a reseller, or on a refurbished handset.
Visit our page on bad credit phone deals for more tips on what you can do.
Frequently asked questions
Is the Pixel 6 worth buying in 2023?
The Pixel 6 went on sale October 2021, alongside its higher-spec stablemate, the Pixel 6 Pro. At release, it was regarded as one of the best-value Android phones around, scoring highly for its amazing camera, display and design.
It's expected to receive at least three years of operating system updates, as well as five years of security updates.
Should I upgrade or wait for the latest Google Pixel phone?
If you need a really good phone right now and like the look of the Pixel 6, go for it. The Pixel 7 isn't due until October 2022.
Will the Pixel 6 drop in price?
In the world of smartphones, older models will almost always drop in price when a newer handset is released.
As the Pixel 6 has been superseded by the Pixel 7, you can now get it for a cheaper price than at launch.
Should I upgrade or wait for the next model?
If you have a Pixel 5 or older, it's certainly worth considering the Pixel 6. It's a substantial upgrade, featuring some brand new tech that's never been se
On the other hand, you may want to plump for its successor, the Pixel 7 – or even wait around for whatever Google has in store next.
Pixel 6 specs
General

| | |
| --- | --- |
| Manufacturer | Google |
| Operating System | Android |
| Sim Card Type | |
Sensors

| | |
| --- | --- |
| Accelerometer | Yes |
| Proximity | Yes |
| Compass | Yes |
| Barometer | Yes |
| Gyroscope | Yes |
| GPS | No |
Size & Weight

| | |
| --- | --- |
| Form Factor | Candy Bar |
| Thickness | 8.9 mm |
| Size | 74.8mm x 8.9mm x 158.6mm |
| Weight | 207 g |
Battery

| | |
| --- | --- |
| Battery Type | Lithium Polymer |
| Capacity | 4614 mah |
| Standby | hours |
| Talktime | hours |
Display

| | |
| --- | --- |
| Display Size | 6.4 inches |
| Screen Type | AMOLED |
| Resolution | 1080 x 2400 inches |
| Pixels Per Inch | 411 ppi |
| Touch Screen Type | Capacitive |
Processing power

| | |
| --- | --- |
| CPU | 0 mhz |
| Processor Cores | Octa Core Cores |
| Memory | 8000 MB |
Storage

| | |
| --- | --- |
| Internal Storage | 128 |
| External Storage | No |
Camera & Video

| | |
| --- | --- |
| Primary Camera | 50 MP |
| Flash | Yes |
| LED Flash | |
| GEO Tagging | Yes |
| Auto Focus | Yes |
| Fixed Focus | Yes |
| Touch Focus | |
| Face Detection | Yes |
| Smile Detection | |
| Image Stabilisation | Yes |
| Video Quality | 2160 |
| 2nd Camera | 8 MP |
Data

| | |
| --- | --- |
| Generation | 5G |
| Frequency | Dual-band |
| NFC | No |
| Wi-Fi | No |
| Wi-Fi Hotspot | No |
| Wi-Fi Direct | No |
| Bluetooth | No |
| USB | No |