Your step-by-step checklist for moving into a new home
There's always a lot going on when moving. Our helpful checklist for moving into a new home will make sure you don't miss anything important
Moving home is exciting, but stressful. This checklist of things to remember both in the run up to and on the day you move is designed to help you avoid common pitfalls and unnecessary expense throughout the process.
Three months before the move
A bit of advance planning can help your move go much more smoothly. Here's the moving house checklist and what we think is important to do three months before the big day:
Confirm the date of your move: You've probably done this already but it's especially important if you're in a chain where someone may need to move out of one home and into another on the same day

Arrange time off work: Moving house is a big job, so you'll probably want to take a day off either side of moving day (at least!)

Book overnight accommodation: If you're moving a long way, it may not be possible to get it all done in one day and you could relieve some stress by booking into a hotel or guest house overnight

Collect packaging materials: Sturdy cardboard boxes of different sizes (double-walled ones are stronger) and bubble wrap will come in handy and cut down your costs. You can often find them at local shops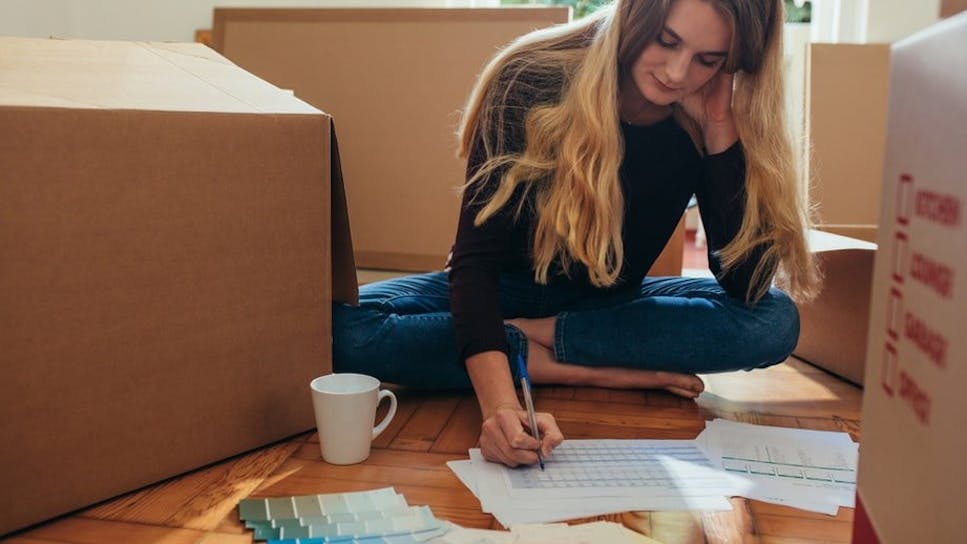 Six weeks before the move
Moving day is getting closer! Taking these steps now will help to save your money and keep your stress levels down. Most of these steps also include who to notify when moving houses.
Give notice to your landlord (if renting): Check your contract to see how much notice you need to give. This is usually around one month

Make sure you have home insurance: It's often cheaper if you buy your buildings and contents insurance together from one insurer. Start it from the date you take ownership of the property, so you don't go without and check whether you have 'goods in transit' cover

Contact your gas, electric, water, phone, and broadband suppliers: Tell your utility providers that you're moving and switch services you want to keep to your new address. Some can be done very quickly; others such as broadband may take longer to set up but there are steps you can take to move your broadband package with you

Contact other parties: Consider who else needs to know you're moving – e.g., your employer, your bank, your doctor, and HMRC – and let them know your new address

Book removal services: Shop around for removal quotes or, if you're moving yourself, hire a van and arrange helpers if necessary

Have a clear out: Moving house is a great time to de-clutter. Giving unwanted items to charity shops or selling them online now will mean less stuff to move, and less expense if you're using a removals service

Start packing: Start with items you know you can manage without for the next weeks. Ensure fragile items are well wrapped and don't forget to label the boxes so you know what is where. If you're taking furniture apart to move it, tape the screws and bolts to the items in freezer bags to avoid losing them
One month before the move
Not long to go now… Here are a few things you may not have thought about:
Consider your pets: Pets don't generally like moving house, so it may be worth arranging alternative accommodation for them so you can settle in before welcoming them to their new home. Read our guide on caring for your pets during the move

Check the parking situation: You'll need space to park both at your current residence and at your new home. If space is tight, it may be worth contacting the council to see if they can suspend a parking bay for you

Use up perishables: Time to eat your way through the contents of your freezer and store cupboards
One week before the move
With just seven days left, you need to pick up the pace to ensure everything's ready on moving day:
Last-minute packing: Not all packing can be done well in advance; make sure everyone has a bag of essentials such as a toothbrush and clean underwear, and always keep important documents such as passports in a safe place. A 'moving box' including tea, coffee, milk, and cleaning materials may also be a good idea

Set a forwarding address: Royal Mail offers a post redirection service that takes about five days to set up. It comes at a cost, but might be worth signing up to initially

Email friends and family: Send out a group email to let friends and family know your new address

Check you have the keys to your new home (or know when you're getting them): You'll need all the keys and spare sets for the property, including those for windows and garden sheds

Start cleaning: Or book professional cleaners to blitz your existing residence on moving day. If you're renting, it is likely that your contract states the home must be professionally cleaned
On moving day
The big day is finally here; don't forget to:
Take final meter readings (and first ones at your new home): Taking a photo on your phone is a good idea as it also shows the time and date

Make sure you know where everything is: You'll need to know the location of essentials such as the stopcock, gas and electricity meters, fuse box, and thermostat

Be sure to keep your pets in a safe place: Moving day can be just as stressful on your pets. Keeping them in a kennel or with friends and family can minimise disruptions and keep them calm during the move

Ask any final questions: Such as what day the bins are collected, and which companies supply the energy, broadband, and home phone services

Test the property: Check that the boiler works, that the taps, the shower, the drains are not blocked and all that the windows and doors close and lock properly. If there are built-in appliances, check too that you have the instruction manuals
And relax… it's time to start enjoying your new home!
If you are planning to move house, you can compare a variety of home movers mortgages with MoneySuperMarket. Whether you're a first time buyer or looking to remortgage, we can help you find a great deal.