Your step-by-step checklist for moving into a new home
There's always a lot going on when moving. Our helpful checklist for moving into a new home will make sure you don't miss anything important
Looking for home insurance?
Moving into a new home is something we may only do a handful of times in our lives – so you can't expect to be an expert – but without the right planning, it can be a very stressful time.
Our moving home checklist is designed to help you out. It's presented as a timeline, which should mean you can work through it point by point.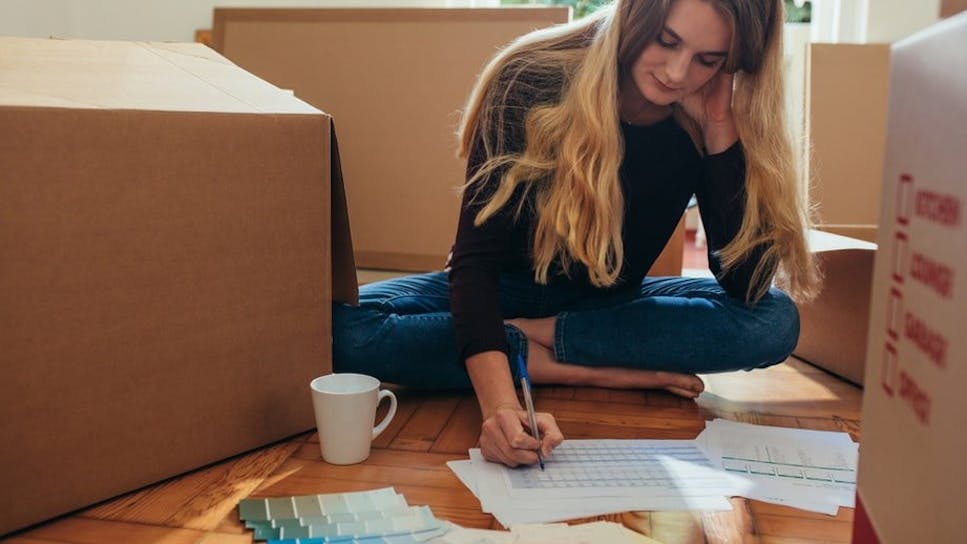 The home-moving checklist
Three months before moving house
Confirm the date of your move: You've probably done this already but it's especially important if you're in a chain where someone may need to move out of one home and into another on the same day

Book time off work: Moving house is a big job and you don't want to leave arrangements until the last minute and then find you can't get the time off work. You'll probably want to take a day off either side of the move in date (at least!)

Book overnight accommodation: If you're moving a long way, it may not be possible to get it all done in one day and you could relieve some stress by booking into a hotel or guest house overnight. Booking ahead usually means you can find a better deal for accommodation

Collect packaging materials: Sturdy cardboard boxes of different sizes (double-walled ones are stronger) and bubble wrap will come in handy and cut down your costs. Plan for more than you think and ask around friends and family to see if they have any
Six weeks before moving house
Give notice to your landlord (if renting): Check your contract to see how much notice you need to give. This is usually around one month

Make sure you have home insurance: It's often cheaper if you buy your buildings and contents insurance together from one insurer. If you're a mortgage holder, having building cover is probably a requirement of the mortgage. Start it from the date you take ownership of the property, so you don't go without cover.
Are you also covered for damage while moving? Some home insurance policies cover 'goods in transit' - it will either be included as standard, or an optional extra
Contact your gas, electric, water, phone and broadband suppliers: Tell your utility providers that you'll be leaving and work out which services you need to finish and start afresh, and which can be easily switched over. Note that while some can be done almost immediately, others such as broadband may take longer to set up in your new home

Contact other parties: Consider who else sends you correspondence and needs to know that you are moving and update them with your new address. The list could include:

The council, including for the electoral role and household or garden waste

Your employer

Your bank, insurance, pension and credit card companies

TV Licensing

Doctor, dentist, optician

DVLA

HMRC / DSS offices
Also, don't forget to cancel any deliveries such as newspapers or milk and change your address with online retailers
Get removal quotes and book: Shop around for quotes and look at quieter slots that might be cheaper to book for removals. Be honest about how much stuff you have to move and the distance there is to travel. If you're moving yourself, rope in helpers early so you have enough bodies for all the jobs come move day

Have a clear-out: If you have items that you've not used for years that are cluttering up your current home, consider whether you want them to clutter your new one too. Look to charity shops and free online sites to give stuff away. It will also mean less stuff to move, and less time and expense if you are using a removals service

Start packing: For many of us, the earlier we start packing the better. Here are some extra tips to help:

Ensure fragile items are well wrapped

Label each box by its designated room for the new home

Put furniture screws and bolts into freezer bags and tape them to the furniture

Have extra cardboard you can lay flat to protect flooring as you traipse over it

Make sure there are spare lightbulbs and that they are the correct type
One month before moving in
Make arrangements for your pets: They could become stressed during the move, so think ahead as to how you plan to deal with this. It could be worth putting them in a dog kennel or cattery, or seeing if a relative could take care of them, so you can settle in before welcoming them to their new home.

Make sure you can park to unload: You should know in advance whether parking will be tight, and if so, consider getting there early to block out a space, or contacting the council in advance to see if they can help suspend a parking bay for you

Use up perishables: Time to eat your way through the contents of the fridge and freezer and anything else that won't travel well to your new home
Seven days before moving house
Last-minute packing: Not all packing can be done well in advance and there will always be a few essentials to finish up. Consider:

A 'moving box' including tea, coffee, milk, cleaning materials and even a bottle of bubbly!

Keep passports and other essential items with you

Pack a bag for each person with a toothbrush and change of clothing

Set a forwarding address: To mop up any extra correspondence that might come to your old address once you've moved, Royal Mail offers a post redirection service. This takes about five days to set up and although it comes at a cost, it might be worth signing up for a limited period while you get yourself sorted

Email friends and family: Send a big email to let friends and family know your new address and the date you move in. You'll probably receive a few congratulatory ones in return
The day before
Make sure you have all the keys to the property: You'll need all the keys and spare sets for the property, including those for windows and garden sheds – and when you arrive check that they all work properly

Pack first night essentials: A kettle and some mugs should be high up on the list. As well as a toothbrush
Move in day
Clean: This holds for both the home you are moving from and the one you're moving to. It's clearly a lot easier if you have a few days grace between getting the keys to the new place and having to move out. You may wish to consider booking professional cleaners, especially if time is tight. If you are renting, it is likely that it's stipulated in your contract that the home must be professionally cleaned

Take final meter readings: Taking a picture of the meter might help, as the photo will have a timestamp, proving exactly what the meter reading was when the photo was taken. Remember to take first meter readings at your new place too

Set up a 'take a break' point: When you arrive, make sure you have tea, coffee and water and snacks in place to sustain your removal helpers as it is likely to be a long day

Make sure you know where everything is: Before you switch off and put your feet up, make sure you know where the important features of your new home are located, including:

Stopcock

Instructions for appliances

Gas and electricity meters (and take readings)

Thermostat

Fuse box

Ask any final questions: If you're unsure of anything, now is the time to ask. This might include:

What day the bins are collected

Whether there is any leftover paint the same colour as the walls or spare tiles for tiled surfaces

Which companies supply the energy, broadband and home phone, if you've not made plans to switch already

Test the property: Check that the boiler works, that the taps, the shower, the drains are not blocked and all that the windows and doors close and lock properly. It's far easier to point anything out straightaway, than wait a few days and live with it
What's next?
Make a list of jobs still to do: There are sure to be a few things you'll have forgotten or couldn't be done until you step foot in your new home. Have a pen and paper handy and jot down a list as you go

Register with: The local doctor, dentist, optician and vet. Or any service that you need, but couldn't register with until you'd moved to your new home

Enjoy your new home: Relax, put your feet up – and try and find that bottle of bubbly that you know is around somewhere...
If you are planning to move house, you can compare a variety of home movers mortgages with MoneySuperMarket. Whether you're a first time buyer or looking to remortgage, we can help you find a great deal.
Looking for home insurance?