Find cheap insurance for your iPad or tablet
Finding cost-effective tablet insurance for your device can offer invaluable peace of mind. Here's how to find the our best quotes available.
As helpful as tablet devices are are in our daily lives unfortunately that also means they tend to be prone to accidents.
Repairing or replacing your item can be a hefty expense, so why not protect it with affordable tablet insurance? This will allow you to save money and enjoy your table with some much-needed peace of mind. Here is how tablet insurance works.
What is tablet insurance?
Tablet insurance is a type of gadget insurance you can take out to cover your iPad, Kindle, or another tablet in the event that it becomes damaged or stolen.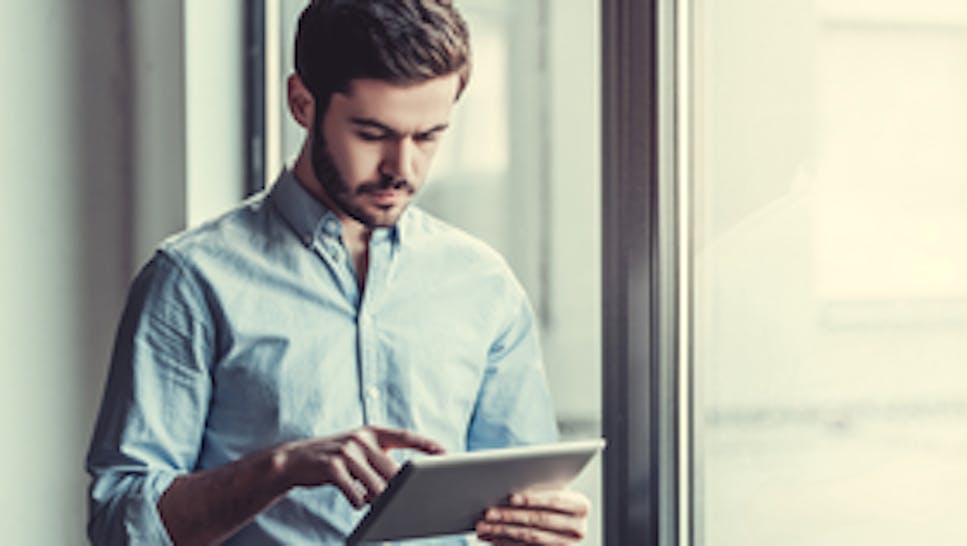 Do I need insurance for my iPad or tablet?
Before you consider tablet insurance it's always worth checking whether you already have adequate cover from another source like home insurance, which means you won't need to spend money on extra insurance you don't need.
You should check to see if your tablet is covered by:
A warranty: When you buy a brand-new tablet, it usually comes with a warranty guarantee. This can last anywhere from a few months to two years.

A bank account incentive: Some bank accounts offer extra incentives to attract customers, such as cover for your tablet or other gadgets.

A contents insurance policy: Your home contents insurance policy usually also includes cover for gadgets. That said, there may be a limit on the value of single items covered by the policy.
These are all alternative ways of taking out an insurance policy for your tablet. But if you purchase insurance this way, it's worth checking for any gaps in your coverage. You might find that taking out a separate tablet insurance policy offers a better level of cover for your devices.
Do I need tablet insurance if I'm a student living in halls?
If you're a student living in halls, it's likely you'll have gadgets that need protecting. You should check to see if you're covered by your home contents insurance, which can sometimes include students in communal living. If not, taking out a policy for yourself could be the easiest and cheapest way to get cover.
Can my tablet insurance cover multiple devices?
From laptops to tablets, it's commonplace to own multiple pieces of tech. Most insurers will allow you to protect more than one device at a time on a single policy.
This means that, as well as your tablets or iPads, you'll have the possibility to safeguard other expensive items (e.g., smartphones, laptops, smart watches, etc.) from unexpected mishaps.
What does tablet insurance cover?
The exact level of cover you'll get for your tablet will depend on the policies you take out and the provider you go to. You should ideally aim for tablet insurance that covers you for the following:
Loss: If you lose your tablet while out and about.

Theft: If your tablet is stolen.

Accidental damage: If, for example, your screen gets cracked.

Malicious damage: If someone deliberately damages your tablet.

Liquid damage: If your tablet is damaged as a result of exposure to liquids such as water.

Overseas cover: If something happens to your tablet while you're abroad.

Accessory cover: If anything happens to any accessories you have, such as a case or hands-free kit. There is usually a value limit on this policy.

Unauthorised usage: If someone uses your tablet to send messages or make calls at a cost.

Family cover: If someone in your family needs to claim for a tablet.

E-wallet cover: If someone accesses funds in your e-wallet through your tablet.

Mechanical breakdown: If there is a mechanical fault in your tablet that causes it to break.

Electrical breakdown: If your tablet fails as a result of a short circuit or another electrical issue.

Software breakdown: If there is an operating error with your tablet's software.
If not then insuring it can save you a lot of hassle. It can also set you at ease that you won't have to pay through the nose if your expensive gadget breaks or gets stolen.
What isn't covered by tablet insurance?
Depending on the policy you take out, you might not be able to find cover for the following:
Previous damage: If your tablet was damaged or not fully working before you took out the policy, you may be excluded from cover.

Cosmetic damage: It's likely that you won't be covered for any purely cosmetic damage, as most policies only apply if your tablet loses functionality. For example, you probably won't be able to claim for scratches, dents, or general wear and tear.

Viruses and malware: You might also find that if your tablet is damaged by a virus or malware, you won't be covered. This is why it's important to have up-to-date anti-virus software.

Older tablets: Some insurers are likely to have a limit on the age of tablets that can be insured. This can often be in the region of six months to a year

Second-hand tablets: You might also not be able to cover a tablet you bought second hand unless it's been refurbished to the standard approved by the manufacturer.

Tablets bought abroad: Insurers may only offer cover for devices purchased in the UK.

Early claims: Your policy might prevent you from making a claim on your policy immediately. In this respect, the waiting period could be around two weeks.

Too many claims: There may also be a limit on the number of claims you can make in a year. Therefore, any extra claims you make probably won't be covered.
Does tablet insurance cover cracked screens?
You should ideally opt for tablet insurance cover that protects you from accidental damage. Cracked screens are one of the most frequent and recurrent accidents, and they can happen from one moment to the next. Therefore, accidental damage cover is possibly the protection that you require the most.
Most insurance policies will cover your tablets for a cracked screen. However, make sure to compare the various options and evaluate what best suits you. If you are very careful with your items, there is a chance that you may not benefit from this cover. If you rarely scratch your devices, in fact, it may just be cheaper to get your screen repaired yourself.
How much does it cost to insure my iPad or tablet?
The cost of insuring your iPad or tablet will depend on the following:
The make and model of tablet You can generally expect to pay more to cover newer or more expensive tablets, as the cost of repairing or replacing them is likely to be higher.

The level of cover you take out Adding extras to your policy that aren't covered as standard can also raise the cost. You should consider whether you really need extra levels of cover, as stripping away unnecessary policies could save you money.

How often you make payments Some insurers charge different amounts depending on whether you pay annually or monthly. However, it isn't always certain which way this will swing. You may pay less for monthly premiums with some insurers, while others will prefer annual payments. This is why it is important to compare policies before buying.

How much excess you pay The excess payment on an insurance policy is the amount you put towards a claim before your insurer will cover the rest of the cost, and it's usually compulsory. However, many insurers will also have a voluntary excess option. The more you choose to pay, the lower your premiums are likely to be.
Compare gadget insurance quotes
If you're looking to insure your tablet, comparing policies with MoneySuperMarket is a great way to get an affordable quote. Just tell us a little about yourself and the tablet you want to protect, and we'll give you a list of quotes tailored to your needs.
Then, you'll be able to compare quotes by the annual and monthly premiums, the number or maximum value of claims in the policy term, and any extra policies included as standard. Once you've found the deal you want, just click through to the provider to finalise the deal.
However, you should remember that the cheapest available policies aren't always the best, as they may not offer the right level of cover you need. Try to aim for a balance between cost and coverage to ensure you have the best possible tablet insurance.