How does being caught speeding affect car insurance costs?
The price of your car insurance will almost certainly rise if you get points on your licence or a speeding ticket
Do speeding tickets affect my car insurance?
Yes, if you have points on your driving licence, insurance companies will see you as a riskier driver who is more likely to make a claim, so they will charge you more for cover. And the more points you have, the higher your premiums will be.
The same is true of other driving offences, such as driving an uninsured vehicle or driving without due care and attention. 
How much will my premiums go up by if I have a speeding ticket?
The amount your premiums rise if you get a speeding ticket will depend on a range of factors, including your age, the type of car you drive, and the severity of the offence I question. They will also take into account your driving history, including whether you have any other points on your licence.
How can I reduce my premiums if I have a speeding ticket?
There are a number of steps you can take to keep your costs down if you have a speeding conviction:
Increase your excess: The voluntary excess is the portion of any insurance claim you pay yourself. Increasing it can help reduce premiums; just make sure you could still afford to pay it if necessary

Reduce your mileage: Spending less time on the road lowers the risk of an accident, and it should help to bring down your insurance premiums

Think about telematics: Telematics or 'black box' insurance involves a device being fitted to your vehicle so your insurer can monitor your driving habits. It's a good way to prove you've taken steps to improve your driving, so you may be rewarded with lower premiums in return

Secure your car: Keep your car in a locked garage if possible and install an approved alarm and immobiliser to reduce the risk of theft
Do I have to tell my insurer if I get a speeding ticket?
Yes, it's important to tell your insurance provider if you receive points for a motoring conviction or a fixed penalty notice. If you don't, your insurance policy will be invalidated, meaning any future claims could be turned down. 
You could face also criminal charges for fraudulently withholding information from your insurer.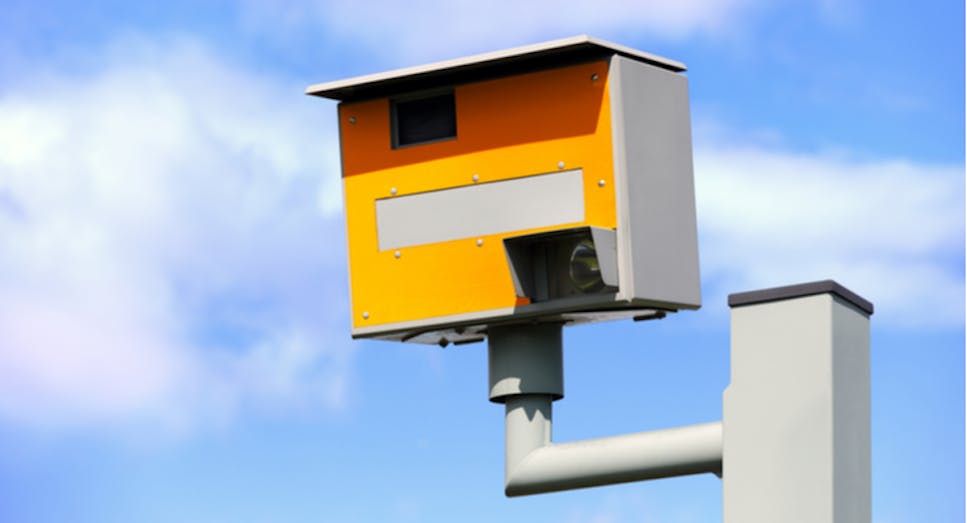 What are the different types of speeding offences?
The main types of speeding offences are:
Exceeding the statutory speed limit on a public road – 3-6 penalty points

Exceeding the speed limit on a motorway – 3-6 penalty points
If you drive a vehicle other than a car, you could also be given a speeding ticket for:
Exceeding goods vehicle speed limits – 3-6 penalty points

Exceeding speed limit for type of vehicle (excluding goods or passenger vehicles) – 3-6 penalty points

Exceeding passenger vehicle speed limit – 3-6 penalty points
Other types of driving offences that will affect your insurance premiums include using a vehicle uninsured against third party risks, driving or attempting to drive with alcohol or drugs levels above the specified limit, and breach of vehicle control (e.g. using your mobile phone while driving).
How much will I be fined for speeding?
How much you'll be charged as a speeding fine generally depends on by how much you were exceeding the speed limit when you were caught. 
There are three main categories: A, B, and C. Within these categories, the minimum speeding fine is £100, while the minimum number of points you can receive is three. The maximum fine is £1,000, or £2,500 if you were speeding on a motorway, plus six points on your licence – and a driving ban. 
Band A: you'll be charged 25% to 75% of your weekly income, and receive three points on your licence – enough to increase the price of your car insurance premiums by a small amount

Band B: you receive a fine worth 75% to 125% of your weekly income and four to six points on your licence, as well as up to a month's ban from driving

Band C:  you'll be fined 125% to 175% of your weekly income, given six points and up to two months of disqualification. Band C is for driving at least 20mph above the limit – or 30mph over on motorways
If your offence is minor, you may be offered the chance to avoid getting points on your licence by taking a speed awareness course, which costs about £80 to £100. But for those with previous convictions or who commit more serious offences, such as speeding in an area with a high number of pedestrians, there are also three further bands (D, E, and F) for which the penalties are more severe.
Can I be prosecuted for speeding?
Yes. If you are being prosecuted for a minor speeding offence, you will usually be issued with a fixed penalty notice. However, if you are caught speeding excessively – usually when you are going 20mph or more over the speed limit, the police may choose to send you straight to court. 
You could be fined up to £1,000 – or £2,500 if you were driving on a motorway – and banned from driving for a set period of time. You can also potentially be prosecuted for dangerous driving if you are travelling faster than the speed limit. 
Can I be disqualified from driving if I speed?
You won't generally be disqualified for single speeding incident, unless it's a Category C offence. However, if you are caught speeding several times and the number of penalty points on your licence hits 12 or more within a three-year period, you will be banned for a period decided by the courts. 
If you have only had your driving licence for up to two years, you could receive a ban after racking up just six points. Most bans related to speeding offences last fewer than 56 days; if yours lasts longer than this, you'll need to apply for a new licence at the end of the disqualification period.
What happens if I speed?
If you were caught speeding but were only slightly over the legal limit, you will usually be sent a fixed penalty notice that offers you the option of taking a half-day speed awareness course rather than paying a speeding fine. The cost is similar – usually around £100 – but doing the course will allow you to avoid getting points on your licence. and should not affect your insurance premiums. 
As you don't usually need to inform your insurer about a speed awareness course, choosing this option should also allow you to avoid paying more for your car insruance. 
If you were caught travelling well over the speed limit, you will often have to go to court to receive your penalty, for which you will receive a police summons.
How will I know if I've been caught by a speed camera?
You should usually hear within 14 days if you've been flashed by a speed camera. You will be informed by post, in the form of:
a Notice of Intended Prosecution

a Section 172 notice, asking who was driving the car
It's your responsibility to return the Section 172 notice within 28 days, explaining who was driving at the time. Failure to do this could result in you having to go to court. If the driver was you, you'll then receive a fixed penalty notice or a court summons.
What is a fixed penalty notice?
A fixed penalty notice is a document that informs you of the details of your speeding offence, and the penalty – at least three points and a £100 fine (or a speed awareness course you must pay for yourself). 
It will either arrive by post or be given to you by the police. Generally speaking, you won't need to go to court if you accept the terms of the fixed penalty notice. You may, however, have to appear in court if you wish to challenge it.  
Compare car insurance
Comparing car insurance quotes on MoneySuperMarket is the easiest way to find a cheaper deal for cover. Just tell us a bit about yourself, your car and your driving history, and we'll show you deals from a range of providers.
You can sort the available deals by the level of cover you'll get and the premiums you'll pay, as well as by any add-ons included either as standard or for an extra fee. 
Once you've found the deal you want, just click through to the provider to finalise your purchase.