Find the right small-business loan for your company
If you're a small business owner, you might need a loan to keep your business running. Our guide explains how it all works
What are small-business loans?
Small-business loans are a type of business loan designed to financially support small companies with their operational costs. They can act as a convenient, affordable way to fund your business activities, offering you the chance to cover the costs of any commercial expenses.
With a small-business loan, you borrow a specific amount of money, which you pay back over an agreed term. Whether you want to take out a long- or short-term loan is up to you, but bear in mind that long-term business loans typically have a larger cost overall.
Most small-business loans tend to be unsecured, meaning you are not required to put down assets as security. However, the lenders may ask for a personal guarantee. This is a legal agreement in which an individual promises to repay the loan with their personal funds if the business fails to do so.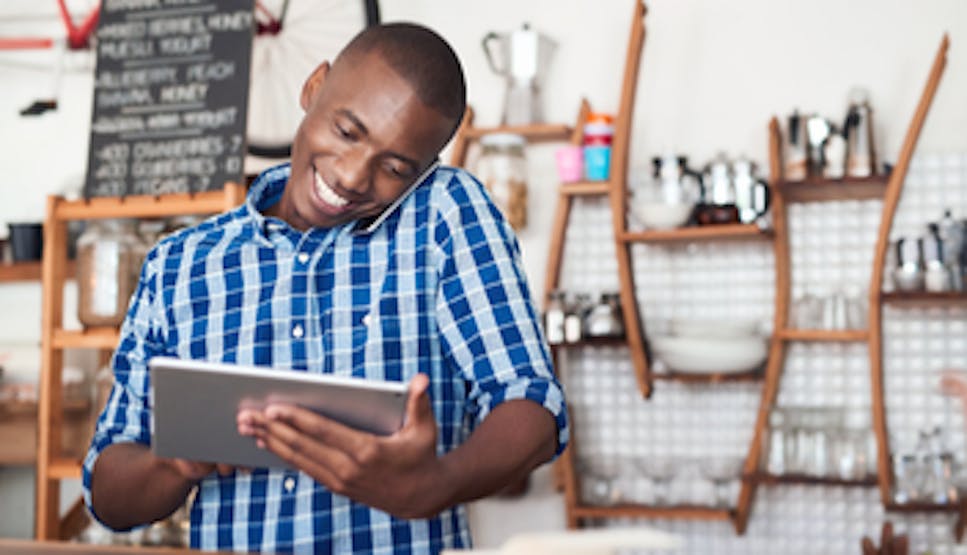 How to use small-business loans
Small-business loans can be used for a wide range of commercial purposes such as boosting cashflow to keep your small firm up and running. Reasons to get a small-business loan might include:
Training and paying staff. As a small business, it is usually important to be as competitive as can be to grow and establish yourself in the market. Small-business loans could help you cover the costs of training employees or giving them a pay rise. 

Purchasing new tools and equipment. Taking out a small-business loan could allow you to improve your day-to-day operations by purchasing new tools and specialist equipment. 

Expanding the business. If your small business is performing well, you may need to move to a bigger office, expand your team of workers, or both. A small-business loan could give you the necessary funds to make it happen. 

Advertising. Small-business loans could also help you cover the costs of promoting your company. As a small firm, it may be tricky to gain visibility at first. But using this type of business financing may allow you to attract new customers.
What are the pros and cons of small-business loans?
When deciding whether small-business loans are the right choice for your company, you may want to take into account the following advantages and disadvantages.
Pros 
Keep cash flowing into the business. Small-business loans can give your cashflow breathing space when you most need it by helping during less profitable periods of the year. 

Drive your business' growth. Small-business loans can help you take your small company to the next level, allowing you to reach your business goals in a swift and affordable manner. 

No need for assets as security.  You should be able to get a small-business loan without having to put down assets as security. However, if you want to use your business' possessions to secure a more competitive loan deal, you should have the freedom to do so too. 
Cons 
Borrowing costs. Although interest rates for small-business loans tend to be relatively low, they will inevitably add to the amount of money you owe your lender. One way to keep your costs to a minimum is by keeping the repayment terms as short as possible. 

Higher rates for poor credit scores. If you have a poor credit score, there is a chance that you'll face higher interest rates and costs. This is because you are seen as posing a greater risk to the lender.
How much can I borrow and how long for?
Small-business loans tend to range anywhere between £1,000 and £50,000. If you're looking to take out a loan that is at the top end of this range, you'll probably need a higher turnover because lenders want to make sure that you are in a position to pay back what you owe. Lenders may also ask you to put down assets or property as security for higher amounts of money.
The length of your small-business loan term will depend on you, your lender, and the deal you opt for. Small-business loans can come with different repayment periods, from one year to 25 or more. You may also want to consider refinancing as your business expands and you qualify for more favourable rates.
Is my company eligible for small-business loans?
When you apply for a small-business loan, your lender will need to carry out some checks to make sure you're eligible.
Each lender has its own set of eligibility criteria, but your firm will need to be based in the UK. There may be a required minimum revenue that you need to meet to qualify for a loan and some lenders will also expect you to have been trading for a minimum period. 
It's likely that lenders will want to check your business financials, including bank accounts and loans, profit and loss statements, tax returns, and future projects. They will also check your credit record as an indicator of whether you're a reliable borrower.
Other useful guides
We have a range of guides to help you know more about business loans:
Bad credit business loans explained
Secured business loans explained
How to compare small-business loans with MoneySuperMarket
At MoneySuperMarket, we are always happy to help. Our aim is to help you navigate the loan market and compare options in an easy and straightforward way.
Tell us what you're looking for
We'll ask a few simple questions about how much you want to borrow, your business, and what the money will be used for.
Compare deals
We'll show you a list of potential deals including the interest rate and how much your monthly repayments might be.
Apply in minutes 
Once happy with your choice, you can click through to apply quickly and easily online. Then wait for your funds to arrive.
Frequently asked questions
What fees should I watch out for?
If you decide to take out a small-business loan, there is a chance you may have to face the following fees: 
Application fee. Also known as 'initial fee' or 'arrangement fee', this specific type of charge can amount to as much as 5% of the loan amount. You won't necessarily have to pay it upfront. It can be added to your monthly repayments and spread over the duration of your loan term. 

Early redemption charge. The early redemption charge (ERC) is a fee if you decide to repay the loan in full before the end of the agreed term. Not all lenders charge an ERC, so make sure to read all the terms and conditions before you apply.
What is the difference between a business and a personal loan?
Business and personal loans work in a similar way. The main difference is that business funding, including small-business loans, is reserved for commercial purposes only. Personal loans, instead, are intended for other types of expenses, from home repairs to personal vehicle replacements.
Generally, lenders impose restrictions on what you can use your loan for. So, if you take out a personal loan, you won't be allowed to use it for business reasons and vice versa.