Discover the ins and outs of business loans and how to get one
If you're just starting a new business or want to drive much-needed cashflow into your company, borrowing some money could be the right solution. Read ahead to discover how to get a business loan.
What is a business loan? 
Business loans are financial agreements aimed at funding and supporting commercial operations.
This type of loan is available to start-up businesses and existing companies alike, helping them overcome financial difficulties or carry out some important changes within the organisation.  
A short-term loan could allow you to navigate through tough times. Conversely, long-term loans could help you fund large expenses or expansion plans. 
Business loans are very similar to personal loans, as they allow companies to borrow a set amount of money that will later be repaid to the lender over a pre-agreed period.
What you pay back depends on how much money you've borrowed, as well as on your lender's interest rate.  
How to get a business loan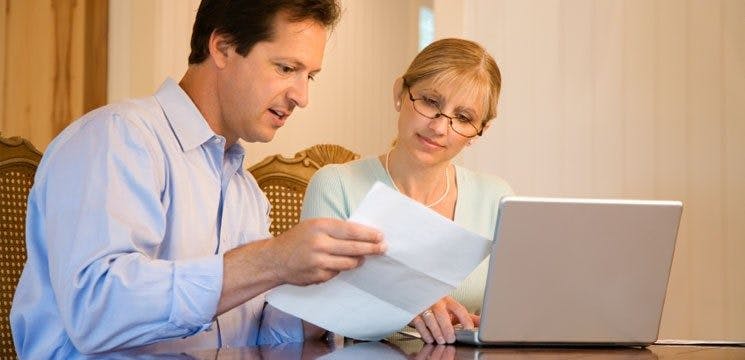 If you've never taken out a business loan before, it's only natural to be unsure how and where to start.  
Here are some of the steps you may want to take when preparing for your business loan application: 
Determine why and how much you want to borrow - This could be for a wide range of different reasons, from buying modern equipment and investing in a new business fleet to funding your staff's pay rise and moving to new premises. Once you've determined why you're taking out a loan, it's time to think about how much money you'll need to support your business' priorities.

Calculate how long it would take you to repay the loan – Working out how much time it might take you to pay back your business loan is the next factor to consider. Different loans will come with their own interest rate, which will in turn affect how much your repayments will amount to. 

Identify the type of business loan you need – You can find several business loan options on the market. The right type of loan for you, though, depends on what you're hoping to accomplish. MoneySuperMarket can help you scour through a wide range of deals and pick the one that best suits your needs. 

Check your eligibility – It's also crucial to find out whether you qualify for a business loan or not. Lenders will want to make sure you're a reliable borrower and that you'll be able to pay back what you owe them. To do this, they will check your business credit score, annual revenue, time in business, and any potential assets that you decide to put down as security.  

Look out for any specific terms and conditions – Sometimes, lenders have their own set of criteria and conditions. In some cases, for instance, they may require a personal guarantee. This is a legal agreement where an individual promises to cover the loan with their own funds if the business defaults. 

Prepare your documents and submit your application – Once you've decided on what lender you'd like to borrow from and found a loan that meets your criteria you will need to submit an application. It's worth having a financial advisor check over your application to ensure everything is covered before you submit. Generally, lenders will want some information, including your name, your business' name, loan purpose, desired loan amount, and business tax ID. 
What are the benefits and disadvantages of getting a business loan? 
As with everything, business loans come with their own range of advantages and drawbacks. Before applying for a business loan, it may be wise to consider its pros and cons.
Pros 
Business loans can help with funding for expansion plans, expensive projects, and temporary cashflow issues. 

Business loans can be a valuable solution to inject capital in the pockets of start-up companies 

Business loans allow you to keep control over your own business, rather than having to search for investors. Ultimately, investors could be necessary if you need a substantial amount of cash and support to drive your company to the next level. 
Cons 
Eligibility criteria for business loans cab be strict and you may be 'penalised' if you've only just started, you're young or have a poor credit score. 

Business loan repayments will eat into your cashflow until you've paid back your debt. 

If you take out a business loan, you may have to agree to update your lender about your business performance on a regular basis. What's more, you could be subject to financial checks every so often. 
What types of business loans can I choose from? 
When it comes to business loans, companies are spoilt for choice. There are several different options on the market that you can choose from. 
How long does it take to get a business loan? 
This will usually depend on a number of different factors, including how much money you'd like to borrow and for how long.
Bear in mind that if you take out a business loan from a bank you're already with, the process might be quicker and smoother. 
Another way to speed up the loan process is to have all your documents at hand when you apply (e.g., business accounts, forecasts, bank statements, business annual revenue, etc.).
To make sure things run smoothly, check with your lender what information they need. 

Do I need a business account to get a business loan? 
Again, this depends on the type of loan you're taking out and on the lender.
Some banks, for instance, will require you to have a business account with them before they will grant you a loan for your company. But there are other lenders who will not have these restrictions. 
What's more, you don't necessarily have to be the owner of the company to get a business loan.
Usually, registered company directors should be able to take it out too.  
Can I get a business loan with poor credit? 
It's fair to say that people with poor credit scores may find it more challenging to get a business loan. But this doesn't mean you can't get a bad credit business loan.
 Bear in mind that you're more likely to get the go-ahead for a secured loan, where you put down assets as security in case you're not able to repay your debt.
Moreover, expect to be offered higher interest rates and more frequent financial checks.
Ultimately, the lender will want to make sure you're able to pay back what you owe them. 
How to get a business loan as a start-up
Even if your business is new, you can still get a start-up loan. While most lenders will have specific annual revenue requirements, there are ways in which you can get a business loan even if your company doesn't have any money.  
In fact, some lenders provide borrowers with no-doc business loans. With this type of loan, you're not expected to present proof of business income.
However, to qualify for no-doc business loans, you will need to have a strong credit score and provide a personal guarantee.  
Other useful guides
If you want to know more about business loans, we have more guides you can read:
Long-term business loans explained
Short-term business loans guide
Compare business loans with MoneySuperMarket 
If you are looking for a business loan, you'll need to carry out some research. In fact, lenders offer a wide range of loan options for you to choose from.  
The easiest way to learn how to get a business loan, as well as compare all the available options in one place, is by using MoneySuperMarket. 
Simply tell us a little about your financial situation and what kind of loan you're looking for, including what you'll be spending the funds on. We'll scour the market and give you a list of competitive offers.  
Once you've decided, you can click through to the provider and get the process started.