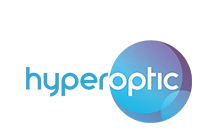 Hyperoptic provides fast broadband in select towns and cities across the UK. Read on to see how its routers stack up and whether they make it worth switching providers.
How to get a Hyperoptic router
To get a Hyperoptic router, you'll need to sign up for Hyperoptic broadband. With impressive online reviews, amazing full fibre speeds and excellent customer service, it's the real deal.
However, it's only available in 57 towns and cities at the time of writing, covering roughly 750,000 homes. Use the MoneySuperMarket postcode checker to see if you can get it now.
Which is the latest Hyperoptic router?
Hyperoptic offers two main routers for its full fibre broadband services, both branded as the Hyperhub.
Its 50Mbps and 150Mbps deals come with a ZTE made model, while Nokia provides the router for faster 500Mbps and 1GB plans.
Since early 2022, Hyperoptic has also offered a dedicated 'mesh' service, utilising ZTE and Nokia extenders to bring WiFi further into the home.
Router specs
Nokia Hyperhub
Four antennae
Ensures widespread coverage around the home
ac WiFi
Access to the fastest and best WiFi standards
Four Gigabit LAN ports and one Gigabit LAN port
Ideal for connecting devices such as games consoles and large set top boxes
1 x USB
Great for adding a hard drive to your network
VoIP port
Make use of digital phone technology with a dedicated VoIP port
Mesh tech support
Add extenders to create a larger WiFi network at home
ZTE Hyperhub
Dual band
Switches between bands automatically
Two antennae
Two fewer than its Nokia counterpart
Four Gigabit LAN ports and one Gigabit LAN port
Same set up as the Nokia Hyperhub
VoIP port
For digital phone connections
Setting up a Hyperoptic router
Setting up a Hyperoptic router is easy, thanks to comprehensive guides on the Hyperoptic website.
Choose the router you have from the images on the page and it'll take you to a full guide, showing you how to get it working quickly and easily.
Does Hyperoptic replace old routers for free?
Hyperoptic will give you a new router if you sign up for one of its full fibre deals. However, older routers should work well with its FTTP services, meaning there should be no need to replace one, unless it's faulty.
Legacy Hyperoptic routers
Hyberhub Tilgin HG2381
This router has ac standard WiFi but is a single band model, meaning it's been surpassed by the Nokia and ZTE Hyperhubs currently in use.
If you want a newer model, it's worth contacting Hyperoptic for an upgrade.
Frequently asked questions
How do I know which router I have?
To check which router you have, take a look at the images on the routers page of the Hyperoptic website. The make and model number should also appear on the bottom of your device.
How do I upgrade my router as an existing customer?
To upgrade as an existing customer you'll need to take out a new Hyperoptic deal. Check our which packages you can get now.
Do all new customers get the latest router?
Customers on Hyperoptic's 50Mbps and 150Mbps deals get the ZTE made Hyperhub, with those on 500Mbps and 1GB plans receiving a Nokia model.
Those willing to upgrade to its mesh network will also receive ZTE or Nokia made extenders.