Van insurance quotes for private use
If you only use your van for social or domestic reasons, you'll need private van insurance
Remember that if you are discovered using your van for a purpose other than the one you stated on your insurance policy, your cover may be invalidated. This means you'll be left footing the bill yourself if you need to pay for repairs or a replacement van.
If you are planning on using your van for business, read our business van insurance page for plenty of useful tips and advice.
What does van insurance for private use cover?
If you only use your van for social and leisure trips, such as a trip to the supermarket, carrying equipment for hobbies or exercise, or while on holiday, you will need private use cover.
It is very different to business van insurance, also known as commercial van cover. This is the type of insurance you will need if you use your van for work purposes such as if you use it for commuting or if you deliver goods as a courier.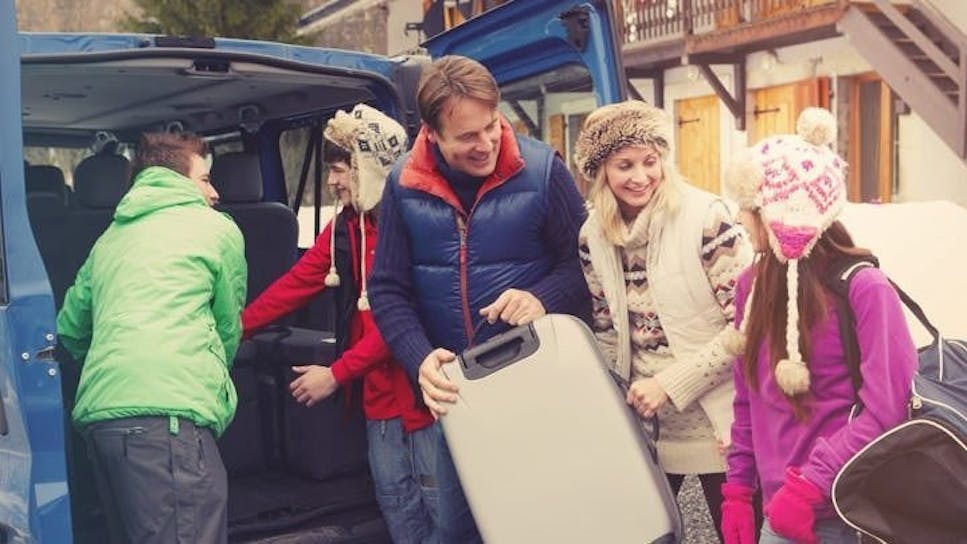 Do I need private van insurance?
The Continuous Insurance Enforcement rule means it's a legal requirement to insure your vehicle at all times, whether it's a van, car, or motorbike. This is true even if you only use your van at certain times of the year – for example, if you only go surfing during the summer.
However if you declare your van as 'off the road' with a Statutory Off Road Notification, you won't need to insure it as you won't be able to drive it.
Can I use private van insurance for commuting?
Private van insurance won't cover you for commuting in your van. Confusingly, these policies work differently than they would with a car. Car insurance providers offer social, domestic, pleasure, and commuting policies that cover you for commuting in your car, but with a van you'll need a form of business van insurance.
A private van insurance policy also won't cover you for anything related to business or making money. You can read more about the insurance required for this with our guide to business van insurance.
What does private van insurance cover?
The level of cover you'll get with your van insurance policy depends on the type of policy you take out. This works in a similar way to car insurance – you can choose from:
Third party: This covers you for any damage you do to another person, their vehicle, or their property

Third party, fire, and theft: This includes everything covered by third party insurance, but it also offers cover for if your vehicle is stolen or damaged by fire

Fully comprehensive: Fully comprehensive covers all the above as well as all other damage to your vehicle – as long as it's outlined in the policy
What policy add-ons can you get with private van insurance?
Depending on the insurer, you may be able to add cover for the following:
Equipment: this can cover you for any hobby-related equipment that gets damaged, lost, or stolen

Legal costs: this helps with any legal costs relating to an incident that was your fault

Personal accidents: this can provide compensation if you're involved in an accident

Breakdowns: this lets you get back on the road to continue your journey if your van breaks down

Courtesy vehicles: this gives you access to a replacement vehicle while yours is being repaired

Driving abroad: this insures you while driving in a different country
How can I find a cheap van insurance quote for private use?
There are a few things you can try to reduce the cost of private van insurance, including:
Paying a higher excess: increasing your voluntary excess payment can help reduce your premiums as insurers may see it as a sign that you'll only claim when you really need to

Reducing your mileage: the less time you spend on the road the lower the chances are that you'll need to claim, which means your premiums could go down

Buying a smaller van: smaller vans are easier to control and drive, which also means you'll be less likely to claim on your policy

Getting a telematics policy: telematics insurance is when you have a black box installed in your car that lets your insurer monitor your driving habits – this way, the better you drive the lower your premiums will go

Improving your van's security: improved locks and alarms can help prevent your van from being stolen and keeping it in a locked garage can do the same. This can convince insurers that you're less likely to make a claim for damage or theft

Paying annually: It's almost always cheaper to pay for your van insurance in one go, rather than monthly. That's because interest is applied to monthly payments.
How much is private van insurance?
The cost of private van insurance depends on lots of different factors. Insurers will ask you questions about your van, your driving history, and also the reason you use your van. From this they will calculate the risk of you making a claim, and that's how they come up with a price.
There are different types of insurance policies available based on how you use your van including private van insurance, business van insurance, and courier van insurance. It's important to buy the right type for your van and how you use it, otherwise you may not be able to use the insurance.
Compare private van insurance with MoneySuperMarket
If you're looking for private van insurance, comparing quotes on MoneySuperMarket is the easiest way to find the best available deal for you. All you need to do is tell us a little about yourself, your driving and claims history, and the van you want to insure, and we'll show you a list of quotes tailored to your requirements.
You'll then be able to compare quotes by the annual and monthly cost, the excess you'll need to pay to claim, and the level of cover you'll get with the policy as well as any add-ons included. Once you've found the right deal, just click through to the provider to finalise your purchase.
You should remember that the cheapest option isn't always the best, as it may leave you without the right level of cover. Try to aim for a balance between cover and cost to ensure you aren't over- or under-insured, so you'll be able to claim when you need to without paying over the odds.