Compare credit building prepaid cards
Improve your credit rating with one of our prepaid cards. Not only can these cards help you to build up a credit history, they don't require any credit checks or proof of income when you apply, meaning acceptance is guaranteed.
Compare prepaid cards for credit building - Ordered alphabetically A-Z
MoneySuperMarket customers receive £10 upon first load of £50. This offer is only available through MoneySuperMarket.com. T&Cs apply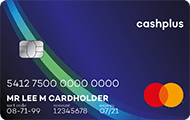 Cashplus
Cashplus Prepaid MasterCard (Freedom)
---
Great for
FREE UK ATM Withdrawals, FREE Purchases, NO Monthly Fee

Instant online approval. No credit check to apply

Up to £500 Overdraft - subject to approval
But be aware that
You must be a UK resident aged 18 or over
More Details

THE BASICS

Card issuer: APS Financial Ltd

Card type: MasterCard

The card is valid for 36 months

BENEFITS

Online account management

24 hour service

Accepted online

Sort code & account number included

Benefits notes:

Free UK ATM withdrawals

Free UK purchases

Free to set up Direct Debits and standing orders

Free purchase protection

CARD FEES

Card application fee - £9.95

Monthly service fee - Free

Annual service fee - Free

Card replacement fee - £5.95

Card cancellation fee - N/A

Dormancy fee - No dormancy fees

Card fee notes: 

RELOAD OPTIONS (Online)

RELOAD OPTIONS (Post Office)

Reload notes:

Bank transfers onto account: Free

Post Office loads: 0.50% fee will apply to the total amount paid in (min fee £3.00)

TRANSACTION FEES

Foreign transaction Fee: 2.99%

Purchase fee: Free

Internet Purchase fee: Free

ATM WITHDRAWAL FEES

ATM withdrawal fee (UK): Free
ATM withdrawal fee (International): £3.00

ELIGIBILITY

You must be a UK resident and aged 18+

You are advised to check the lenders Terms & Conditions for information relating to interest rates, fees and charges.
Prepaid cards are not eligible for protection under the Financial Services Compensation Scheme
Credit builder prepaid cards
If you've had financial problems in the past, you may find it difficult to get accepted for a credit card or personal loan. But a credit builder prepaid card can help you to repair your credit rating and ultimately help you to get accepted for better deals in the future.
How they work
Like other prepaid cards, credit builder prepaid cards allow you to load them up with cash whenever you want to and you can then use the card as you would a credit or debit card, usually in return for a small monthly fee. 
The advantage of these cards is that no credit checks are carried out and no proof of income is required, so acceptance is guaranteed. When you apply, you will be given the option to add a credit builder service to your plastic. If you opt for this service, the provider will effectively lend you a year's worth of monthly fees - typically between £5 and £10 a month. The idea is that you pay this loan back over 12 months, and by making your monthly payments in full and on time, your credit rating will start to improve. 
As soon as you've made your first monthly payment the card company reports your payment history to credit reference agencies, and your credit history will be updated. You should notice an improvement in your credit rating after the first three months.
Low cost
One of the benefits of using a credit builder prepaid card is that there is no interest to pay on the loan and usually no admin charges, so you only pay the usual monthly fee for 12 months. 
The loan is solely to pay for one year's use of your card - you can't spend the loan on anything else. Once you've had your card for a year and re-paid the loan, you can then renew your card and your credit builder arrangement. If you don't want to renew your credit builder arrangement, you can just use the card as you would a normal prepaid card. 
Useful for budgeting
A prepaid card doesn't only help repair your credit rating – it can also help you to get into the habit of budgeting. Because you can't spend more than you've put on the card, there's no temptation to spend more than you'd intended. 
The downside is that prepaid cards don't offer the same protection as credit cards do. Credit card purchases are protected under Section 75 of the Consumer Credit Act 1974 and the Consumer Credit Directive which means your card provider is jointly liable with the merchant for purchases between £100 and £60,260 that turn out to be faulty, damaged or don't arrive. 
Check your credit rating
To find out why you might be being turned down for credit, or to see how your credit rating is improving, you should regularly check your credit history with a credit reference agency such as Experian or Equifax. You can get hold of a copy of your credit report through our credit monitoring channel.  
And, if you're not sure which cards you're likely to be accepted for, our Eligibility Checker tool will give you an idea of the cards you might qualify for.
Using MoneySuperMarket will allow you to compare credit builder prepaid cards and find the most suitable one for you.