How to improve your chance of getting a credit card
Our guide explains how to apply for a credit card without fear of being turned down and seeing your credit rating damaged – even if you have bad credit
Many people in the UK experience difficulties getting a new credit card because they have a less than perfect credit score.  
The situation can get worse if you're declined for a card and then immediately apply for another – as it can cause a further dip in your credit score.   
You can avoid this spiral by only applying for credit cards you know you'll have a good chance of being accepted for. 
What is a guaranteed credit card?
There are no credit cards that offer a 100% guarantee you'll be accepted so the idea of a 'guaranteed credit card' is misleading. If you're sent a card offer that says you have "guaranteed approval" it will be based on what the lender already knows about you – for example because it's your main bank or current account provider. But even these offers will involve extra checks that could result in your application being declined. So you should tread with caution. 
That said, there are some credit cards which you will be more likely to be accepted for  even if you have a low credit score. And with our eligibility checker you can see which cards these might be – and your chances of being accepted if you were to make an application. This should hopefully reduce the risk you'll be declined, which could harm your credit score. 
Our eligibility checker service makes it easy to compare cards and shows any cards you might be 'pre-approved' for – plus the interest rate you'd pay if your application is successful. This way you can make an informed decision.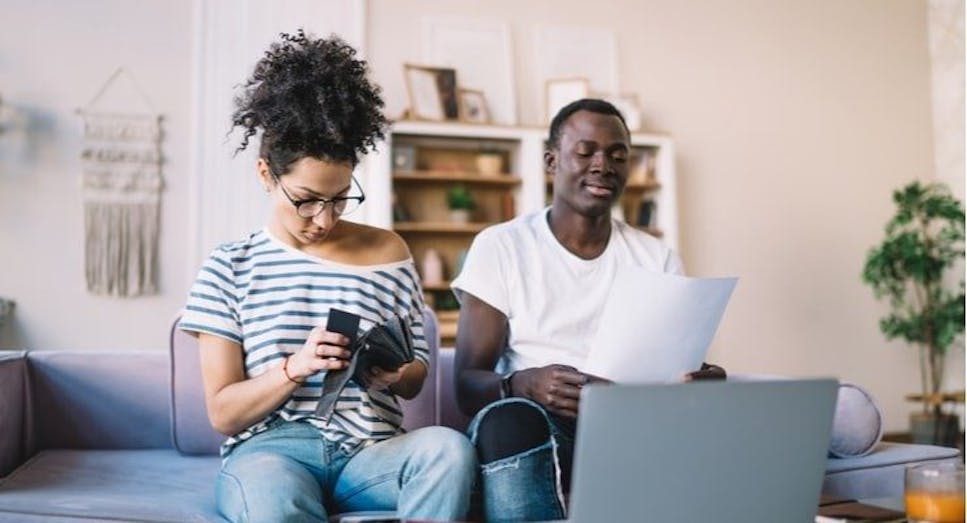 Can I get an instant decision on my credit card application?
Many credit companies in the UK – but not all – will give an instant decision on your credit card application. 
The decision on whether you are approved or turned down will be much faster when you apply online. 
While a pre-approved credit card means you're almost guaranteed to get that card if you apply, the provider still needs to run a credit check before making a final decision. This situation is most likely where you have a strong credit score. 
You'll also need to provide a few personal details and there are certain eligibility criteria you'll have to meet, such as proof of age and UK address and a minimum income. 
How can I get pre-approved for a credit card?
When you search for a new credit card with MoneySuperMarket, we'll first ask you some quick questions about you and your finances. 
Your answers will help us do a soft search – one that won't affect your credit rating in any way – to show you your chances of being approved for each credit card deal, including any cards that you're guaranteed to get providing the information you have supplied is correct.  
How do banks decide who to accept for a credit card?
Banks, building societies and card providers look at a range of factors, such as income and credit history, when deciding whether or not to lend. If you have no regular income or a very low salary, for example, the lender may worry about you having enough money to meet your card repayments. The same is true if your credit file shows you might have had some problems in the past, such as missing payments. That's why you're less likely to get a credit card if your credit report shows you: 
Often pay bills and debt repayments after the due date 

Have a county court judgment (CCJ) or a bankruptcy on your file 
If you've made lots of credit applications in a short space of time this can also affect your chances of getting a credit card. Every time you apply for a credit card, the lender will run a "hard" search on your credit report and too many of these searches suggests you're struggling to find credit and manage your finances. This can lead your credit score to fall. 
There are other reasons why you might be refused a credit card – even without a history of repayment problems. You may never have had credit in your name before, perhaps because you are young or have recently arrived in the UK. 
If you're under 18 you're highly unlikely to be accepted for a credit card of any kind. 
How do I improve my chances of being accepted for a credit card?
If you want to apply for a credit card check your credit report first. 
This gives you a chance to look for  mistakes that might need to be corrected and see your credit rating. You can also avoid lowering the score through rejected card applications. 
The best way to improve your chance of getting a credit card is to protect and increase your credit score. Ways to help do this include: 
Reducing the balance on any overdrafts or credit cards you already have to bring down your 'credit utilisation ratio'. This jargon, which lenders might use, simply refers to how much of your overdraft allowance or credit card limit you are using at a particular time 

Registering to vote. This helps lenders confirm your name and address via the electoral roll and should boost your credit score 

Paying your bills on time. Lenders like financial stability and predictability so from your mobile phone to your council tax, set up direct debits to ensure you pay in good time 

Taking out a credit builder credit card and paying it off in full every month 
What are the easiest credit cards to get with bad credit?
While you'll usually need a good or excellent credit score to be accepted for the best card deals, there are cards aimed at people with lower credit scores. They can help you access small amounts of credit and start to improve your credit score. 
The cards are called credit builder credit cards.  They typically have low credit limits, such as a few hundred pounds, and have high interest rates – so it's best to pay them off in full each month if you can so the interest doesn't build up. But used correctly they can put you on a path to a higher credit score and better value cards and loans. 
Responsible use of a credit card for bad credit can be a good way to improve your credit score so you can qualify for better card deals. Our figures show 18% of people who compare credit cards with MoneySuperMarket are looking for a card to help them boost their credit rating.* 
*According to data collected by MoneySuperMarket, accurate as of June 2022. 
What are the alternatives to a credit card?
There are some alternatives to taking out a credit card, but the best option for you will depend on how much you need to borrow and for how long. 
Overdrafts often have high interest rates, but they can be a useful way to borrow money for a short time. Some bank accounts even offer 0% overdrafts to new customers for a limited time – but be sure you stay within your arranged overdraft limit. The charges for unauthorised overdrafts can be huge 

Loans are a good way to borrow larger amounts over a set period. They usually have lower interest rates than credit cards. Be aware there are typically early repayment penalties if you want to clear your loan before the fixed term ends 
Other useful guides
We have a range of helpful guides that could be useful if you're looking to take out a credit card, including:
What are the easiest credit cards to get? 
What is the best type of credit card to get? 
Our step-by-step guide to making a credit card application 


Compare credit cards with MoneySuperMarket
It's quick and easy to compare credit cards with us. All you need to do is tell us about yourself, your financial status, and what you'd like to use your new credit card for, and we'll show you a list of cards tailored to your needs. 
You'll be able to sort them by interest rates, any incentives and your likelihood of being approved. Our useful eligibility checker tool means you can reduce the risk of your application for credit being refused.
Once you've found the card you want just click through to the provider to finalise your application.  
MoneySuperMarket is a credit broker – this means we'll show you products offered by lenders. We never take a fee from customers for this service. Instead we are usually paid a fee by the lenders, but the size of that payment doesn't affect how we show products to customers.