How to improve your credit score if you want to get a mortgage
Set on buying a home, but worried about a low credit rating? Here's what you can do.
First time buyers have been given something to smile about with the news that low-deposit mortgages are to be made more widely available.
In his Budget at the beginning of March, Chancellor Rishi Sunak announced the government-backed Mortgage Guarantee Scheme – aimed at encouraging lenders to start offering home loans with deposits of just 5% once again. Lots of lenders withdrew such deals when the pandemic hit last year.
But while the re-introduction of loans at 95% loan-to-value (LTV) will come as music to the ears of those struggling to stretch to a 10% deposit, the expectation is buyers will still have to pass strict affordability checks.
Here we take a closer look.
What does the new scheme involve?
Kicking off in April 2021 – and due to run until December 31, 2022 – the scheme involves the government effectively providing a guarantee on mortgages at 95% LTV. This means lenders won't face the risk if a borrower can't meet their repayments, or should property prices fall.
Under the scheme, 95% mortgages will be offered on houses costing up to £600,000. While it's not limited to first-timers, it's likely to be most popular with those trying to get a foot on the first rung of the property ladder.So far, Lloyds, NatWest, Santander, Barclays, HSBC and Virgin Money have all said they plan to be part of the scheme. But as yet, none have released the terms of their 95% mortgage deals.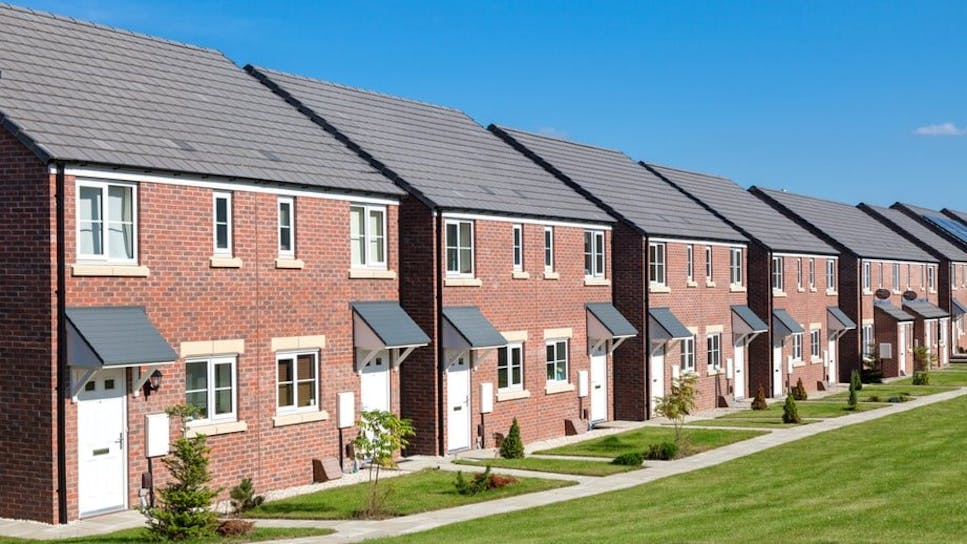 What's the issue with 5% mortgages?
As low-deposit deals involve banks lending at a very high LTV, there are concerns that buyers could over-stretch themselves.
That said, the expectation is that aspiring homeowners will still be required to meet strict lending criteria to qualify.
With this in mind, having a 5% deposit is unlikely to be enough, on its own, to secure the home loan. You will still need to prove you can comfortably afford the monthly repayments.
To check if the mortgage is affordable, it's likely that lenders will want to scrutinise details such as the size of the mortgage you want to take out, your employment status and income, your monthly outgoings, your existing debts – and also your credit rating.
A poor credit rating could be a problem
While getting accepted for a mortgage shouldn't be a problem for borrowers with a healthy credit score, it could be more of an issue for those at the other end of the scale.
If a lender looks at your credit rating and sees it isn't up to scratch, you may only get offered deals at a lower LTV – meaning a bigger deposit will be required.
Equally, if your score is particularly poor, you risk your mortgage application being rejected altogether.
Take steps to improve your credit score
The good news is, there are some simple steps you can take to boost your score and make yourself as attractive as possible to potential lenders.
Make use of our Credit Monitor tool
As a first step, check out Credit Monitor. By signing up, you can get a copy of your credit score and report for free.
We'll send you regular updates of how your score is doing and free tips to help you grow it. We'll also keep an eye on your file and alert you about any activity that could be suspicious
What does my score mean?
Each credit reference agency has its own scoring system. With Credit Monitor you'll get a score out of 710.
Anything between 551 and 565 is considered 'poor,' while anything below 550 is considered 'bad.'
For higher scorers, anything between 566 and 603 is considered 'fair,' between 604 and 627 is 'good,' and anything above 628 is 'excellent.'
What can I do to build my score?
Get any errors on your credit report corrected. Our article explains what to look out for and how to correct them.

Get registered on the electoral roll. You can register on the electoral roll for free

Be disciplined about always paying credit card bills – and other outgoings, such as utility bills – on time each month. Missing just one payment can make all the difference between getting accepted (or turned down) for a mortgage

Make sure you stay within your credit limits

Close down any accounts you are no longer using

Reduce the amount you owe on credit cards, personal loans, and other debts

Avoid making multiple applications for credit in a short space of time, as you risk leaving lots of 'marks' on your credit file – and this could damage your credit score. Make use of our eligibility tool to find out which deals you are most likely to get accepted for

Try not to apply for credit for a few months prior to applying for a mortgage, as this could hinder your chances of getting accepted
Be patient
While it will take time to boost your score, by following the tips we've suggested, you can get your credit rating in the right shape to apply for a mortgage, meaning you will become eligible for a wider selection of offers.
Hopefully, this will include 5% deals available via the Mortgage Guarantee Scheme, as well as options from lenders offering other low-deposit deals outside of the government-backed scheme.
To find out more about 95% mortgages and compare mortgage deals more generally, head here.