Credit Score Capital of the UK
See how your credit score compares to average scores in different parts of the country
Your credit score is important whenever you apply for credit – loans, cards and mortgages, and even if you want a mobile phone contract. So it pays to give it some TLC and get it into the best shape possible.
Our survey of the nation's credit scores found that, on average, UK consumers have improved their score in the past 12 months. But which towns have the highest and lowest average scores? And what factors, such as the number of credit cards you hold and being on the electoral roll, can influence your score?
What is a credit score?
Your credit score is a rating based on your financial history and how you have handled credit in the past. In general, if you've always made repayments on time and borrow smaller amounts relative to your total credit limit then you're likely to have a higher credit score. Conversely if you've struggled with debts in the past and missed one or more repayments your credit score is likely to be lower. The higher your score the more likely you are to be accepted for credit cards, loans and mortgages – and at better rates of interest.
At MoneySuperMarket we use the credit reference agency TransUnion for our Credit Monitor service. TransUnion's credit scores run from 0 to 710 with a score of around 566 to 627 being decent to good and a score of 628 or higher being excellent.
The average credit score of our Credit Monitor customers has increased over the past 12 months. It was 573 in December 2021 when we conducted the survey – up from 569 in December 2020.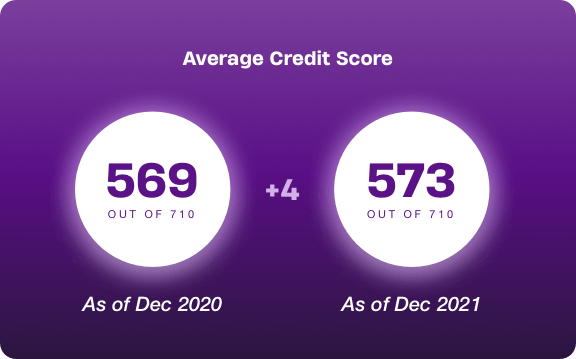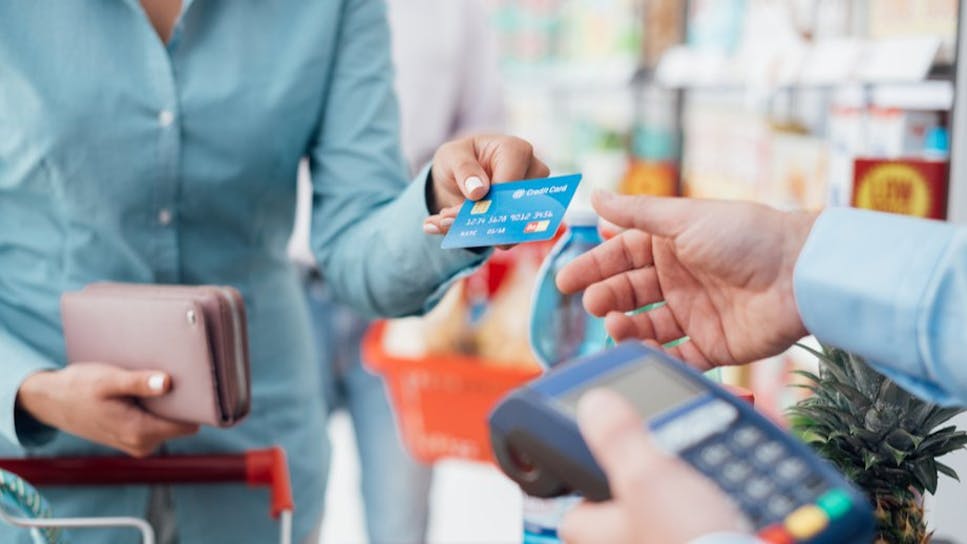 Credit score by location
Top five locations
According to our latest Credit Monitor data those living in towns and areas in the south west of England are likely to have the highest average credit score with Kingston upon Thames and Guildford faring best in 2021.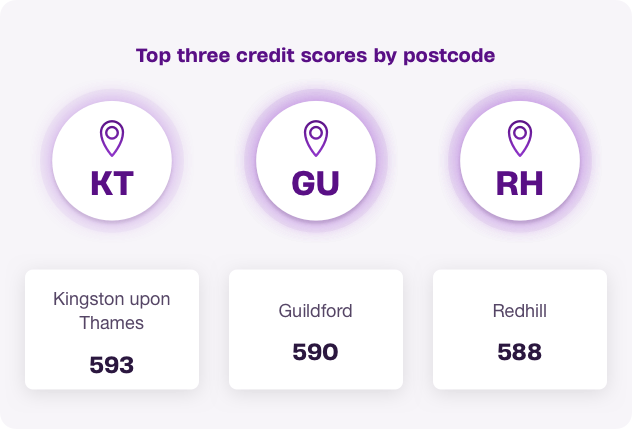 | Average credit score | Postcode area |
| --- | --- |
| 593 | Kingston upon Thames |
| 590 | Guildford |
| 588 | Redhill |
| 588 | South West London |
| 587 | Isle of Man |
Bottom five locations
Credit Monitor users in Sunderland have the lowest average credit score at 559, according to our survey - this average score is 34 points below the highest recorded average score – 593 in Kingston upon Thames. Sunderland is closely followed by Doncaster and then Blackpool, Wolverhampton and Liverpool.
And when it comes to broader geographical areas London, the South East and South West of England have the highest average scores, where the North West and North East of England have the lowest average scores.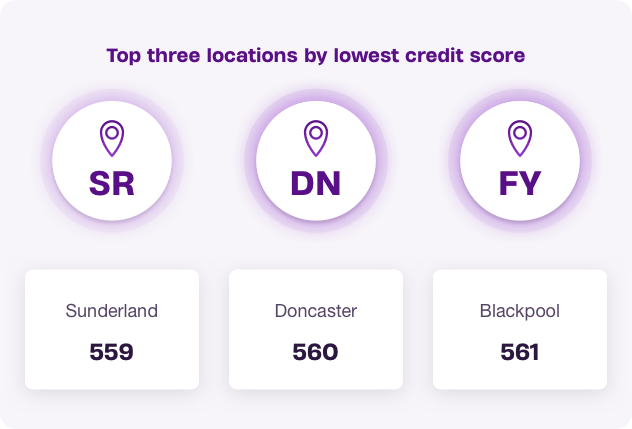 | Average credit score | Postcode area |
| --- | --- |
| 559 | Sunderland |
| 560 | Doncaster |
| 561 | Blackpool |
| 561 | Wolverhampton |
| 561 | Liverpool |
Credit score biggest movers
When it comes to the biggest movers for average credit score it would seem living on an island made a big difference in 2021. Among the top three biggest movers – all with an increase to average credit score – are the regions of Isle of Man, the Scottish Hebrides and Jersey in the Channel Islands. They were followed by Falkirk in Scotland, and Telford, Shropshire, which both saw a jump in average scores.
Top five movers by change in credit score
| | Average score 2020 | Average score 2021 | % change |
| --- | --- | --- | --- |
| Isle of Man | 577 | 587 | 1.8 |
| Hebrides | 575 | 583 | 1.3 |
| Jersey | 580 | 587 | 1.2 |
| Falkirk | 564 | 571 | 1.1 |
| Telford | 562 | 568 | 1.1 |
Credit card usage
Credit cards can have clear benefits for their users. One way they can be used is as a financial source and method of managing cash flow. Another use could be to build up a credit score, by making payments on time and, if possible, paying off any outstanding balances monthly.
One in four users of Credit Monitor hold one credit card, but slightly fewer (one in five) do not have a credit card at all as the following graph shows.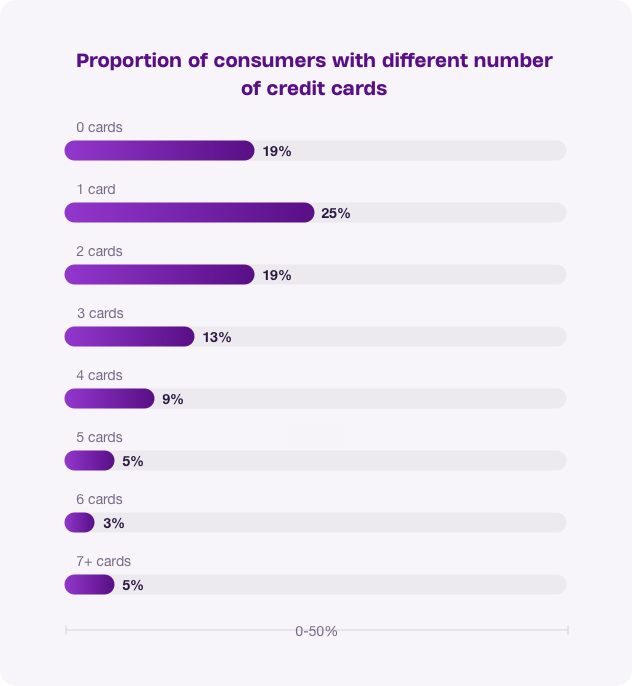 Your credit card balance in isolation is not directly connected to your credit score – you can have a very high card balance and still have an excellent credit rating.
But your credit score can be affected by how much of your available credit limit you use (this is known as your credit utilisation). So if you are close to the maximum of your credit limit this could negatively affect your credit score.
Whilst it can be beneficial to have a credit card, as a method of showing lenders you can borrow credit responsibly, it's best to have a low number of cards. This is because lenders typically see this as a responsible use of credit. Our data found that people with one credit card tended to have the highest average credit score.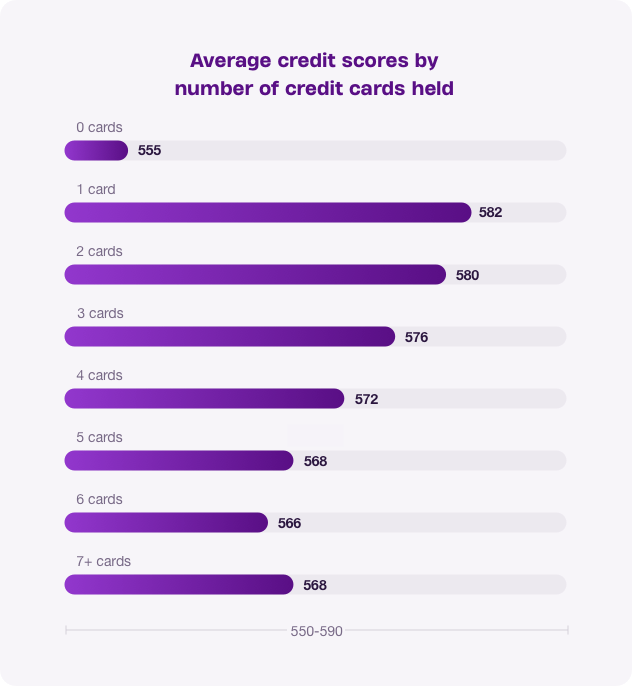 Of course, regardless of the number of cards you have, you need to ensure you will be able to afford to pay off all balances every month to avoid paying interest and reduce the risk of missing or late payments, which can both incur additional charges and adversely affect your credit rating.
Effect of registering on the electoral roll
Registering on the electoral roll (registering to vote) is quick and easy and can have an immediate positive effect on your credit score. Being on the electoral register gives lenders greater confidence that you are who you say you are - and also that the details (such as name and address) you have provided them are accurate.
Our data shows that the average score for those on the electoral roll is 35 points higher than those who are not.
If you've been registered to vote for a number of years you won't see a continuous improvement in your score just for being on the electoral roll. The boost should typically come when you initially register.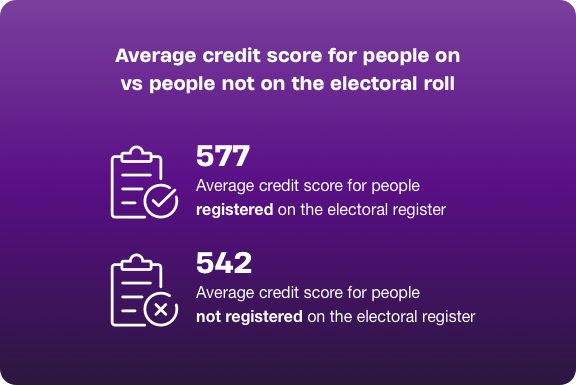 How to improve your credit score
There are a number of ways to improve your credit score. Here are MoneySuperMarket's top five tips:
Download Credit Monitor – the best way to keep on top of your credit score is by tracking its progress. MoneySuperMarket's Credit Monitor allows you to check your credit score as many times as you like without affecting your rating. It also offers personalised tips on how to improve your score.

Get on the electoral register - simply by being registered to vote, you could improve your credit rating. It's quick and easy to register through the gov.uk website.

Watch your payments - try to keep on top of your credit card, mortgage and loan repayments, setting up a direct debit where possible to avoid missing payment dates – which can lead to penalty fees and damage to your credit score.

Use credit with care – aim to keep your credit card spending well within your available credit limit and try to avoid having too many card accounts. Lender may think you're too reliant on credit if you're borrowing up to your limit every month. Check the interest rates on your cards and loans – switch where possible to get a better deal and lower rate, including 0% interest deals, which can enable you to pay off debt faster.

Get a credit builder card – if you've had debt problems in the past and have a low credit score you could still be eligible for a credit builder credit card. Although you're likely to be offered a low credit limit and interest rates will be relatively high to begin with, this can help get you on the road to increasing your credit rating and improving access to better credit deals.
Methodology
The data, accurate as of December 2021, is based on the latest credit reports for users of MoneySuperMarket's Credit Monitor.