A guide to student overdrafts and how you can get one
One of the most sought-after benefits of a student bank account is an interest-free overdraft to help fund your studies. But are they really the best option? And what are the risks? Our guide explains all
What is a student overdraft?
A student overdraft is a financial arrangement offered by banks to students in the UK. It allows you to withdraw more money from your student bank account than you have on your balance, up to a fixed limit.
Student overdrafts are designed to assist students during their academic years, helping cover living expenses or unexpected costs. Repayment usually begins after graduation, but the terms and conditions vary between banks. 
Many banks also offer interest-free student overdrafts, meaning you won't be charged for going into the red. They do this as an incentive to attract customers when they are young, knowing that we often stick with the first bank we open an account with, despite it being easier to switch (and get rewarded for doing so) than ever before.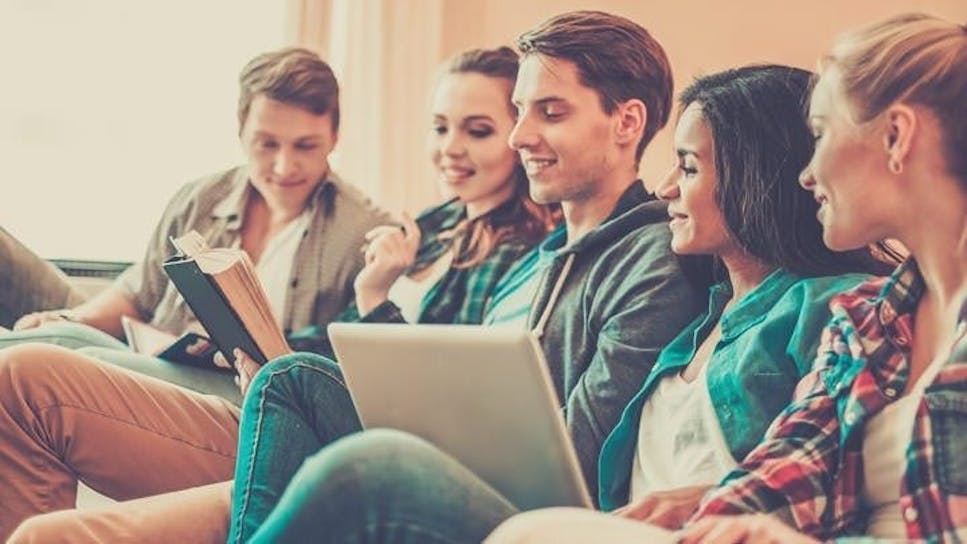 Who can get a student overdraft in the UK?
You may be able to get a student bank account with an overdraft facility if you are a full-time higher education student at a recognised university or college in the UK. 
Students usually need to provide proof of their student status to be approved for the account and access this type of overdraft. Eligibility criteria also varies between banks and might depend on your graduate status and the institution you're attending. 
You don't need to delay. Students looking to start their studies in autumn should plan ahead and apply for a student account as soon as their university or college place is confirmed.
Is it a good idea to get a student overdraft?
It can be a good idea to get a student overdraft, but it depends on your financial situation and how responsible you are with your finances.
Students rarely have much disposable income and a student overdraft can act as a handy safety net should you need funds for an emergency, such as if your laptop breaks or you have an unforeseen bill to pay.
If you are approved for an interest-free student overdraft, it will also be the cheapest way to borrow money in the short term. That's because unlike a loan or a credit card, you won't have to make interest payments.
Any borrowing should always be approached with caution though. You will have to pay the money back (usually when you graduate) and although unlikely, the bank could decide to end your overdraft facility at short notice.
Which banks offer student accounts with overdrafts?
A number of high-street banks in the UK offer student bank accounts, and often these come with the benefit of a student overdraft.

The best way to see what is available is to compare student bank accounts with MoneySuperMarket. 
We'll show you the options from the UK's leading providers and highlight which ones provide overdrafts, as well as how much the overdraft limit might be and any other perks you'll receive when you are approved for the account.
It only takes a few minutes to compare and will set you on course to selecting the best account for your needs.
Do student overdrafts charge overdraft fees?
Student overdrafts in the UK are usually interest-free, meaning they don't charge any fees if you go overdrawn.

However, there might be charges if you exceed the agreed overdraft limit, or if the overdraft isn't repaid within the agreed terms after graduation. 
It's important to carefully review the terms and conditions of each specific student overdraft offer.
Fees and terms can vary between banks and overdraft limits on an account might differ depending on how many years you've been studying. 
Are there any conditions attached to getting a student overdraft?
The main conditions attached to getting a student overdraft are:
You have to prove you are a student studying in higher education in the UK

You will have an agreed overdraft limit. If you try to spend more than this amount you may be charged, or the purchase could be declined

You will have to pay off the overdraft after a certain period following graduation. If you fail to clear what you owe, you may be charged interest
Will a student overdraft impact my credit score?
Having a student overdraft can have an impact on your credit score, but unless you spend beyond your overdraft limit or fail to repay the outstanding balance when due, it's not something you should be overly concerned about.
Providers of mortgages, loans, credit cards or any other form of credit – even a mobile phone contract – expect students to take advantage of interest-free overdrafts on their student bank accounts.
Once you have graduated, you should take steps to start paying off your overdraft or it will show any potential lenders that you are struggling financially and they may not be prepared to extend you further credit.
If you're concerned about your credit rating, you can check your credit score for free with our Credit Monitor, where we also provide helpful tips on how to increase it.
How much can I borrow on a student overdraft?
The amounts you can borrow on a student overdraft in the UK vary and can also increase through your years of study. 
For example, you might start off with a £500 interest-free overdraft as a fresher that increases to £1,000 in your second year and £1,500 in your final year before graduation.
While maximum limits on student overdrafts differ from provider to provider, you may be able to get up to £2,000 interest-free with some banks.
What happens to my overdraft when I finish my studies?
When you finish your studies, the terms of your student overdraft might change. Generally banks will convert your student overdraft into a regular overdraft with different terms, including potentially higher interest rates.

Some banks might offer a grace period before requiring repayment, while others might expect repayment immediately. 
If you have to pay interest on what you've borrowed, it can quickly end up being expensive.
So it's crucial to review the terms provided by your bank and make a plan for managing your overdraft after completing your studies.
Can I pay off my overdraft in instalments?
A student overdraft can be paid off as often as you wish simply by depositing money to your student account. 
It differs from a personal loan where you might agree to a fixed number of monthly instalments at the outset and could even face a fee for paying it off early.
Can I have more than one student account and arranged overdraft?

Typically, you're allowed just one UK student bank account and overdraft based on your bank's terms. 
To enjoy benefits like interest-free overdrafts and extras such as railcards, you usually need to meet the eligibility criteria by having this as your sole account.
What are the alternatives to a student overdraft?
If you can't or don't want to have a student overdraft, here are some alternatives:
Increase your student loan: Government-funded student loans offer a fixed amount per term to help with education and living expenses. Repayment begins after completing studies and reaching a certain income threshold.

Apply for a student credit card: Some banks offer credit cards designed for students with lower credit limits. These can help in emergencies, but responsible use is crucial to avoid high interest charges.

Get a part-time job: Working part-time can provide an income stream to help manage expenses while you are studying.

Explore bursaries and scholarships: Universities and other external organisations might offer financial aid based on academic performance or other criteria. It is often worth seeing what is on offer especially if you are specialising in an area of high demand.

Research any grants: Certain grants that you don't have to repay can be available for specific circumstances, such as students with disabilities or those with dependents.

Dig into your savings: Using personal savings can help cover costs without incurring debt.

Consider financial counselling: Seeking advice from university support services can provide guidance on managing expenses and finding suitable financial options.
Other useful guides
Compare student bank accounts with MoneySuperMarket
If you're on the hunt for a student bank account, you have come to the right place.
MoneySuperMarket works with leading high-street banks from across the market in the UK to show you the student accounts and overdrafts they offer.
We'll lay out each offer in a straightforward way so you can view the key features such as potential overdraft limits, other perks and important terms and conditions.
It then just takes a few moments to make your choice, click through to compare student bank accounts and apply online.