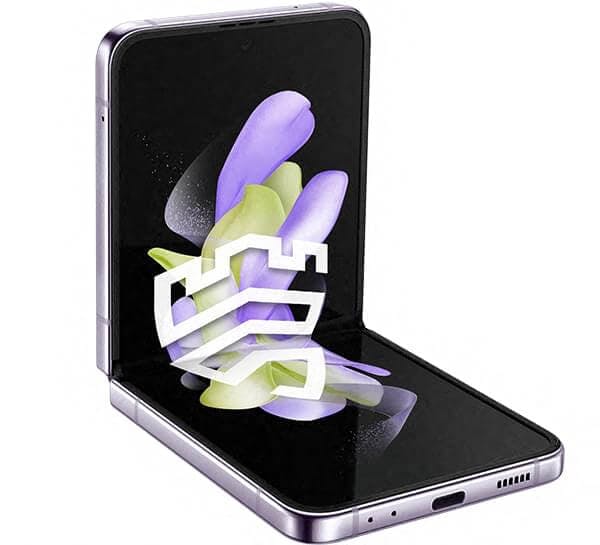 The Samsung Galaxy Z Flip4 is Samsung's 2022 take on the iconic flip phone. Designed to offer easy pocketability with all the trappings of a modern smartphone, it builds on the older Flip3 model to offer something unlike any other mainstream handset. Read our full Samsung Galaxy Z Flip4 to get the complete lowdown.
Our Samsung Galaxy Z Flip4 review in summary
The Samsung Galaxy Z Flip4 is a neat refinement of older Galaxy Z Flip models, offering long term support for Google Android and a great experience in a flip phone package that also happens to be waterproof.
Both its screens look sharp, and performance is good, but it's worth remembering that the premium you'll pay for its clever design would score you a regular looking phone with an even more impressive spec sheet.
The Samsung Galaxy Z Flip4
With a clever folding design, and the same software which powers Samsung's impressive Galaxy S22 range, the Galaxy Z Flip4 occupies a space all of its own.
Not as big or work-focused as the larger and more premium Galaxy Z Fold4, it nonetheless manages to feel completely unlike any other mass market mobile. When folded, it slips easily into a bag or pocket, while its camera setup is as good as nearly all top end flagship phones.
Camera
To the untrained eye, the 12MP dual camera setup of the Samsung Galaxy Z Flip4 is the same as the older Flip3. However, Samsung has given the pixels themselves a boost in size, meaning the main and ultrawide lenses benefit from 65% greater brightness. The result is images that look crisp, bright and full of detail.
At night the dual lens effort doesn't offer the same clarity and lack of image noise found on cameras such as those on the Galaxy S22 Ultra or iPhone 14 Pro. If you value taking quality pictures above all else, you may wish to get a more standard smartphone.
You can use the hole punch 10MP selfie camera for taking shots of yourself and your mates, especially cool as you can fold the phone and stand it up to ensure you get stable pics every time. Better still, the dual 12MP lens can also be used for selfies in conjunction with the small display when the device is folded.
Design
The Flip4's design is virtually identical to the older Flip3. However, a new matte finish ensures it doesn't slip out of the hand, while the pocketable style is still fantastic.
It's hard not to love the fact that even when folded the device works as a proper smartphone, with the 1.9-inch display allowing for speedy message responses and controlling music without having to open the phone up fully.
The fold on the Galaxy Z Flip4 is less obvious than on the Flip3, and although its cameras protrude more, only truly obsessive Samsung fans will notice any major difference.
Display
The Samsung Galaxy Z Flip4 features a capacious 6.7-inch display that packs high end Dynamic AMOLED tech, with a resolution of 2460 x 1080 pixels. Sure, you'll get a higher resolution on the likes of the Galaxy S22 Ultra, but when you consider that this is a phone that can fold in half, that's very impressive.
There's 120Hz refresh rate and brightness rates highly, meaning that games and video look fantastic. The 22:9 aspect ratio takes some getting used to, as you really need to stretch your hands to use it one handed, but repeated use makes this a lot easier to deal with.
When folded, there is a smaller 1.9-inch display on show. Sure, it might be tiny, but it can display key details such as the time, messages and music streaming info. In all, it makes this a truly next generation smartphone.
Operating system and performance
Samsung has loaded the Galaxy Z Flip4 up with Qualcomm's latest Snapdragon 8 Plus Gen 1 chipset, meaning performance is superb. There's the newest Android software to hand, covered with Samsung's breezy One UI that is familiar and easy to get to grips with.
Because it's foldable, the Flip4 also comes with Flex Mode, meaning software renders differently in split screen depending on the angle you have the fold. It's a clever addition and really makes this phone stand out from its rivals.
Battery life
The good news is that the Samsung Galaxy Z Flip4 has a far better battery than the poor effort found on the Flip3. Its 3,500mAh battery can last a day on one charge, despite being way smaller than that on standard models. Impressive seeing as it has two displays that require a lot of extra power to run.
Samsung Galaxy Z Flip4 deals and incentives
Keep an eye out for Galaxy Z Flip4 deals on MoneySuperMarket to see what incentives networks are offering to get you to sign up.
Samsung Galaxy Z Flip4 pricing
At launch, the Galaxy Z Flip4 is available for £999 SIM free for the 128GB model and £1,059 for 256GB. The harder-to-find 512GB model comes in at around £1,335. Compare contracts if you want to spread out the cost.
Pros and cons of choosing the Samsung Galaxy Z Flip4 in 2023
Pros:
Improved camera
Qualcomm chip makes things tick rapidly
Clever design
Great screen
Cons:
How does Samsung Galaxy Z Flip4 compare against other Samsung phones?
The Galaxy Z Flip4 is the standard phone version of Samsung's more capacious Galaxy Z Fold4. That device folds out into a tablet and has productivity at its heart, so if you love to work on the go, that's the phone for you.
The Galaxy S22 and Galaxy S22 Ultra are standard looking models but offer better cameras and longer battery life.
Samsung Galaxy Z Flip4 review: Verdict
The Galaxy Z Flip4 is a neat boost from the Flip3, with better battery life and an improved camera. The price is on the high side, but you're paying a premium for folding tech which has between refined and remains Samsung's biggest and most unique calling card.