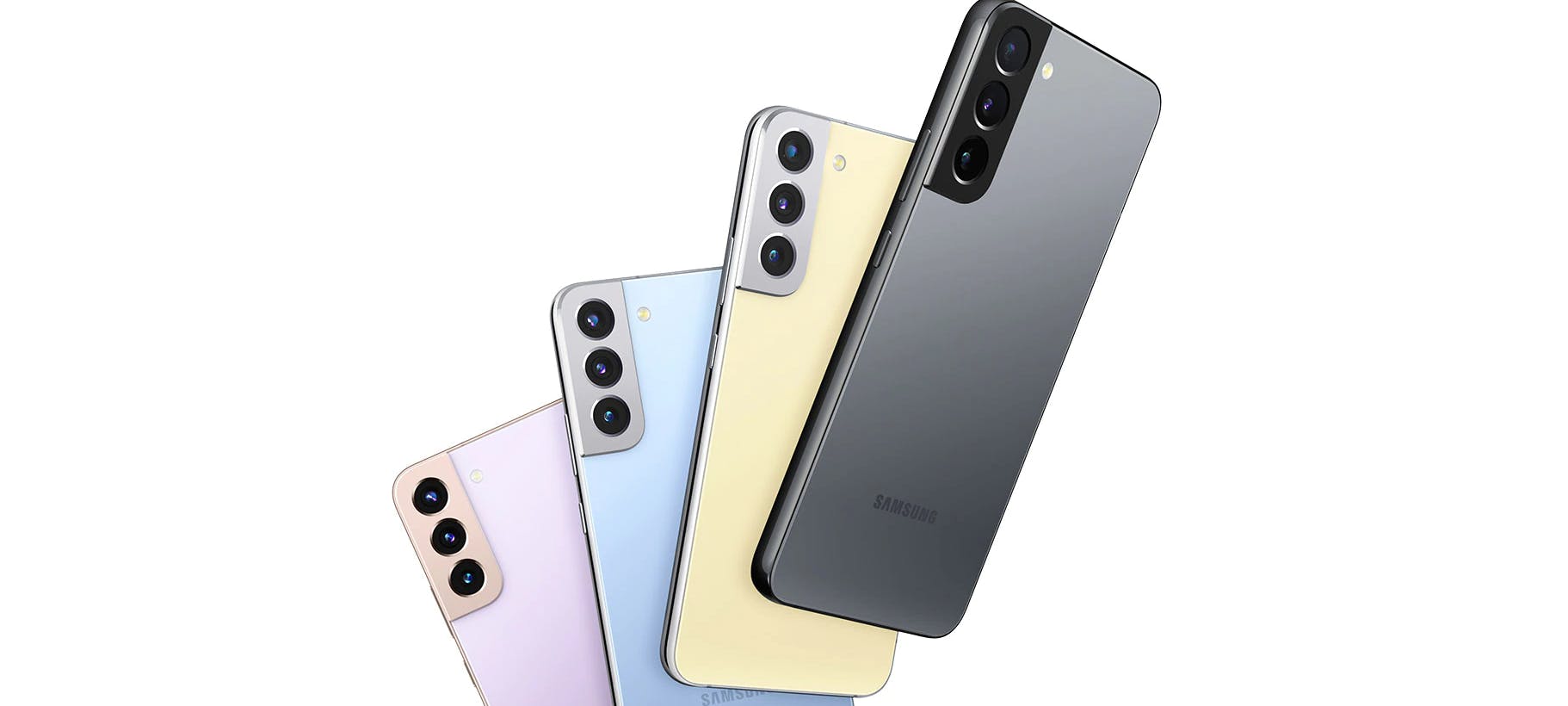 It's Samsung's hottest phone, with specs and the design to give it the edge on nearly all of its rivals. So, should you snap one up? Read on and we'll reveal all.
Our Samsung Galaxy S22 review in summary
With a striking 6.1-inch FHD AMOLED screen, tons of storage, amazing camera, stellar design and the latest Google Android software, the Samsung Galaxy S22 is the real deal.
Sure, it doesn't come cheap, but this is a case of getting what you pay for.
If you don't want an iPhone but still want the very best tech around, then it's hard to look beyond the Samsung Galaxy S22.
The Samsung Galaxy S22
The Samsung Galaxy S22 is an update on last year's Samsung Galaxy S21 and, as such, packs in the best tech around in 2022.
That means that the screen utilises a 120Hz refresh rate for ultra smooth performance, brightness that makes the screen truly pop and the most cutting edge Samsung chipset currently available.
The triple lens camera is stunning, packing in 50MP, 10MP and 12MP lenses to ensure great looking photos every time, whether you're shooting portraits or trying to capture once-in-a-lifetime landscapes.
Add Android 12 software and you've got a phone that can do it all and will continue to be a brilliant all rounder for years to come.
If you want to get future proofed, it's hard to look much further than the Galaxy S22.
Camera
The Samsung Galaxy S22 camera packs a trio of lenses. The main 50MP shooter features a f/1.8 aperture.
This is backed up by a 10MP ultrawide lens with f/2.4 and a 12MP telephoto lens with f/2.2.
The imaging results are nothing short of sensational, serving up crisp detail, the camera working well in even the lowest light conditions.
The main 50MP camera is a major jump on the S21's 12 MP lens, meaning that the overall imaging package is a major upgrade on its predecessor.
The selfie camera clocks in at 10MP and features 4K video shooting too, perfect for anyone who loves to post on TikTok or Instagram.
The main camera can shoot 8K and HDR10+ video, meaning clips look bright and clear no matter the conditions.
One for YouTube diehards and at home filmmakers.
Design
Take a close look at the Samsung Galaxy S22, and you'll see it takes its design cues from last year's S21.
That means the same sleek, curved metal edges, an edge to edge display and a small hole up top to house the selfie camera. Round the back, a triple lens camera setup dominates.
This is an area where things haven't moved on, but with hugely upgraded internal specs, it's not really a complaint.
Display
At 6.1-inches, the Galaxy S22's screen is slightly smaller than the S21's. But that's no issue, because the S22 is all about its updated screen tech.
The FHD AMOLED tech makes the screen one of the best in the business. There's a super high brightness rating of 1,500 nits and a refresh rate of 120Hz.
The screen is designed to make games, apps and web pages look their very best and we can report that the Galaxy S22 certainly doesn't disappoint in this regard.
Operating system and performance
Under the hood is where the Samsung Galaxy S22 really stands out.
It uses Samsung's latest Exynos 2200 chipset to keeps things ticking at lightning speed, while Google's spanking new Android 12 platform ensures access to the very latest apps and games.
There are no annoying proprietary extras, with the operating system feeling clean and easy to use.
Those used to Android will quickly find their way around while those new to it will love the intuitive interface and excellent menu structures.
The S22 comes with 8GB of RAM and is available in 128GB and 256GB options, with 5G as standard.
Battery life
The Samsung Galaxy S22 features a 3700mAh battery. While large, it's smaller than the 4000mAh effort in the Galaxy S21.
However, it still offers great longevity thanks to upgrades in terms of performance from the main chipset.
Standard users can easily squeeze almost two days from the Galaxy S22 between charges.
That places it in the same category as Apple's iPhone 13 and makes it one of the best devices around when it comes to battery life.
Samsung Galaxy S22's deals and incentives
There are tons of great deals for the Samsung Galaxy S22. Just check out the options at the top of this page to see what's available from Moneysupermarket.
You'll find offers from all major networks, whether you want unlimited 5G data or a package that can snag you the phone you want without having to pay over the odds.
Samsung Galaxy S22 pricing
The Galaxy S22 costs £769 SIM-free for a 128GB model, rising to £819 for 256GB. However you can easily spread the cost using Moneysupermarket.
At the time of writing, iD Mobile offers the galaxy S22 for £33.99 a month with no upfront cost, unlimited calls and texts and 50GB of 5G data.
Pros and Cons of choosing Samsung Galaxy S22 in 2022
Pros
Stunning screen
Great camera
Excellent internal specs
Loads of storage
Cons
How does Samsung Galaxy S22 compare against other Samsung phones?
The Galaxy S22 is one of Samsung's three hottest phones, along with the Galaxy S22 Plus and Galaxy S22 Ultra.
The latter is its very best device, with an amazing camera and huge screen.
However, both the Plus and Ultra models cost a lot more and will only satisfy truly hardcore users.
The S22 is a major upgrade on mid-range Galaxy A models and, as such, is a great bet for anyone wanting a brilliant phone at a decent monthly price)
Samsung Galaxy S22 review: Verdict
With a spectacular screen, great camera and the best internal specs, the Galaxy S22 is a phone that's easy to love.
It ticks all the boxes for those after a brilliant smartphone that can do it all, with the promise of a long life even after it ends its reign as the top dog in 2022.
In short, if you love Android, it's hard to look further than the Galaxy S22.