How much does student accommodation cost?
More goes into the cost of student accommodation than rent payments, and for students that may be living away from home for the first time there is a lot to learn. We'll tell you all about what goes into to the cost of staying in student accommodation.
Going to university is an exciting time and for many young people it will be their first experience of living away from home on their own. There is a lot to consider, from managing your workload to making your student loan last a term, and you'll also need to factor in accommodation costs. 

You can choose university halls or privately renting, both have their pros and cons and costs will vary depending on where you are in the country and the type of accommodation you choose.  
How much is student accommodation?    
On average students pay £7,374 for their annual accommodation costs but this varies across the country and in London it is £9,488, according to the latest National Union of Students (NUS) and Unipol survey.   
Here we look at the average rent you can expect to pay, other costs you will need to budget for, and how you can cut your costs and save money while studying.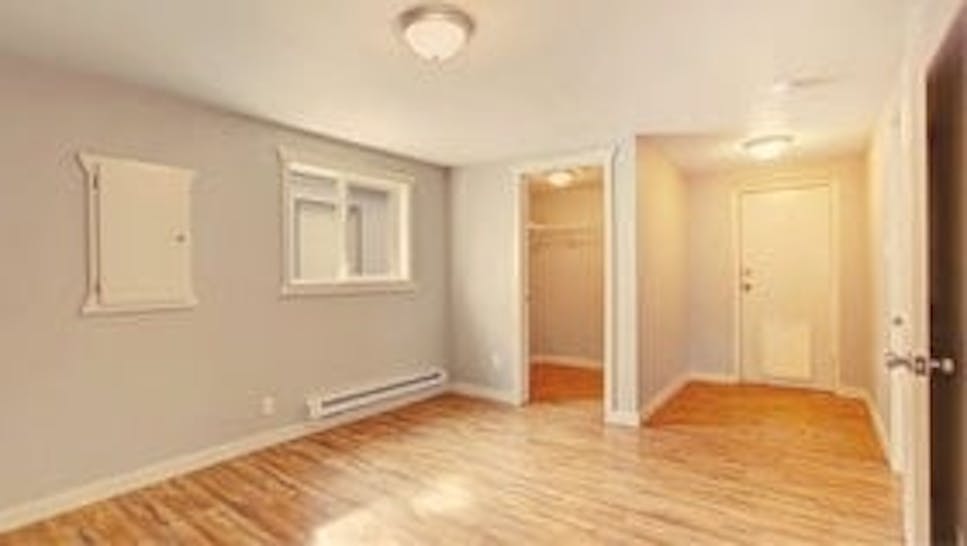 How much students pay for accommodation   
Universities set their own fees for student accommodation and most have a range of options available. There will be cheaper basic options where you can expect shared bathrooms and kitchens and more expensive luxury options where most rooms have an ensuite.   
The NUS and Unipol release data every three years on the cost of student accommodation, and the the latest survey from 2021-2022 showed that prices had risen by 4.4% annually. It also showed the average price of renting university-owned accommodation was £6,593 while a direct let from a private company was £8,002 per year.  
The annual accommodation survey from Save The Student shows a similar picture. Its latest data is from 2023 and shows that the average cost is £535 per month, or £6,420 annually.   
The price varies across the UK and in London, for example, it's £633 per month or £7,596 a year while in Yorkshire it's £550, or £6,600 a year. The cheapest region is Northern Ireland, where accommodation is £319 per month on average, or £3,828 a year.  
Yet the average maintenance loan, designed to help students with living costs, is just £485 per month, leaving a big financial gap. This means many students will rely on money gifted by family members or will need to find jobs to support themselves financially while they study.   
Private sector accommodation    
If you're renting in the private sector, you'll pay a landlord or estate agent directly. Costs are on average higher for this type of accommodation and most students usually rent a house together and split the overall cost of the rent.  
Most students rent privately after their first year living in university accommodation. The cost of renting privately, through a landlord, is £523 on average per month, or £6,276 a year, according to the Save the Student data.   
In comparison for students renting university-owned accommodation it's £592 or £7,104 annually and for those renting privately-owned student accommodation it's £596, or £7,152 a year.  
The survey also found that 46% of students live in a privately rented home, 20% live in university accommodation, 15% live with their parents, and 12% live in private halls.  
What other costs are involved in student accommodation? 
 If you are renting student accommodation, such as university-owned halls, some costs may be included in your bills such as energy and water bills. However, if you are paying for private accommodation, you will usually have to pay for these yourself.  You'll need to also budget for the following bills: 
Food 

Utility bills 

TV licence 

Council tax   
How much will a deposit cost?   
Before moving into your accommodation, you'll be required to pay a deposit. This is usually between four and six weeks' rent in the private sector but is usually less for university-owned accommodation.   
The money must then be kept in a Government-approved tenancy scheme within 30 days of the landlord or estate agent receiving it.   
Most tenancy fees are banned for things like renewing a contract or references but you may be charged for late rental payments, if you lose a key or key fob, or if you end a contract early.  
Bills and utility costs  
The amount you pay for your bills will depend on where you live, the type of accommodation, and the company you're paying. If you're in shared accommodation, for example, you'll usually split household bills. The following table gives a rough estimate of the costs you can expect to pay.   
| | |
| --- | --- |
| Utility  | Average cost  |
| Energy  | £85 per month (SavetheStudent)  |
| Water  | £37.3 per month (Water UK)  |
| TV (and TV licence)  | £38.22 per month (Ofcom)  |
| Broadband  | £33.99 per month (MSM data)  |
| Total  | £194.51  |
Students are exempt from council tax 
Full-time students do not have to pay for council tax and to be eligible your course must be at least a year long and involved at least 21 hours of study each week.   
If you live in a house where all residents are full-time students there will be no bill to pay.   
If some people in the property are not full-time students, there will still be a council tax bill to pay but the home may qualify for a 25% discount. You need to apply for a council tax discount in both of these scenarios, which you can do on the Gov.uk website.
How to bring down the cost of accommodation  
Getting a part time job is one way to help financially if you are struggling with accommodation costs and you have the time for one.  
There are usually lists of part-time available jobs on university websites and notice boards but you'll also find available positions listed with local recruiters.  
International students are able to work to, for up to 20 hours a week during term time. There will be conditions over the type of work, and you should be given this information when you apply for your student visa.    
You can also speak to your university if you're having financial difficulties, it should be able to help and give you a list of grants and funds that you may be able to apply for.  
What kind of insurance may a student need while in term?  
Student contents insurance covers your belongings when you're living away from home. This includes everything from your clothes and books to your mobile phone and laptop.   
Before you take out a policy always check you're not already covered on your parents' insurance. Some policies provide cover for children while they're away at university in case things are lost, stolen, or damaged.  
Some student current accounts also offer freebies like contents insurance so check if you already have cover before taking out a new policy.  
How to get cheap student accommodation  
There are ways to cut the cost of student accommodation including with the following five tips: 
Start looking early: the cheapest accommodation will go quickly so start looking for homes at the earliest opportunity. 

Use the university list: your university may have a list of approved private landlords and letting agents. They will be people or companies that previous students have had a positive experience with. 

Shared homes: if you're living off campus a house share is the most affordable option as it means you can split bills and you could offer to take a smaller room if it's cheaper. 

Take your own inventory: when you move into a privately rented home, make sure you scrutinise the property, including any existing flaws. Also, take lots of photographs and videos so you have evidence to show when you move out in case there are any issues with the owner. 

Live further away: you'll save money if you live further away from your university or a town or city centre, but remember to factor in travel costs.