Does private medical insurance cover physiotherapy?
While it's often necessary to recover properly from an injury, physiotherapy is an expensive proposition. Private health insurance can help with the load
Physiotherapy is a type of medical treatment that helps restore movement and physical functionality to people suffering or recovering from illness, injury or disability. It's one of the main types of healthcare people use private health insurance to pay for.
How do I get physiotherapy insurance?
Most health insurers offer physiotherapy cover as standard in their policy, though others will require you to pay for it as an added benefit. For a higher monthly premium you can opt to choose unlimited cover, or you can have your cover capped to keep the cost of your premiums down. The latter option will limit you either to a fixed number of sessions per year or a fixed amount of cover (e.g. up to £1,000 cover per year).
When you make a claim on your policy, your health insurer will need to diagnose you in order to understand the cause of your injury and illness. This could be via a GP or a medical helpline, and once approved you will be referred for physiotherapy treatment, which will be covered by your insurer.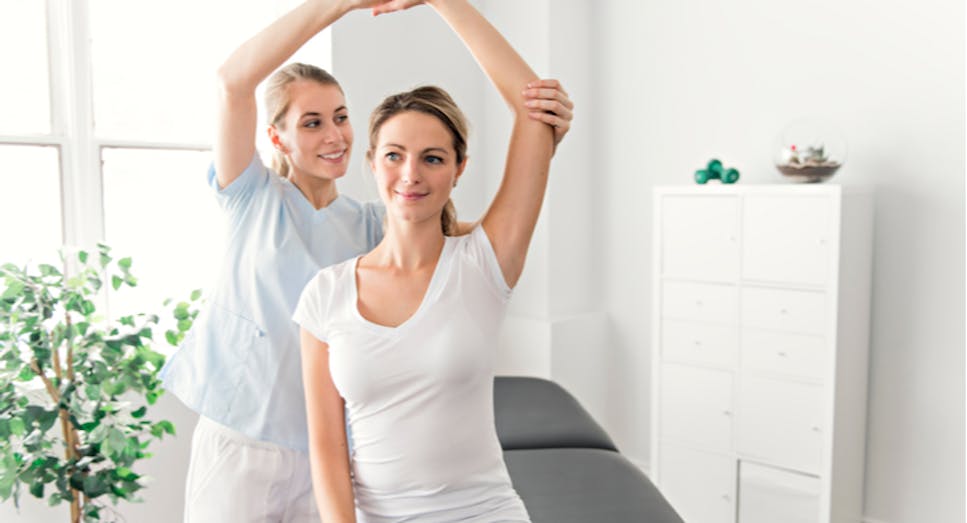 Is physiotherapy covered as standard?
As will all health insurance policies, if you have a pre-existing condition when you buy the insurance policy, you will not be covered for that condition. As with all private medical insurance, you are only for conditions you develop after you take the policy out. It is also a wise idea to read your policy documents carefully so you understand what the policy does and doesn't cover.
Most private medical insurance policies offer physiotherapy as in-patient cover – i.e. after an operation, treatment or procedure.
What does physiotherapy insurance cover?
Physiotherapy can include a variety of healthcare treatments including but not limited to the following;
Mobility exercises can assist with stiff joints and can help after an unexpected stay in bed, for example after a stroke

Massages relax and loosen your muscles and tissues

Manipulation is a specific form of physiotherapy which puts pressure on a specific area of your body and is used to reduced back pain and strain and improve mobility

Acupuncture can be used as part of your physiotherapy which involves needles being inserted into your body at specific points

Electrotherapy  uses electrical energy to help reduce pain
Which physiotherapist can you use?
Some insurers allow you to pick any physiotherapist you prefer, but most will have a list of recognised practitioners who you can choose from. It is important to speak to your insurer before you proceed with any treatment so that you know you will be covered.
How quickly can you see a physiotherapist?
Depending on when and how your condition is diagnosed, you can see a physiotherapy straight away and avoid NHS waiting lists, which can be up to 18 weeks from when you are referred.
How much does physiotherapy cover cost?
The cost of physiotherapy will depend on your specific circumstances. Family policies that include physiotherapy are more expensive than individual or joint policies. Your requirements will also affect the cost of physiotherapy cover; if you choose unlimited cover it will be more expensive than limited cover.
How can you keep the cost of physiotherapy cover down?
Full, unlimited physiotherapy is expensive but there are ways to reduce the cost of your policy. You can select different options when choosing your policy and do consider the following;
Limited or unlimited cover, limited cover will be cheaper but you cover will be up to a certain amount or a set number of physiotherapy sessions per year

Excesses are available across all health insurance policies and the higher your excess the less you will pay per month