Compare renewable energy prices and suppliers
Read our guide to find out more about renewable sources of 'green energy'
Renewable energy, often referred to as 'green energy', comes from natural sources that won't run out and which generally cause less pollution than traditional sources.
These finite sources include fossil fuels such as oil, coal and natural gas, which produce CO2 emissions when burned to produce electricity.
Nuclear energy is another significant source of energy, with over a fifth of electricity in the UK coming from nuclear power plants. 
Types of renewable energy include solar, tidal, wave and wind, as well as geothermal, hydroelectric and biomass power.
How much household energy usually comes from renewable sources?
Energy suppliers have a legal obligation to publish details of the fuel mix they have used in the last 12 months. A fuel mix is the combination of sources used to supply electricity to the energy company.
Each energy provider will publish this information online as well as on customer bills once a year.
Below shows the UK energy market's average fuel mix. It's important to note that specialist suppliers' individual fuel mix will vary from the chart below, for example green energy suppliers will have a bigger proportion allocated to renewable energy sources.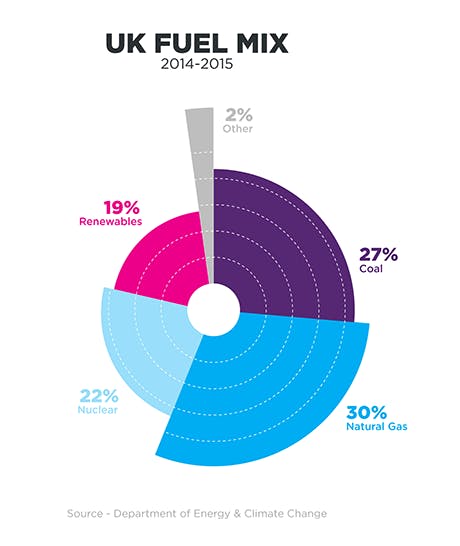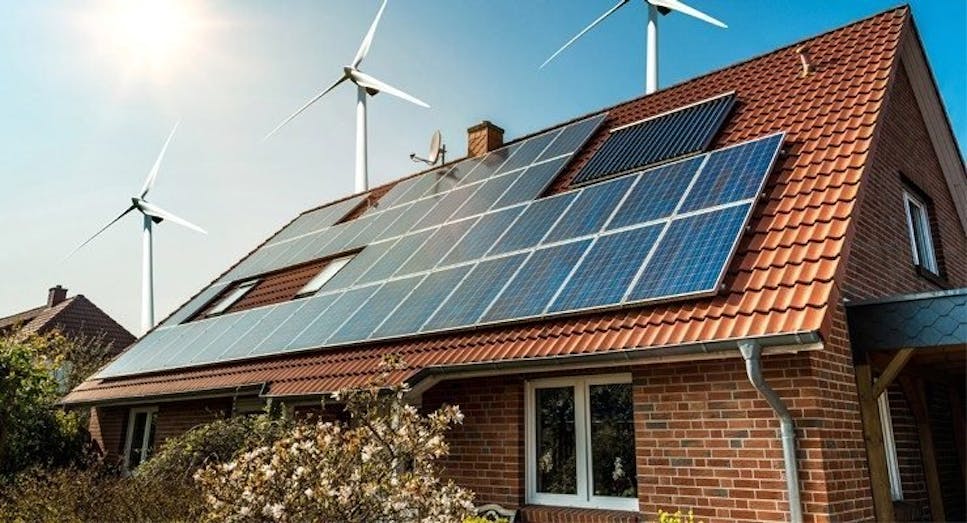 Which energy suppliers use renewable energy?
With the number of energy suppliers entering the market on the rise, there's now a greater variety of green tariffs to choose from. 
Green energy providers include Green Energy and Green Star Energy.
Providers such as M&S Energy, OVO and Octopus, among others, also offer green tariffs alongside traditional tariffs. 
Read:How to switch energy suppliers
Are there special renewable or green energy deals available?
The easiest way to find out which green tariffs are best suited to your household is by running a price comparison on our energy channel. Once you have input details on your house type and energy use a results table will rank the best deals for you. It's from here that you can select a green tariff to switch to.
You can stay up-to-date with the latest deals we've negotiated with leading gas and electricity providers, including exclusive green tariffs, by signing up to MoneySuperMarket's Energy Monitor.
Is renewable energy more expensive?
Green tariffs tend to be more expensive than other deals on the market. But some green energy tariffs - especially those from smaller providers - are often competitively priced, so it's always wise to run a quote to see how green tariffs are priced compared to others.  
One option that can help the green credentials of your household is by signing up to a Feed-in tariff.
Feed-in tariffs were introduced by the government in 2010 to encourage more environmentally-friendly ways to produce energy. It involves households and businesses installing renewable energy technology to provide energy to their building.
Any surplus energy created through the scheme can also be sold on.
Read: Feed-in tariffs
Can I power my business using renewable gas and electricity?
Greener energy tariffs are available for business customers in just the same way as for households. If you're looking to switch your business's gas and electricity supplier, you can search for a new deal using MoneySuperMarket's business utilities comparison channel.
Can I charge my electric car using renewable energy?
If you're using solar panels to power your home as part of a feed-in tariff, you can also use the surplus energy to charge your electric car. Doing this can help you save money on charging costs, and it'll also add to your contributions towards a greener planet.