How to heat your home for less
Tips and tricks to stay warm while keeping on top of your energy bills.
Turning the central heating up isn't the only way to keep your house warm this winter.
Simple steps such as draught proofing your windows and doors can make a big difference to how cosy your house or flat feels during the winter months.
If you're struggling with your heating bills, you may also be able to claim under one of the government schemes designed to tackle fuel poverty.
How can I keep my house from getting cold?
The best way to prevent your house getting cold this winter is to stop the warmth your heating system creates escaping through the doors, windows, walls, and roof – for example, by draught proofing your doors and windows.
If you do it yourself, draught proofing should only set you back about £85, while if you pay a professional, you can expect the cost to be in the region of £250 to £300 – depending on the size of your home. Once done, it could cut your heating bills by £125 a year, according to the Energy Saving Trust.
Topping up your loft insulation – or installing some if you don't have any – can also make a big difference to how much energy you use by preventing rising heat from disappearing through your roof. The ideal depth of insulation is 270mm, and topping up to this level costs most homeowners no more than a few hundred pounds.
If you're willing to invest a bit more money in keeping your home warm this winter, you could also consider insulating your walls – either with cavity wall insulation or with solid wall insulation fitted on the inside or outside of your home. It's a more costly option, but can save you a lot in the long run.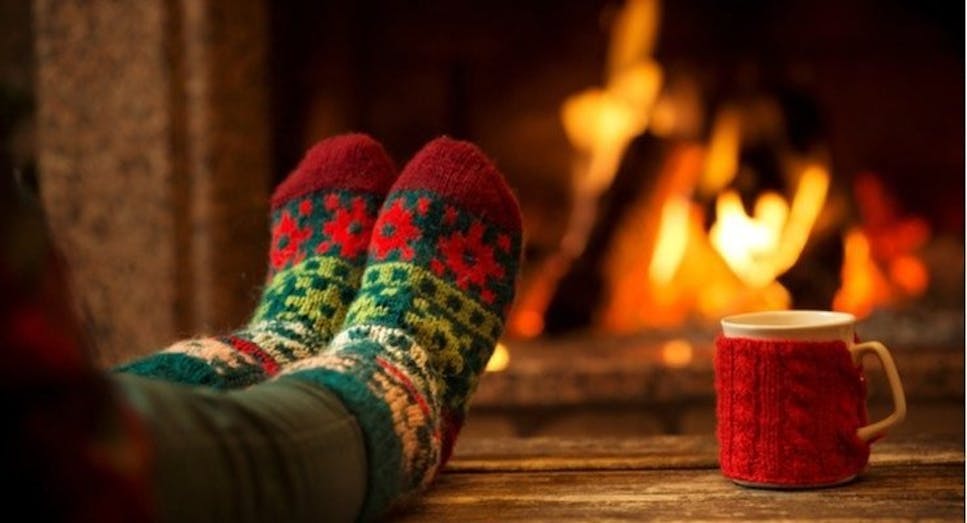 How can I keep my house warm without a heater?
Ways to make your house feel warmer without using a heater include putting rugs on tiled or wooden floors, and always opening the curtains on sunny days – before closing them at night to help trap any heat there is inside your home. If you've finished cooking something in the oven, you can also heat your kitchen by leaving the oven door open while it cools (although only if this does not create a hazard).
Leaving the bathroom door open while you shower can also allow steam to travel through the house, offering some heat and reducing problems with dry winter air.
What is the cheapest form of heating?
Gas-fuelled central heating is generally considered the cheapest way to keep your house warm, especially when used with thermostatic radiator valves and a timer that allow you to only heat the areas you use when you use them. A system of this kind will generally cost a lot less than using standalone electric heaters, for example.  
Other ways to cut your heating bills this winter include replacing your boiler with a more efficient model, putting foam insulation tubes around your pipes, and moving any furniture that is blocking the radiators – and therefore the heat they are giving out.
Placing aluminium foil sheets behind radiators can also help to reflect the heat back into the room, while putting up a 'floating' shelf at a safe distance above a radiator to avoid heating the ceiling rather than the space you use.
Can I get help with my energy bills?
Government schemes such as the Warm Home Discount, the Winter Fuel Payment, and the Cold Weather Payment are designed to help those who struggle to cover the cost of keeping their homes warm in winter.
The Warm Home Discount offers a discount of up to £150 on your energy bills if you:
Receive the Guarantee Credit element of Pension Credit

Are on a low income and meet your supplier's criteria (contact the company to find out if this is the case)
You may also be able to claim the Cold Weather Payment of £25 for each seven-day period of very cold weather between 1 November and 31 March if you receive one of the following benefits:
Pension Credit

Income Support

Income-based Jobseeker's Allowance

Income-related Employment and Support Allowance

Universal Credit

Support for Mortgage Interest
And if you were born before 26 September 1956, you will probably be eligible for a Winter Fuel Payment of between £250 and £600.
Energy companies such as British Gas, npower, and Scottish Power also offer grants for those unable to pay their energy bills. Again, contact your supplier to find out if you can qualify for these schemes.
Is it cheaper to leave the heating on all day?
No, leaving your heating on low all day is not cheaper than simply putting it on when you need it, according to the Energy Saving Trust. Instead, it recommends using a timer on your thermostat to keep your home at the desired temperature when you're in it.
If you're worried about the house – or flat – being cold when you get in, you can always set the timer a bit earlier so it has time to warm up without wasting energy on staying warm while you are out. You can also save money by installing thermostats that allow you to decide how much and when you heat different areas of your home. Find out more with our guide to smart thermostats.
What temperature is too cold for a house?
According to the World Health Organisation, the optimum temperature for your home is between 18 and 21 degrees celsius. The level you prefer within that range will depend on how much you feel the cold, although it's recommended that households including elderly people or babies aim for 21 rather than 18 degrees.
If there are only healthy adults in your household, you may find you can manage with an average temperature of below 18 degrees. However, if you are unable to maintain a comfortable temperature in your home due to fuel poverty, it's worth checking whether you can benefit from one of the schemes outlined above.
What foods warm you up?
Foods – and drinks – that increase body heat include:
Bananas – the vitamin B and magnesium in bananas help your thyroid and adrenal glands, which are partly responsible for regulating your body temperature, to function properly

Root vegetables – vegetables such as sweet potatoes and Jerusalem artichokes require more energy to digest properly, which helps to increase your body temperature

Red meat – foods such as red meat that are high in iron help to send oxygen around your body, making you feel less tired and reducing the likelihood of your suffering from cold hands and feet

Water – dehydration causes your body temperature to drop, drink water – or hot drinks such as herbal tea – regularly and avoid too much alcohol

Coffee – the caffeine in coffee and tea increases your metabolism, which can raise your body temperature
Compare gas and electricity tariffs
In normal circumstances, you can cut the cost of keeping your home cosy and warm in winter by switching to a cheaper home energy deal with MoneySuperMarket. It's easy to do, and won't involve any break in your gas and electricity supply.
However, please note that unprecedented market conditions mean that we may not be able to switch your energy right now. But if you run a comparison and leave your email, we'll let you know as soon as we can. 
According to Department for Transport data
According to Go Ultra Low data