Insuring your camera with specialist cover
If you're looking for Camera Insurance, we're here to help. Compare deals and find our best policy for you.
What is camera insurance?
Camera insurance can help to protect your camera (including DSLR and SLR cameras), action camera, or camcorder against accidental damage, electrical or mechanical breakdown, theft, and loss. It can also cover any camera accessories or equipment you have.
Camera insurance is available from a third-party insurer and is an alternative to purchasing manufacturer's insurance.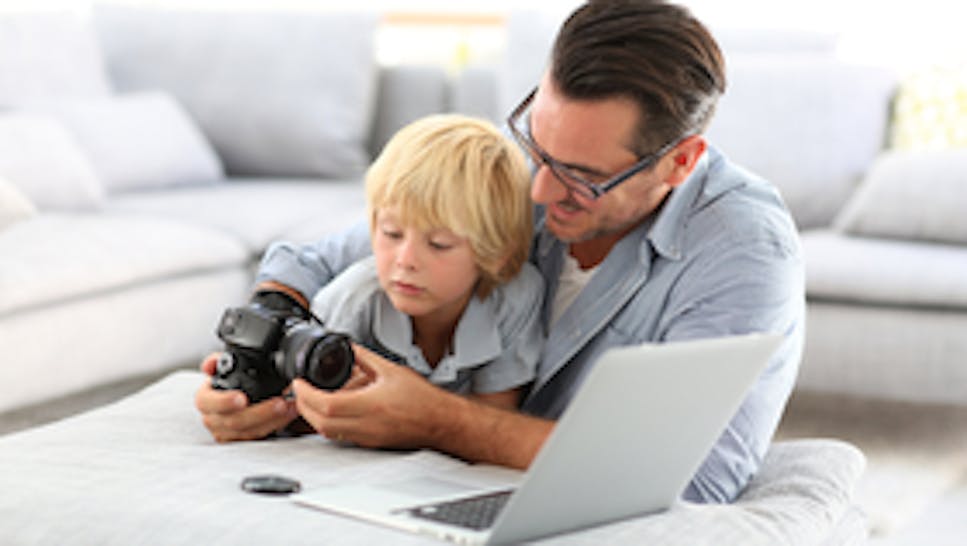 What does camera insurance cover?
Camera insurance can help to protect your Canon, EE, GoPro, JVC, Nikon, Panasonic or Sony camera against:
Accidental damage – including cracked or smashed lenses, broken screens, and liquid damage.

Electrical or mechanical breakdown (after the manufacturer warranty period ends).

Theft of your camera or camcorder

Loss of your camera or camcorder
Camera insurance can also protect your camera or camcorder accessories and equipment. This might need to be taken out as an add-on to your policy under 'Accessory cover'. This can include tripods, lenses, and more.
If your camera is damaged and isn't repairable, then your insurer can cover the cost for a replacement – check your policy has "new for old contents" cover included.
Does camera insurance provide cover when I travel
Most standard camera insurance policies offer accidental damage, loss, and theft cover for your device when you travel. You'll need to read the policy documents when taking out cover to check if there is a limit to the number of days you're covered when using your camera abroad.
You'll still need to practice the same safety precautions as in the UK to help make sure you're covered. This can include keeping your camera in a locked hotel room and using any safety devices available such as a locked safe.
Some insurers may say they will only send a replacement camera to UK addresses, so you'll need to keep this in mind if you're a travel photographer who needs their camera while away.
Your travel insurance policy may also offer some level of cover for your gadgets while away.
What isn't covered by camera insurance
Most camera insurance providers will have clauses written into their policy documents which say they won't offer cover for things like:
Cameras or camcorders that are intended for commercial use – you may need to take out business insurance for this equipment instead.

Wear and tear of the camera or camcorder that's caused by product ageing.

Any intentional damage to the camera that was caused by you and not a third party.

Non-manufacturer-approved accessories and equipment damage that was caused by neglecting manufacturer instructions.

Manufacturer's defects or recall of the camera model.

Cosmetic damage that doesn't affect the camera's performance or safety – cosmetic damage might be a dent or a scratch.
An insurer may also say that a camera or camcorder needs to be under a certain age to be covered.
You should always read the policy wording summary documents carefully before taking out cover with a camera insurance provider, so you know what won't be covered.
How much does camera insurance cost?
The cost of camera insurance will depend on the level of protection you choose.
Accidental damage and theft cover are usually included as part of a standard policy with most providers. Mechanical breakdown cover can also be found as part of most standard gadget insurance policies.
Loss cover will typically be included as an add-on to your policy, which will increase the cost.
Should I get camera insurance?
Camera insurance can be a good idea if:
You've bought an expensive camera or camcorder and equipment, and you'd struggle to replace them if anything were to happen.

You think there's a risk your camera or camcorder might become damaged on a photoshoot or during extreme sports – particularly if you have an action camera.

You think there's a risk your camera or camcorder might become lost or stolen.

You would need a replacement device soon if anything were to happen to your camera or camcorder. Some insurers will offer a replacement camera within 24 hours.
Third-party camera insurance policies can sometimes work out cheaper than the insurance cover quoted by the device manufacturer or network provider.
Your camera will be insured for mechanical or electrical breakdown during the manufacturer warranty period, but this won't cover any accidental damage, theft or loss.
Tips to help make sure you're covered
Before you take out camera insurance, your provider may want to check:
Whether your camera or camcorder was bought directly from a manufacturer or certified shop. Second-hand cameras and camcorders won't tend to be covered by camera insurance.

Whether your device is already damaged.

How old the camera or camcorder is.

Whether you have proof of purchase.
If you give incorrect information to the insurance provider when applying for a policy, it could mean they decide that they won't pay out if you make a claim.
What information will you need to compare camera insurance quotes
In order to compare camera insurance quotes, you will need to provide some information. This can include:
Camera information – such as make and model, age, and previous damage.

Personal information – including name and address.

Payment method – whether you are planning to pay your insurance in full or on a monthly plan.

Add-ons – whether there are any additional pieces of equipment you want to cover alongside your camera.

Excess – how much excess you can pay in full towards the overall cost of an insurance claim. This will help your insurer understand better your financial position and the amount they are willing to insure your device for.
Making sure you have all available information ready means that you can start comparing quotes for the best camera insurance. Different third-party insurers will come back with varying offers. Depending on the speed of recovery, amount of financial cover, and types of cover, you may want to consider some offers over others.
How to claim on your camera insurance
You can claim through your camera insurance provider's website or over the phone. Your provider will be able to tell you what to do next, including any evidence required and how long it'll need for repairs, replacement, or refund.
You'll need proof of the device purchase date when you make a claim.
Most providers say you need to let them know within 48 hours of discovering there's damage. If your device is lost or stolen, it's better to let your insurance provider know within 24 hours of discovery.
Will your home insurance cover your camera?
You might have limited device cover through an existing insurance policy such as contents insurance, but you'll need to check whether it offers enough protection for your camera or camcorder.
Some home insurance policies won't always include accidental damage cover for your devices.
If you claim for your gadget on a home insurance policy, you will still have to pay an excess fee, which can be much higher than on a gadget policy. It is important to note that making a claim on your home insurance policy will make your future home insurance policies more expensive.
Multiple gadget insurance
You can also get your camera or camcorder insured as part of a bundle with gadget insurance. If you have a camera plus a laptop and mobile phone, you might want to insure all of your gadgets under one umbrella policy and get a multi-gadget discount.
You'll get a claims allowance that's broken down per gadget, and policies can cover each device for accidental damage, mechanical breakdown, and theft.
Business insurance options for photographers
If you're planning on using your camera or camcorder for business then you may want to consider taking out additional insurance:
Public liability insurance: helps to protect your photography business in case a member of the public is injured during a photoshoot or their property is damaged, if the accident is caused by your photography equipment.

Professional indemnity insurance: helps to protect your business in case an unhappy client makes a claim against you and your business. For example, if a client wants compensation for loss.
Are my photographs also covered by camera insurance?
Unfortunately, no. Photographs are not covered by your camera and equipment insurance. However, there are methods of ensuring your photography is not lost, including backing up your device where possible.
If you use your camera for professional purposes, your photographs might be covered by your professional indemnity insurance – read your provider's policies before accepting an offer if this is something you are looking for.
Can you insure a damaged camera?
Yes, you can insure a previously damaged camera or camcorder. However, your policy will only cover future damage to your device, so you cannot claim on any damages caused before your insurance starts.
It is always worth checking a company's insurance policy before accepting an agreement as some insurers might not accept previous damages.
Compare camera insurance quotes with MoneySuperMarket
MoneySuperMarket has teamed up with Protect Your Gadget to help you find and compare camera insurance quotes.
To get your quote, you need to choose the make and model of your camera or camcorder and let us know when you bought it. You can also add loss cover here.
You can then add another device if you want to compare multiple gadget insurance policies – this could be another camera, laptop, mobile, or other device. We'll ask if you want to add accidental damage and theft cover, and we'll ask you how much excess you'd like to pay if you did have to claim.
You can then say if you'd like to pay for your policy annually or in monthly instalments.
Before you see your results you'll need to agree that:
You have proof of purchase for your camera.

Your camera or gadgets were bought directly from a manufacturer, network provider, retail store or online outlet.

Your camera or gadgets are working as they should and they aren't already damaged.
You'll then be able to compare your camera insurance quotes. Include a combination of accidental damage, theft cover, and instant cover in the quotes you can compare. It is important to make sure the cover you accept is ideal for the level of protection you want.
You can also compare quotes by monthly or annual cost – paying for your camera or gadget insurance annually can be cheaper if you can afford it.
The policy results will say how many claims you're allowed, the amount you can claim per gadget, and how often. They'll also show any excess fees you'd need to pay to claim and whether the cover is instant