Do you have to pay private parking tickets?
Getting back to your car to find a parking ticket on your windscreen can feel frustrating. Our guide covers when you can challenge a ticket, and how parking fines work
It's a huge frustration for motorists across the country - you come back to your car and find you've got a ticket slapped onto your windscreen. However, there's a chance that the ticket has been issued unfairly and, if it was, you might be able to appeal. This article will help guide you through the process of appealing.
What are the types of parking ticket?
There are a few common types of parking tickets or traffic penalties:
Fixed Penalty Notice (FPN) - Issued by the police, council or DVSA
Fixed penalty notices are issued for parking, dangerous driving or other offences. You will receive a fine and could even get points on your licence. In England and Wales, you have 28 days to pay them or you will need to pay 50% more, while refusing to pay at all could mean you end up being taken to court.
Penalty Charge Notice (PCN) - Issued by local authority traffic wardens
Most parking tickets will either be a Penalty Charge Notice (PCN) or an Excess Charge Notice (ECN), both issued by local authorities. If your parking fine is one of these, it should be labelled clearly.
The main difference between the two is that unlike a PCN, an Excess Charge Notice is a criminal charge.
As well as for parking you could also receive a PCN for some other offences - not paying the London congestion charge, for example.
Parking Charge Notice/PCN - Invoices issued by private companies for parking on private land
If you overstay in a supermarket, hospital or other private car park, you could end up with one of these. Despite the identical acronym, a Parking Charge Notice is different to a Penalty Charge Notice. The former isn't backed by law. Think of it more as an invoice for breaking the terms and conditions of the private company which operates the car park.
Like other types of ticket there will be an amount owed and a date you need to pay by. Usually this will be discounted if you pay within a certain period of time.
If you feel the ticket was issued unfairly, then you may be able to get out of paying - but be aware that if you don't pay, the parking company could take you to court, which is expensive and time consuming.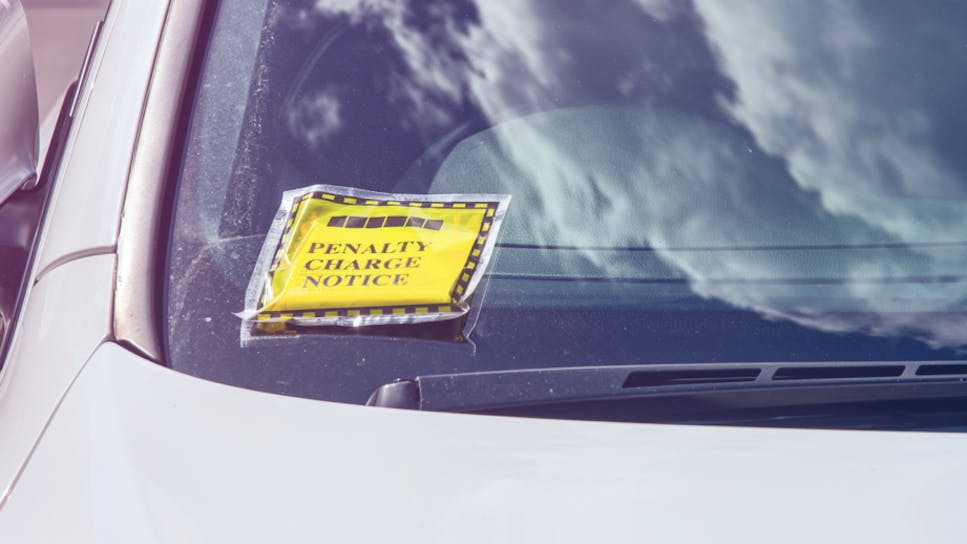 Is the ticket justified?
If you've been given a parking ticket, you'll need to decide whether you believe it to be justified. Ask yourself if you broke the advertised parking conditions, perhaps by staying longer than you should have, or whether you parked on a company's private land without permission.
If you're at fault, you'll need to consider whether the amount you're being asked to pay is justified. Also remember that private companies can't fine you – they're just sending you notice of what they see as a breach of contract.
If you are convinced the ticket you've received from an official body is unfair, the key is to act fast so you can pull together evidence as soon as possible.
When can you challenge a parking ticket?
If you've parked on a double yellow line or overstayed in a car park when the sign was clearly visible, then unfortunately you are bang to rights and will probably need to cough up. The same applies if you parked in a permitted area or you blocked an entrance. If you appeal in these circumstances then you are unlikely to be successful.
However, there are certain circumstances where you may be able to challenge a parking ticket – for example, technology faults and unclear signs or markings. One scenario where you may be able to challenge a ticket is on the grounds of mitigating circumstances, such as being ill, or the ticket falling off. With cases such as these, you need to proceed very carefully, as you may still struggle to get your challenge upheld.
Know your rights if you're clamped or towed
Having your car clamped or towed away isn't a nice thought and can leave you with worries of how much it'll cost to get your car back, or if you can remove the clamp yourself.
Your car can be clamped if:
You've parked illegally, causing an obstruction

Your insurance is invalid or your vehicle is untaxed

If you're driving a commercial vehicle: You've been driving for too many hours or haven't paid previous fines
Your car can be towed if:
You've parked illegally: The police and local councils can tow cars which are causing an obstruction, including cars that have broken down

Your vehicle is untaxed: the DVLA (Driver and Vehicle Licensing Agency) can tow any untaxed vehicle

Your insurance is invalid: Make sure your car insurance hasn't expired, or that you've set up your renewal or new policy correctly
Do keep in mind that in England, Scotland or Wales, it's illegal for your car to be clamped, towed, blocked-in or immobilised on private land by a private operator. Only authorised public bodies can do so.
Also note that you should not attempt to remove the clamp yourself, as this could be considered criminal damage.
How do I challenge a parking ticket?
Before starting an appeal process for your parking ticket, you should check who your ticket is from. While some tickets are issued by official bodies such as local councils and the police, others are issued by private companies.
If you're convinced the ticket you've received from an official body is unfair, you'll need to act fast so you can pull together evidence as soon as possible.
You should take photos of unclear signs, as well as pictures of the area surrounding your vehicle. If there are witnesses around, ask for their contact details so you can get in touch if you need to further down the line. Taking action right away is important if you want to keep costs down as, usually, if you pay a fine within 14 days the cost will be halved.
For a parking fine issued by a local authority or official body, you should first make an informal challenge to the body. If this is rejected you will receive a "notice to owner" with details of how to pay. You will have 28 days to make a formal challenge and provide as much evidence as possible. If this is rejected, then you have the option of an independent tribunal.
The rules for a privately issued ticket are different (see below).
Keep in mind that the success rate of appeals tends to be low, and they can take a lot of time and effort. So you should only consider taking this route if you feel you have been genuinely unfairly treated.
Do you have to pay for a private parking fine?
Whether you have to pay a parking fine will depend on who it was issued by. If the fine was issued by the police or council workers, known as a Penalty Charge Notice (PCN), you can't ignore it. This is because they're backed by the law and if you ignore this for too long, you could get summoned to court.
But if the parking ticket was issued by a private company (like a college, university, car park or hospital) they aren't technically 'fines.' Instead, the company is giving you notice that they see your parking as a breach of contract. They're known as Parking Charge Notices and aren't an official fine. However, ignoring them is still not a good idea as, if it was issued fairly, then you could be taken to small claims court.
How do I challenge a private parking ticket?
If you're looking to challenge a private parking ticket, first check if the ticket says the company is a member of a trade body. You can check the BPA or IPA's websites to see if a parking company is a member of an accredited trade association.
The British Parking Association (BPA) or the International Parking Community (IPC) are the main UK trade bodies.
If they are a member, then your best course of action is to use the body's official appeals process. First appeal to the firm itself, using all of the evidence you gathered earlier. If that's unsuccessful then you can appeal to the trade body (for the BPA it is Popla, and for the IPC it is the Independent Appeals Process).
If you're still unsuccessful then both bodies say that you should pay the charge within 14 days. If you don't you could be taken to court.
If the parking firm that has issued your parking ticket isn't a member of a trade body, then you should be more wary of using its official appeals service as doing so could legitimise the ticket. Although it is probably not a good idea to ignore it entirely, non trade body members cannot ask the DVLA for details of the registered keeper of the vehicle.
You could consider firmly telling the company that you will not be paying the charge, laying out your reasoning, but be aware that you may need to argue your case in court.
Do parking tickets affect my car insurance?
Parking tickets shouldn't affect your car insurance premium, because parking tickets aren't a reflection of whether you drive safely. Instead, car insurers look at driving-related factors like speeding tickets.
If you tell your insurer about your parking tickets, they wouldn't use this information to work out if you're more likely to get into a car accident or submit a car insurance claim.
Tips for avoiding parking tickets
There are ways you can reduce your chances of getting a parking ticket, including:
Avoid double yellow lines: Even if you're only parked for two minutes to nip into a shop, don't park on double yellow lines. The only exception is if you're stopping to load or unload your vehicle

Avoid clearways: A clearway is marked with a red cross over a blue background and means no stopping at any time, even to pick up or drop off passengers

Make sure your ticket is displayed clearly: Make sure you display your parking ticket clearly so it can be read clearly by a parking warden. Always check it's visible after you've shut your car door

Be aware: Even if cars around you aren't displaying tickets, search for signs and make sure you're not disobeying local restrictions. If you use a Blue Badge, don't assume that disabled parking is always free
Sam Meadows:
Getting a parking ticket is always annoying and sometimes feels unfair. Cowboy parking firms have been a problem in the past, so it pays to make sure you work out who is issuing the ticket and for what reason. Ignoring the ticket completely is never likely to be a good idea so act fast, collect your evidence and submit an appeal in the correct way.