How much does a new boiler cost?
Whether it's because your current boiler is due to be replaced, or you simply want to upgrade, you may be thinking about getting a new boiler. Modern boilers are more energy efficient and can help cut your energy bills. How much does a new boiler cost, and how much money can it save on your bills? Read on to find out more.
The average cost of a new boiler
The price of a new boiler can vary a lot, depending on a few things: the type, the brand and model, and the size of the boiler.
Our table gives an idea for the average prices you can expect to pay, as of the time of writing (August 2022):
| Type of boiler | Average costs |
| --- | --- |
| Combi boiler | £500 - £2000 |
| System boiler | £500 - £2500 |
| Conventional | £500 - £2750 |
| Liquid petroleum gas (LPG) | £600 - £2500 |
| Biomass | £7000 - £15000 |
Bear in mind that there are other costs to consider when buying a new boiler:
Installation costs

Boiler flue kit

Cost of cleaning your filter system

Adding heating controls

Any additional pumps or valves needed

Any new radiators

VAT
In general, most quotes for a new boiler alone will typically come in between £600 to £2500. To get the best possible price, you should shop around and get at least three comparison quotes.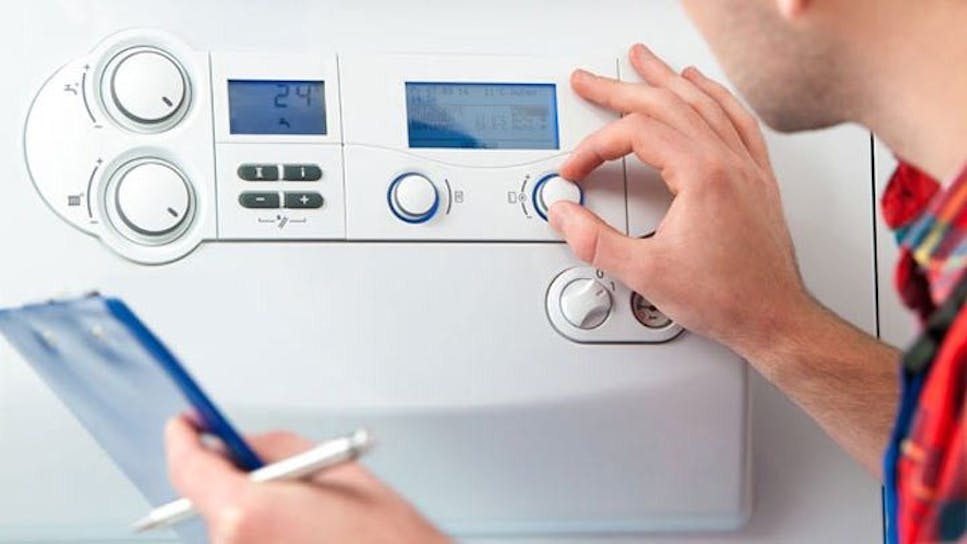 How much does it cost to have a new boiler installed?
How much you'll need to pay to install a new boiler depends on how you plan to replace your old boiler:
Boiler swaps – replacing your old boiler with a new one of the same type, in the same location. This is the simplest and cheapest option, as it requires less work (usually just one day)

Boiler move – replacing your old boiler with a new one of the same type, but in a different location

Boiler conversion – changing the type of boiler you have, either in the same or a new location. This is the most expensive option, as it requires the most work (could take 2-3 days)
As a result, the cost to install a new boiler varies a lot. The price you'll pay can be anything between £500 to £3500, on top of the cost of the boiler itself.
Should I budget for boiler cover?
When you're getting a new boiler, it's worth taking out boiler cover too. It's a type of insurance that helps cover the costs of engineer visits and repairs if something goes wrong with your boiler or central heating.
Most boiler cover plans also include an annual boiler service, either as part of your plan or at a discounted rate – check what you get before signing up for a policy. Boiler service should be carried out every year to make sure your boiler is in good condition.
A one-off boiler service or repair costs more upfront. For a monthly charge, boiler cover provides protection if something goes wrong, and you won't have to worry about facing an unexpectedly high charge.
Not to mention, it can sometimes be difficult to book an engineer during busy periods or emergencies. Having boiler cover means that an engineer will come out to fix it as soon as possible, and you shouldn't have to wait.
Some home insurance companies provide cover for boiler breakdowns, so check if you already have this included with your home insurance.
If you rent your home, you won't need to get boiler cover – this is your landlord's responsibility to organise.
Can I get a boiler grant?
Getting a new boiler is a big expense. If you need some help with that cost, you could qualify for a government grant:
Boiler Upgrade Scheme
The government's Boiler Upgrade Scheme gives homeowners a grant towards installing low carbon heating systems, including biomass boilers. Biomass boilers are significantly more expensive than other types, so the grant will provide up to £5000 towards the cost.
This scheme runs from 2022 to 2025, and it's open to all domestic or small non-domestic properties in England and Wales. You can check on the Gov.uk website to see if you're eligible.
ECO4 Scheme
The ECO4 Scheme provides help for low-income households in the UK that are within the lowest energy efficiency bracket. It's a government scheme that offers grants towards upgrading inefficient heating systems, improving home insulation and replacing old boilers.
It runs from 2022 to 2026, and is open to households receiving means-tested benefits and living in an energy efficiency band D-G home.
Even if you don't receive any income-based benefits, you may still qualify under the LA Flex Funding Scheme. It helps homeowners on a tight budget by giving big discounts on home insulation.
How much will a new boiler save me on my energy bills?
A new, well-maintained boiler is a lot more energy efficient than an old boiler. As a result, an efficient boiler can help cut energy costs. Even though it's a big upfront cost to install a new boiler, it'll be offset by the savings you make on your bills in the long term.
How much you'll save on energy bills depends on your boiler type, the type of fuel it uses, and the size and type of house you live in (such as a detached or semi-detached property).
For example, let's say you're replacing an old G-rated gas boiler with a new A-rated condensing boiler with a thermostat and controls. According to the Energy Saving Trust, you could save around £580 per year on your annual energy bills in a detached house, £380 in a semi-detached house and £150 in a flat.
Do I need a new boiler?
With proper care and maintenance, a boiler usually lasts between 10 to 15 years.
However, boilers over 10 years old aren't as energy efficient as modern boilers. Old boilers are likely to be G-rated, which means they're running under 70% efficiency. You may want to replace it with a new combi boiler, which runs at a minimum of 92% efficiency and can save money on your energy bills.
You might also have problems with your old boiler, such as odd smells, water leaks and frequent breakdowns. In these cases, a Gas Safe registered engineer may be able to fix the issue. But sometimes, it may be more economical to replace the boiler instead – particularly if the problems are due to age.
Replacing your old boiler with a new one is a big cost. If you're not ready to get a new boiler just yet, but you want to be more energy efficient and reduce your energy bills, it's well worth trying some other methods first.
To help with heating your property, you could consider installing some home improvement measures. For example, investing in double glazing, draught-proofing, loft and wall insulation and new heating controls can all help prevent heat from escaping your home. Plus, things like draught excluders and loft insulation can be bought for an affordable price, and they're easy to install by yourself.
Read our energy saving tips for more on how to reduce energy costs.