Replacing a boiler guide
Boilers don't last forever. This much we all know. But how do you now when to replace yours? Read on and we'll walk you through it.
When to replace a boiler and how to get it done 
Replacing an old boiler might seem like a daunting job. And working out when you need to do it isn't always easy.  
Our handy guide will take you through the process, as well as explaining why getting a new boiler doesn't need to be onerous, especially with smaller combi options making installation easier than ever before.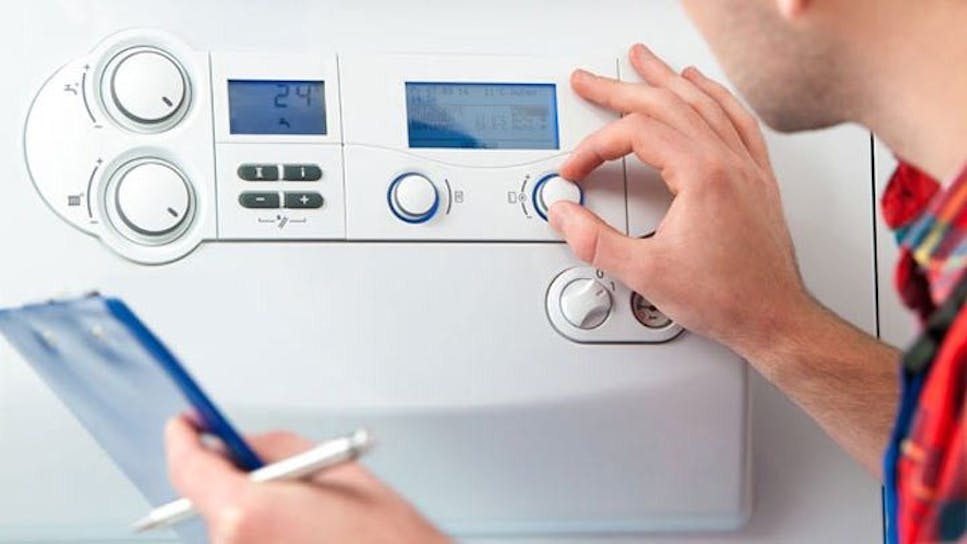 How long does a boiler last? 
A boiler should last anywhere between 10 and 15 years, sometimes longer, depending on how well you look after it. If you annual services and keep the area around your boiler clean, then you can prolong its lifespan.  
Be aware that boilers over 15 years old usually become inefficient, meaning they cost more to run and do more harm to the environment. If your boiler has reached this point, it's time to consider getting a new one. 
How do I know when to replace my boiler? 
There are a number of things to look out for when it comes to replacing your boiler, especially if it's reached its 15 year lifespan. These include: 
Leaks - if there are regular leaks that cannot be resolved, then it's time for a new boiler 

The need for regular repairs - this can be a sign that your boiler isn't functioning properly 

Higher bills - inefficient boilers use more energy, pushing your bills up in the process. If you think you're paying too much, look into getting a new boiler 

Low efficiency rating - all new boilers must have an A efficiency rating. If you think yours isn't efficient, then find the model number and use the energy efficiency database to check its rating. Anything below B is considered inefficient 

Water temperature changes - if your hot water doesn't run at the same temperature consistently, it can be a sign that an ageing boiler needs replacing 

Strange flame - if the flame in the boiler isn't blue and sometimes yellow, then it can be a sign of carbon monoxide. Your boiler should be replaced immediately 
Is it easy to replace an old boiler? Replacing an old boiler doesn't have to take long. It all depends on the boiler you're replacing and whether you're having a new one fitted in the same place, or relocated in the home.  A new combi boiler can take around a day to fit if it's going in the same place as your old one. Add an extra half a day if it's being moved to a new location and the engineer needs to change pipework to ensure it works properly.  
If you're getting rid of an old boiler with a large water tank, it can take around two days, although this can stretch to three if the new boiler is going elsewhere in the home.  
The good news is that modern day combi boilers are compact and relatively easy to install. Gas Safe engineers should always be engaged and will be able to dispose of your old boiler safely. 
Is it worth replacing a 10-year-old boiler? 
Whether to replace a 10-year-old boiler really comes down to how well it's been taken care of. If it has been serviced regularly and shows few to no signs of wear and tear, then it's worth keeping it going in the short term. 
 However, if you find that your 10-year-old boiler needs regular repairs and lacks energy efficiency, therefore driving up your energy bills, then it's time to look at getting a new one. A newer model will have A-rating efficiency and will be smaller than any older model, giving you more space. 
How much will a new boiler cost me? 
The cost of a new boiler comes down to the brand you choose and the kind of boiler that you need. And that's just for the boiler itself. The price will rise further thanks to installation costs, VAT and the need for new pipework if you're having your boiler relocated.  
A new combi boiler can cost anywhere between £500 and £2,000, while a more environmentally friendly biomass boiler will cost north of £7,000. Be aware that installation can be anything from £600 to £3,500 depending on the work required. 
Grants from the Boiler Upgrade Scheme can help ease the cost. If you have a low income, ECO4 grants can help with the upgrade of inefficient boilers.