Getting your boiler serviced
Winter can take its toll on a boiler. By preparing in advance and getting your boiler serviced every year, you can make sure it's working well for the colder months
Boilers are at their most vulnerable during winter when they're in constant use. And the last thing you want to happen is for it to break down on a freezing cold day.
Getting your boiler serviced in autumn or summer will help ensure it's in the best possible condition for winter. Regular boiler checks will also make sure it's working safely, as it'll be tested for any risk of carbon monoxide poisoning.
While the cost of a boiler service may seem like a fair chunk of cash, it could potentially save you money down the line. Not least because a service will flag potential issues early on, giving you time to deal with a problem before it spirals into an expensive repair bill.
Not to mention, a boiler that's working at its best will be more efficient and less likely to break down. So you'll be able to cut down on high energy bills caused by poorly functioning boilers, as well as reduce the risk of costly repairs or replacements.
Additionally, some boiler warranties only remain valid if you continue to get up-to-date servicing on your boiler. 
All in all, it's well worth spending the money to get your boiler serviced once a year.
How much does a boiler service cost?
At the time of writing (May 2022), the average cost for a one-off boiler service in the UK is £80. 
However, this charge varies depending on a number of factors: the type, model and age of your boiler, where you live, and the company carrying out the service.
Gas boiler
The average price of a gas boiler service is £80, although it may cost anything between £60-£100.
Oil boiler
An oil boiler service can cost anything between £50-£180, depending on a number of factors.
In general, an oil boiler service will cost slightly more than a gas boiler service.
Combi-boiler
For combi-boilers, a one-off service can cost between £70-£120. You can expect to pay higher prices if you go with a large national firm, rather than a small local business.
Typically, combi boilers are more reliable than gas and oil boilers, so it's less likely that you'll need to pay extra for repairs.
Biomass boiler
A one-off service for a biomass boiler runs more expensive, ranging between £180-£200.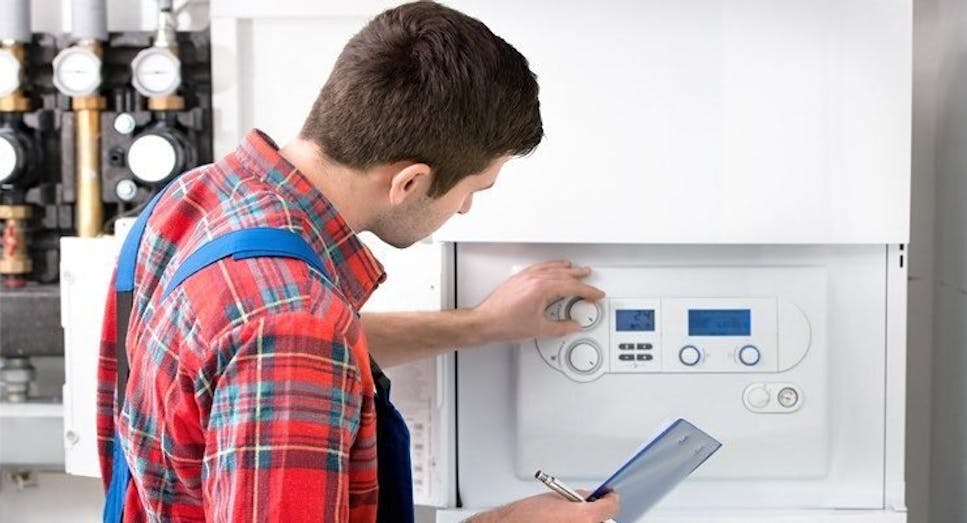 What's cheaper: a one-off service or boiler cover?
A one-off service costs more upfront, while boiler cover typically charges a monthly fee.
It's worth noting that most boiler cover plans include an annual boiler service, as well as any repairs – always check what's included before signing up for a policy.
In the event that your boiler breaks down, having boiler cover means that an engineer will come out to fix it as soon as possible – and the repair is covered. 
However, if you don't make a claim, you may find that boiler cover costs more in the long run.
In comparison, if the engineer discovers a problem with your boiler during a one-off service, you may need to pay to fix it – which could be hundreds of pounds. 
However, some home insurance companies do provide cover for boiler breakdowns, so check if you have this. And if your boiler is still in warranty, you may be able to get free repairs.
If you have a reliable boiler that is regularly maintained and well-looked after, it's less likely to break down.
How often should you get your boiler serviced?
You should get your boiler serviced every year. It's best to do it in autumn or even summer, before the cold weather sets in. 
As well as ensuring that your boiler is ready for winter, getting it serviced in advance means that you'll likely have more luck finding an available engineer, and you may be able to get better deals.
If you're a landlord, you're legally obliged to service the boiler in your rental property every 12 months.
What's included in a boiler service?
Once you've arranged a boiler service, a registered engineer will come and carry out several thorough tests on your boiler to make sure it's working properly.
First, they'll inspect it for any external signs of damage, dirt or wear and tear. They'll then remove the boiler casing to check the internal components. They will also carry out safety checks, such as testing for any gas leaks. 
A full service will usually involve:
Looking at the boiler and flame, if possible

Checks on boiler control and any room thermostats

Checks on the flue (both inside and outside)

Internal inspection of the boiler to check all main components

Tests on gas and pressure-flow

Checks of water and gas pipework

Checks on case seals

Checks of safety devices

Checks on all electrical connections

Checks for any corrosion or leaks

Firing the boiler to check for faults

Cleaning of boiler parts, if necessary
You should also receive a service report that clearly shows everything the engineer has carried out.
How long does a service take?
In general, a proper boiler service should take at least 30 minutes. If it's shorter than this, don't be afraid to ask why.
Who can carry out boiler servicing?
If you have a gas-fired boiler, a Gas Safe registered engineer will be able to carry out boiler service.
On the other hand, if you have an oil-fired boiler, it should be serviced by an OFTEC registered engineer.
Companies that have annual boiler service as part of their boiler cover plan include:
PlusHeat

YourRepair

Home Emergency Assist

24/7 Home Rescue

ScottishPower
To compare what different companies offer, visit our page on boiler cover products.
What can go wrong with a boiler?
There are quite a few things that can go wrong with boilers. Some problems can be fixed by yourself, while others will require a Gas Safe registered engineer. Luckily, most issues are common and can be easily sorted out.
Common boiler problems include:
Heating or hot water won't come on

Low or high boiler pressure that keeps on dropping or rising

Strange sounds coming from your boiler, such as ticking, knocking or clanking noises

Boiler is leaking

Boiler is kettling – if it's making a noise like a boiling kettle, it's likely due to limescale build-up on the boiler's heat exchanger

Boiler keeps switching itself off

Lack of central heating or cold radiators – your radiators may need bleeding

Frozen condensate pipe – you can thaw any ice that's formed on the pipe, either by placing a hot water bottle on the pipe or pouring warm (not boiling) water over it
Some fixes, like radiator bleeding, can be carried out by yourself. But in most cases, the best thing to do is to contact a qualified engineer as soon as you notice the issue.
If your problem involves a gas or carbon monoxide leak, or an electrical issue, it's even more important to get help as soon as possible.
Warning signs to look out for include:
The flame colour of your boiler's pilot light is yellow or orange, rather than a healthy blue – it could be a sign of poor combustion

Black marks on or near your boiler – it shows your flue is leaking, or your boiler has electrical problems

Your bills show gas usage that's too high or higher than usual – your boiler may be burning more gas than necessary

More condensation than normal on your windows

Pilot light keeps going out
If you notice any of these signs, you should immediately switch off your gas supply at the meter, as well as open your windows to air out your house.
Never take off your boiler casing to check things. This can only be carried out by a Gas Safe registered engineer.
Boiler servicing and cover
Boiler engineers can be expensive to call out in an emergency, plus they're often hard to book during colder spells. By getting boiler cover or an annual boiler service, you can avoid being put in this situation.
Boiler cover provides protection when something goes wrong, without costing a lot of money. Many plans also include an annual boiler service as part of the package, or at least at a cheaper rate, so you won't need to fork out too much money on top of your monthly fees. 
Keep your boiler maintained with an annual servicing.
The cost of fixing a boiler can range from £150 for a small repair to several hundreds of pounds for larger scale fixes or replacement parts, so having your boiler serviced can help mitigate spiralling repair costs.
If you do have to call an engineer – either for repairs or annual servicing – make sure they're Gas Safe registered (or OFTEC registered for oil burners). This means they will have the skills and knowledge to fix your boiler correctly.