Boiler and central heating cover for landlords
Boiler cover can save you a headache if the boiler in your buy-to-let property breaks down – here's what you should know
What is boiler cover for landlords?
Landlord's boiler cover is a type of insurance designed specifically for landlords to cover the boiler and central heating systems in buy-to-let properties.
Do I need boiler cover as a landlord?
Boiler cover isn't legally required, even as a landlord if you're renting your property out – however it can be important in keeping the property habitable.
Boiler cover can make it easier to get a broken boiler repaired or replaced, while it can also help cover the cost of gas safety inspections and annual servicing – depending on the policy you take out.
It's worth noting that while boiler cover is available as a standalone policy, you might already be covered through another source.
Boiler cover may be included in your landlord insurance policy or as part of your overall energy tariff.
Do I need boiler cover as a tenant?
If you're renting it's likely that your landlord will take out their own boiler cover policy for the property.
However if they don't, you should be able to take out your own policy for the duration of your rental agreement – if you want to avoid this, you can always ask your landlord to consider taking out cover.
What's included in landlord's boiler cover?
Generally speaking, there are three types of boiler cover you'll be able to take out:
Boiler only: Boiler cover on its own can help if there's an issue with your boiler or controls, but it won't extend to your pipes or radiators

Boiler and central heating: Boiler and central heating cover includes protection for your whole heating system, including pipes, radiators, and heat pumps. However the extra level of cover usually comes for a higher cost

Home emergency: Home emergency policies can offer a way to get speedy assistance for problems with boilers, heating, plumbing, electrics, home security, and more
Some providers might only cover your boiler in certain cases, such as if the breakdown was caused by select faulty or damaged parts.
To make sure you know exactly what you're covered for you should read over any policy documents before you take out a policy and make a claim.
What extra policies can you get with landlord's boiler cover?
Depending on your provider and the level of cover you choose, some of the following may be included in your policy as standard – and if not, you may be able to add them at an extra cost:
Boiler servicing

Gas safety inspections (CP12)

Central heating systems

Gas supply pipe

Plumbing

Drainage

Home electrics

Gas appliances

Carbon monoxide testing
Who provides boiler cover for landlords?
As with regular boiler cover, you can get boiler cover for landlords from many different providers:
24/7 Home Rescue

PlusHeat

Smart Cover

YourRepair
Can I get boiler cover for an old boiler?
Providers sometimes have a limit on how old your boiler can be and still qualify for boiler cover – this is often around 15 years. Many, however, have no age limit at all.
If you have an older boiler in your rental property it may be worth looking at new installations – modern boilers are usually more energy efficient and better for the environment.
Additionally, as greener energy solutions are a big part of modern life you may find it easier to get tenants in if your property has a higher green rating.
Can I claim immediately on boiler cover?
Most boiler cover policies have a no-claims period, usually lasting for the first 15-30 days of the insurance term.
This is to prevent people from taking out a policy only when they need it so they can claim immediately.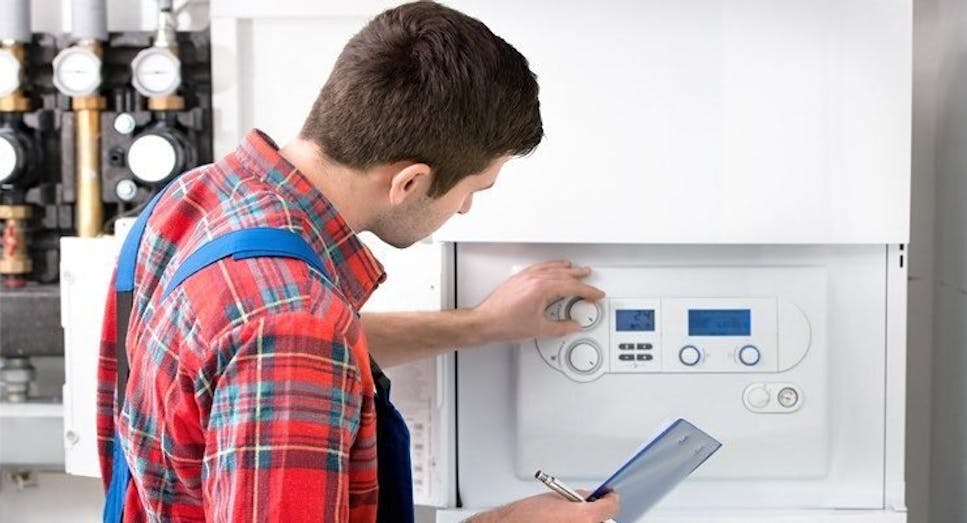 Are boilers covered by landlord insurance?
Yes – landlord insurance should cover burst pipes, boiler trouble and breakdowns in an emergency.
However, it typically doesn't cover annual servicing or general maintenance. You'll need to get specialist boiler cover, which will include these additional services.
How much does landlord's boiler cover cost?
The price you'll pay for boiler cover will depend mostly on the type of policy you take out – higher levels of cover almost always result in higher premiums.
Can I take out boiler cover for multiple properties?
You can get specialist multi-property landlord insurance that lets you insure all your properties on one policy. As landlord insurance includes emergency boiler repairs, it'll cover multiple properties.
Compare landlord's boiler cover
The best way to find cheaper quotes for landlord's boiler cover is to compare your options on MoneySuperMarket.
We'll show you a list of cover options from a range of providers, and you'll be able to compare them by:
The monthly cost

The level of cover

The excess fees
When you've found the deal you want, just click through to the provider's website to finalise your purchase.