Everything you need to know about peer-to-peer lending
Peer-to-peer lending is a way you can lend directly to individuals or businesses – earning interest on your loan. But is it a smart choice? Our guide explains more...
If you're looking for bigger returns on your investments and you're prepared to take on more risk, then peer-to-peer (P2P) lending could be worth a look.
But before you take the plunge it's vital to understand the risks involved and research the P2P platform you're considering using to find out how it works and what protections are in place.
What is peer-to-peer lending?
P2P lending is a way of investing where you lend directly to borrowers – usually individuals or small firms – through a specialist platform and cut out the middleman – the banks and building societies.
In effect you, the investor, become the bank, lending out money and receiving interest back on your loan until it is repaid in full.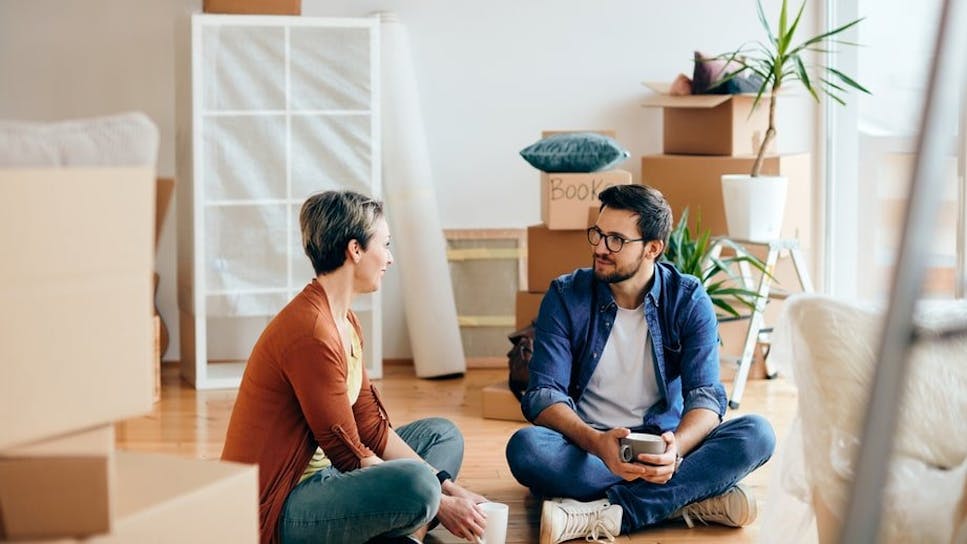 How does peer-to-peer lending work?
Platforms all work slightly differently, but the premise is that they bring lenders and borrowers together to arrange loans that benefit both sides.
Those lending can often have some choice on how long they want to lend out their money and what rate of return they expect to receive. Those borrowing can often get better terms than they might borrowing from a bank.
The money is invested through the peer-to-peer platform, who will credit check potential borrowers and then release the funds when they're approved.
It's worth noting that while peer-to-peer lending should be regulated in the UK, your money may not have as many protections as investments elsewhere.
What do I need to consider before investing in a peer-to-peer scheme?
There are several things to think about before investing in a peer-to-peer scheme.
Will I get my money back?
You want to be as sure as possible that you won't lose your investment. Check what provision is in place if the borrower you lend to, or the P2P platform itself runs into financial difficulty and can't meet loan repayments.
Who am I lending to?
Whether you're lending to an individual or a small business, understanding where the funds are going and how much of a credit risk the borrower is can help inform your decision of whether to use the platform. Peer-to-peer platforms usually credit check borrowers before approving their requests for a loan. They can also split an investment over multiple loans to spread the risk. It's important to understand how the P2P platform you want to use works before you invest.
Is my money protected?
There are two things to consider with this: What happens if the borrower goes bankrupt and is unable to repay their loan, and what if the peer-to-peer platform itself collapses?
Borrowers not repaying in full is a risk of peer-to-peer investing, and some platforms have a provision fund to make up any shortfall, so you might still get your promised return – although there are no guarantees.
If the platform goes bust and administrators step in, your investment may be protected because the money is with the borrower who can still carry on paying the loan.
Any funds on account and not currently on loan are usually kept in a separate bank account by the P2P platform. Under normal circumstances cash in savings held with regulated banks has up to £85,000 in protection as part of the FSCS. But in the case of P2P platforms it is more complicated, and it depends how the account has been set up. In some cases you may not receive all your money back. Always read the small print.
What are the platform fees?
The fees applied on the P2P platform can soon start to eat into your returns, so check you are happy with the charges before proceeding.
These charges could include the cost of running the platform and a percentage of returns going towards the provision fund to cover bad debt.
What are the advantages of peer-to-peer lending for lenders?
More interest. By cutting out the banks and their fees, you should be able to command higher returns

Flexibility. You may have the opportunity to set the interest rate and timescales at the level you are prepared to lend

Confidence. Peer-to-peer lending is a maturing market so while there is greater risk than many investments, there is more expertise than ever before in managing platforms to safely cater for lenders and borrowers

Investment can be tax-free. Peer-to-peer loans can be put within an Individual Savings Account (ISA) – known as an innovative finance ISA – so that returns are tax-free
What are the disadvantages of peer-to-peer lending for lenders?
Risk. If borrowers default on loans you could lose your investment

Charges. Platforms may include a fee to manage the peer-to-peer transactions

Protection. Peer-to-peer lenders are unlikely to be covered by the FSCS

Money is tied-up. Some schemes will charge a fee for early withdrawal of funds and others don't allow early withdrawal of capital at all
What are the advantages of peer-to-peer lending for borrowers?
Competitive rates. By cutting out the banks, borrowers may be able to find deals with lower interest rates

Accessibility. P2P loan applications can be judged on different criteria than is used by banks, so you may find you can borrow even if you're turned down by traditional lenders

Fast and simple. P2P loan platforms use innovative technology to make application processes simple and provide quick decisions on whether you've secured a loan deal

'Soft' credit checks. Many P2P lending platforms use soft credit checks when you make an initial enquiry, which will show you your chances of being granted a loan, but won't affect your credit score

Multiple options. With peer-to-peer lending becoming popular in recent years, shopping around to find the right deal for you should be easier
What are the disadvantages of peer-to-peer lending for borrowers?
Missed payments. If you are struggling to pay back your loan, you may find that P2P is less flexible than a bank in restructuring your debt and could pass your information on to collection agencies more quickly

Borrowing more than you need. With P2P loan appearing more accessible, it could tempt you into borrowing more than you need, making it more difficult and expensive to pay off
Is my money safe with peer-to-peer lending?
While many peer-to-peer companies have built up a successful track record of helping investors, there is always a chance that you may lose money if borrowers cannot repay their loans.
Peer-to-peer platforms often try to mitigate this list through investment loans being split between multiple credit-checked borrowers in small chunks.
Platforms may also build up provision funds that will step in to cover shortfalls should the borrower run into financial difficulty.
For additional protection, most peer-to-peer schemes hold Consumer Credit Licences with the regulator the Financial Conduct Authority, and use the same processes and fraud prevention systems as banks.
A peer-to-peer loan might also be secured against collateral such as a house, which can be sold to pay lenders in extreme cases.
Financial Services Compensation Scheme protection is slightly more complicated. While the money on loan won't be covered, any funds in a separate holding account may be protected by the FSCS provided it is held in a ring-fenced bank account independent of the peer-to-peer platform.
What makes a good P2P lending platform?
A good lending platform will have a number of factors including:
Offering a good rate of return on your investment

Providing flexible options for how you can lend your money

Having a robust structure and reserve funds to cope with bad debtors

Being straightforward and easy to use

A solid history of past performance

Should I invest in a peer-to-peer lending scheme?
Whether you invest in a peer-to-peer lending scheme is personal choice and depends on your attitude to risk and whether you think any risk is outweighed by potential returns.
Always do your research before investing through peer-to-peer companies, and consider spreading your investments as part of a balanced investment portfolio.
What are the alternatives to peer-to-peer lending?
There are a range of alternatives to peer-to-peer lending such as stocks and shares ISAs, where you can invest up to £20,000 for the current tax year.
You could also look at different savings accounts, such as as easy access, regular saver, notice accounts, fixed rate bonds and cash ISAs.
All operate in a slightly different way, but unlike an investment your money is generally not at risk.
What's the difference between peer-to-peer lending and crowd-funding?
A P2P platform is where an investor's money is used as a loan that a borrower can take out and agrees to pay back with interest.
In contrast, crowdfunding is led by an individual or company who are looking to raise funds for a project.
A number of investors commit to buying chunks of the business or put in money in expectation of receiving a return plus interest in the future.
Compare peer-to-peer lending with MoneySuperMarket
You can quickly view our peer-to-peer lending options. We'll show you a list of potential investment platforms along with information about interest returns, platform charges, and how your money will be protected. Once you have made your decision, you can click through and start investing today.