Save energy with solid wall insulation
Solid wall insulation can save up to £415* a year on your gas and electricity bills, according to the Energy Saving Trust. So, it could it make a saving with your home? Find out with our guide
Has my home got solid walls?
The first thing to establish, of course, is whether your home has been built with solid walls – and if your property is dated pre-1920, the answer is likely to be yes. You can double-check by measuring the width of the wall – if it's less than 260mm, it's likely to be a single solid wall.
Homes built from the 1920s onwards tend to be built with cavity walls – an internal and external wall with a gap between them. Cavity walls are much easier to insulate than solid walls and if your home was built after 1990, its cavity walls have probably been insulated already.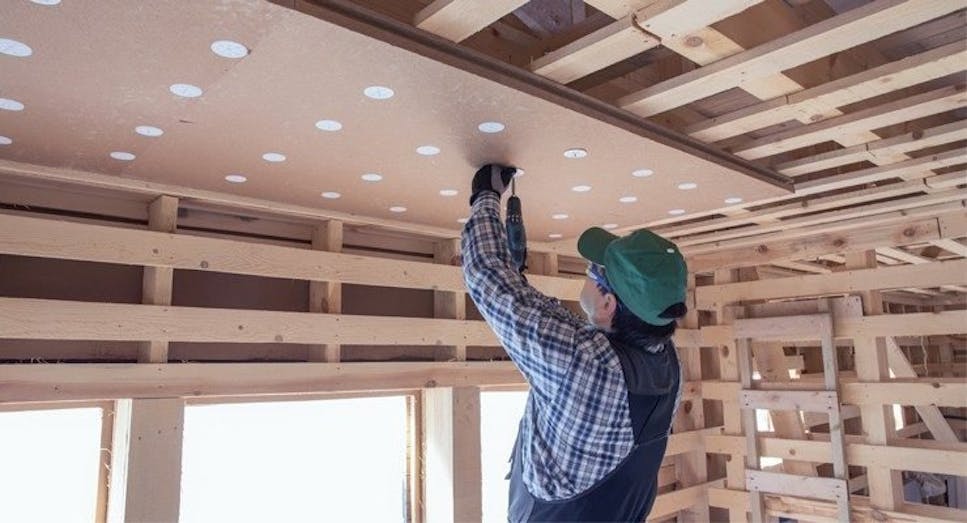 Why would I need solid wall insulation?
If your home does have solid walls, how can insulation help? Heat passes through solid material at a faster speed than through a gap or 'cavity' – so solid walls lose heat fast. In fact, an estimated 45% of your home's heat could be lost through solid walls, according to the Energy Saving Trust. Solid wall insulation can make your home much warmer and save money on energy bills.
How do you insulate a solid wall?
Solid wall insulation can be carried out either from inside or the outside of your home. The process involves 'building out' your single solid walls either internally or externally using layers of insulating material covered with boards or stud walls and cladding, designed to retain the heat.
How does external solid wall insulation work?
An insulating material will be fitted to the outside of your home's walls with protective rendering and cladding placed over the top. The insulation should be between 50 and 100 mm wide.
For aesthetic purposes, you can also have decorative coatings placed over the top of the cladding to match the style of your home – for example, Victorian or Edwardian.
Can you insulate a wall from the inside?
Yes – in fact, internal solid wall insulation is typically the cheapest option. It involves fitting rolls or boards of insulating material such as wool fibre to the inside walls of your home, or a stud wall being built and filled with the insulating material.
In either case, be prepared for internal solid wall insulation to be very disruptive – radiators, plug sockets and fitted furniture will all need to be moved. That's why it's a good idea to coincide the work with other major renovations in your home, such as an extension or new kitchen.
Once the internal wall insulation is complete, you will then need to re-plaster and redecorate your walls. You will also lose some internal floor space due to the new thickness of the walls.
Is internal wall insulation worth it?
This will depend on your type of home. Larger older, detached properties could benefit most from internal solid wall insulation as they are more susceptible to escape of heat. Access to internal walls may also be easier, while the small reduction in floor space could even go unnoticed.
Is it better to insulate inside or outside?
The right option for you depends on your property – as well as your budget.
External solid wall insulation could be your best bet if your home has severe heating problems or already requires extensive outside repairs. It also means much less disruption.
Internal solid wall insulation is also usually cheaper and can be carried out room by room.
How much does solid wall insulation cost?
The total cost of solid wall insulation for a typical semi-detached home is around £7,400 for internal walls, and £13,000 for external walls, according to estimates from the Royal Institute of Chartered Surveyors (RICS).  
If you decide to get either type of solid wall insulation, compare quotes and use an installer that's a member of the National Insulation Association. Check also that the work complies with current Building Regulations.
How much can I save in energy bills?
Installing external or internal wall insulation will slash a typical detached household's annual bill by around £415. The bill for a flat would be cut by around £145 a year, according to the Energy Saving Trust.
While it can take years to recoup what you spent in pounds, solid wall insulation will mean a warmer, more energy-efficient home. It is also likely to be a major plus if and when you come to sell your property.
Run an energy price comparison with MoneySuperMarket now and see if you could cut your bills. 
Can I get help towards the cost?
The government's new Green Homes Grant which launches at the end of September 2020, offers homes in England up to £5,000 in vouchers towards energy-efficient improvements. And according to the government's latest guidance, this includes solid wall insulation.
Local authorities and energy providers may also offer some assistance with the cost. Search for grants that are available in your postcode on the Energy Saving Trust's website.
Can I get solid wall insulation as a tenant?
From April 2020 all privately rented properties must carry a minimum E rating on their Energy Performance Certificate (EPC).
If you are a tenant living in a home with solid walls that are not insulated and the EPC rating is a F or G (view the EPC for free on the government's register), you can demand the landlord install measures to improve energy efficiency – such as solid wall insulation.