Compare cosmetic car insurance
Cosmetic car insurance covers minor damage to your car, such as dents and scratches – saving you from claiming on your regular insurance
Car insurance usually covers the big stuff – it'll help you out if there's serious damage to your car, or if it's stolen. But what if you get a big unsightly scratch on your paint job? 
Scratches and dents happen to everyone, and if they're not fixed the damage could get worse. But there's a price tag – and a lot of people don't want to put it on their insurance, since it's usually not worth losing your no claims discount. 
That's where cosmetic car insurance comes in. With a cheap cosmetic insurance policy, you'll be covered for all sorts of minor repairs, and your main insurance won't be affected. Our guide gives you all the facts about cosmetic car cover – read on to see if it's worth it for you. 
What is cosmetic car insurance?
Cosmetic car insurance – also known as scratch and dent insurance – is a specialist car insurance policy that only covers damage to your car's paint job or bodywork. 
Cosmetic car insurance is usually sold separately, but even if it's an add-on to your main car insurance policy, you can make a claim without it affecting your no claims bonus. This is great news if you've spent years driving carefully to protect your discount.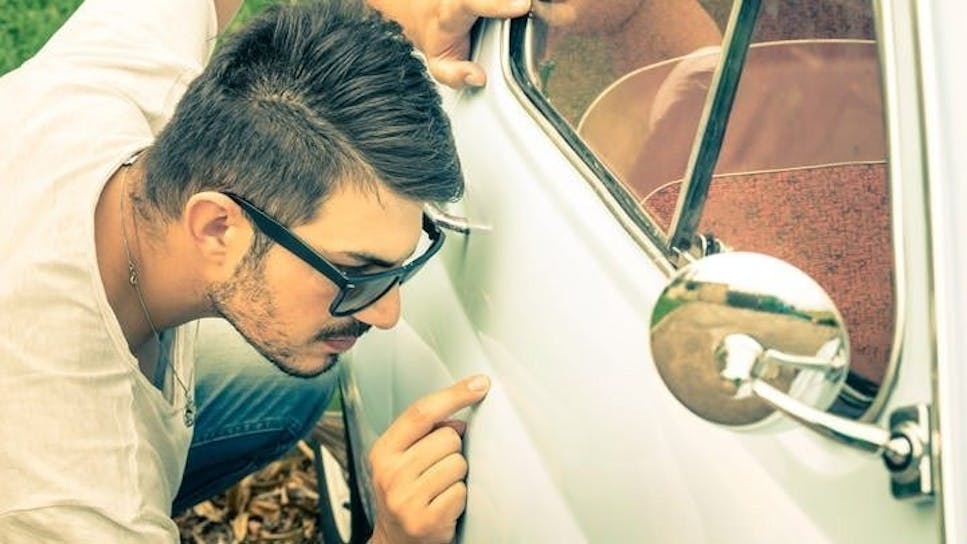 How does cosmetic car insurance work?
When you claim on your cosmetic car insurance policy, you might have to take your car to a garage – but in most cases the repairs will come to you. With SMART repair – which stands for Small and Medium Area Repair Technology – scratches and dents can be fixed without replacing any parts, and it can all be done at your home or workplace.
Since minor damage is relatively common, some cosmetic policies come with limits. You might only be able to claim a certain number of times per year, or there might be a limit on how much the policy will pay out over its lifetime. 
Does car insurance normally cover scratches and dents?
If you have fully comprehensive car insurance, your normal policy should cover scratches and dents – but it might not be worth claiming on it.
Every time you make a claim on your cover, insurers take note. If you make claims too often, you'll miss out on a no claims bonus. What's more, your premiums could rise after a claim, so it could end up costing you much more money in the long run. 
Ordinary car insurance policies also come with an excess – that's an amount you'll have to pay towards any claim. Because cosmetic repairs are relatively inexpensive, you could still end up having to pay for most of the repairs yourself, even if you put it on your insurance. 
What does cosmetic car insurance cover?
Cosmetic car insurance covers all kinds of minor damage to the outside of your car. That means scuffs, scratches, dents, chips, and scrapes – so if you leave your car in a car park and come back to find someone's damaged the finish, cosmetic car insurance has you covered. 
What doesn't cosmetic car insurance cover?
Cosmetic car insurance won't include anything that affects the actual working of your car, including your windscreen, headlights, and indicators. Some insurers might also not cover hubcaps or bumpers.
Also, insurers have different standards about what level of damage they'll cover – so your policy might not pay out for a dent wider than 30cm or so, or deeper than 3cm. 
How much does cosmetic car insurance cost?
Cosmetic car insurance is usually pretty cheap – it shouldn't be too much more than £10 a month. Still, the actual cost of cover could depend on the precise car you want to insure, and how you use it. 
More expensive cars with a flashier paint job might cost a little more. On the other hand, you could get cosmetic cover for less if your car is usually parked on a private driveway, rather than in a public car park where there's more risk of getting scratched.
Is cosmetic car insurance worth it?
Unlike ordinary car insurance, cosmetic car insurance is only worth it if you think you'll use it. If you're frequently having to pay for minor repairs to your paint job, getting cosmetic car insurance could end up saving you plenty of money in the long run. On the other hand, if your car is usually in good nick and you can afford to pay for the odd scratch yourself, it might not be worth the cost. 
Where can I find cosmetic car insurance?
Cosmetic car insurance is sometimes offered as an add-on to an ordinary car insurance policy – so it's worth using our free price comparison service to see if you're offered scratch and dent cover in any of your quotes. MoneySuperMarket doesn't compare standalone cosmetic insurance policies, but there are plenty of specialist providers out there that offer the service – and it might also be offered as an extra when you buy a car from a dealership. 
Is cosmetic car insurance worth it?
Cosmetic insurance has advantages and disadvantages. Claims you make for minor bodywork damage under this kind of policy won't affect your no-claims bonus on your main insurance policy.
So, if you want to protect your car's paint and bodywork while also protecting your no claims bonus, scratch-and-dent insurance can help. It's also fairly cheap – cosmetic car insurance can cost less than £10 a month.
This kind of insurance also has its disadvantages. Policies are often limited in the kind of damage they will cover – they may refuse to pay out for scratches and dents above a particular size. Some cosmetic car insurance policies also feature large excesses, which mean that you'll have to pay some of the cost of repairs yourself. You may also be limited to a certain number of claims per year.
Where can I find cosmetic car insurance?
At MoneySuperMarket, we focus on standard car insurance policies, and don't offer scratch-and-dent insurance. These specialist cosmetic car insurance policies are often included as optional extras from car dealerships, or can be found through specialist brokers.