Understand whether car finance or a loan is right for you
Our guide compares car finance to using a personal loan - to help you decide which option is best to fund your new car
It can be confusing to work out the best way to fund a new car purchase if you don't have savings or the ready cash. Our handy guide can help you think through the different options - considering your financial situation, the type of car you're looking to buy and your goals.
What's the difference between car finance and a personal loan?
Car finance is a catch-all term that is typically used to refer to a range of different financial products, including hire purchase (HP), personal contract purchase plans (PCP) and leasing contracts.
Car finance deals are typically offered through a dealership at the time you're buying your car. Although it is possible to go to a car finance provider direct, such as our specialist partner Motiv.
In contrast, you'll take out a personal loan with a lender – which you can then use to purchase any car, perhaps through a private sale or with a dealership.
This table compares a personal loan to car finance to give an idea of how different products work:
| | Personal loan | Car finance |
| --- | --- | --- |
| Will I own the car from the start of the deal? | Yes | No |
| Can I pay an up-front deposit? | Yes | Yes |
| Are my monthly payments fixed? | Yes | Yes |
| Can the car be taken away if I fall behind on repayments? | No | Yes |
| Can I buy the car from a car dealership? | Yes | Yes |
| Can I buy the car from a private seller? | Yes | No |
| Can I make lower monthly payments? | No | Yes - PCP* |
| Can I own the car at the end of the deal? | Yes | Yes |
| Is there an option to return the car at the end of the deal? | No | Yes -PCP* |
| Are there any annual mileage restrictions? | No | Yes - PCP* |
| Can I modify the car during the deal? | Yes | No |
Source: Motiv
*There are two main types of car finance – hire purchase (HP) and personal contract purchase (PCP). A PCP deal is typically only an option on higher priced cars (worth more than £10,000) but PCP plans offer lower monthly payments and more options at the end of the deal - buy the car, trade it in and start a new PCP deal or hand back the car.
PCP does come with some additional considerations – for example annual mileage restrictions. Our HP vs PCP guide will help you understand the differences between these two types of car finance.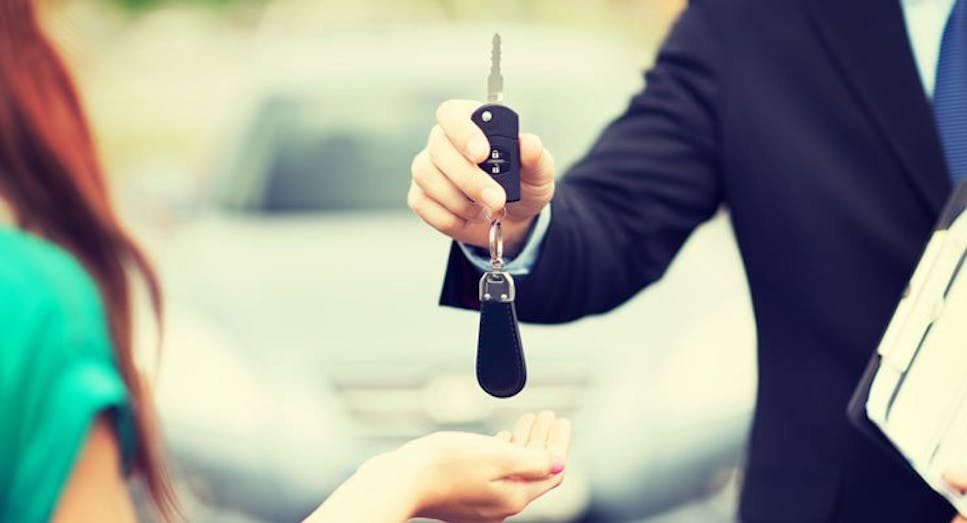 Which option gives me the lowest monthly payments?
If your goal is to keep your monthly car payments to a minimum, it is worth considering a PCP plan. With a PCP agreement you'll typically pay lower monthly payments during the term of the agreement. That's because you aren't paying towards the full cost or value of the car. With a PCP set up you're just paying off the value of the expected 'depreciation' in the value of the vehicle.
At the end of the agreement you'll then have the option to pay a large 'balloon' payment if you want to keep the car. But in many cases drivers may decide to trade in and simply start a new PCP agreement on a new car, so they never actually own a vehicle outright.
With a PCP plan you'll generally need to be buying a car worth £10,000 or more and will usually need at least a fair credit rating to be accepted.
Which option is cheapest?
For many car buyers the goal is to get the lowest interest rate or APR and pay the least interest over the term of the deal. But the interest rate you are offered will depend on your credit history and credit rating.
If you have a strong credit score a personal loan is likely to offer the lowest interest rate. But if you've struggled with bad credit in the past, car finance will probably offer you better rates compared to a loan. If you have particularly bad credit history then car finance is likely to be your only option as many personal loans will be out of reach.
The tables below illustrate this point. They show that for a driver with excellent credit a personal loan is typically the cheaper option compared to other types of car finance – hire purchase has been used in the example below. But for someone with a 'fair' credit score, who could not get a low personal loan rate, then in many cases car finance is likely to be cheaper. This is because of the relative interest rates or APRs.
| EXCELLENT CREDIT RATING | Personal loan | Hire purchase car finance |
| --- | --- | --- |
| Total borrowing (car price) | £15,000 | £15,000 |
| Representative APR | 2.9% | 7.9% |
| Monthly repayments | £331.30 | £363.58 |
| Total payable: | | |
| 36 regular payments | £15,893 | £17,452 |
| Total cost of credit | £892.90 | £2,462 |
| FAIR CREDIT RATING | Personal loan | Hire purchase car finance |
| --- | --- | --- |
| Total borrowing (car price) | £15,000 | £15,000 |
| Representative APR | 26.9% | 13.9% |
| Monthly repayments | £489.53 | £403.05 |
| Total payable: | | |
| 36 monthly payments | £23,498 | £19,347 |
| Total cost of credit | £8,498 | £4,357 |
*Source: Motiv
What's the best way to finance your car?
It can be difficult to decide whether to take out a personal loan or a car finance deal for your car. Do you want the lowest possible monthly payments, do you want to own the car outright from the start or do you want flexibility within the arrangement to trade it in at a later date, for example?
Here are some of the things to consider when weighing up your options:
Consider your monthly budget - a bank loan or hire purchase may offer the lowest overall costs but a personal contract plan will usually give lower monthly payments at the outset. Determine your budget and think about whether you need the flexibility of ownership that comes from using a personal loan – or if you prefer the initial lower monthly costs of PCP, for example. Remember PCPs are typically only for higher value cars and bear in mind you can use any type of car finance or loan to fund the purchase of an electric car

Choosing your car - a personal loan gives you the flexibility to buy a vehicle from wherever you choose. In contrast, with HP and PCP you'll probably need to buy your car from a dealership. While you can get cheap deals buying privately many are 'sold as seen' whilst with a dealership you'll have recourse if later there are issues with the car

Do you want to own the car at the end of the finance term? While you'll have the option to own the car at the end of the agreement with all of these finance options, you'll need to make a substantial 'balloon' payment at the end of the deal if you choose a PCP agreement. If you are going to keep the car make sure you budget for this, or look for a loan at the appropriate time to cover this extra cost

Maintenance of the car - it's always a good idea to properly maintain your car, but with HP and PCP deals there's likely to be a standard required from the lender. In particular with PCP agreements if you decide not to pay the balloon payment and return the car you may be charged if the car is damaged beyond fair wear and tear. With both PCP and HP you're unlikely to be able to make any alterations or adaptations to the vehicle

Restricted mileage with some finance options - a personal loan or HP agreement will give you freedom to drive as many miles as you want each year. In contrast with a PCP deal you'll have an annual maximum limit you can drive. If you go over this contractual limit there will be a charge, typically around five pence to 10 pence per mile but check with your lender

What's the best route if I have poor credit? HP lenders are more likely to offer you a finance package - compared to a PCP deal - if you have poor credit. But with HP the car will usually have to be worth at least £3,000 to be eligible. Below this value a personal loan or credit card are likely to be your main options. Consider the increased cost of the car against any additional interest when making the choice
Other things to consider
There are a number of other things to consider when buying a car using a finance deal:
Depreciation of the car - if you're looking to buy a brand new car then the manufacturer or dealership may have finance options with low or even a 0% interest rate. However, new cars typically lose value quickly in the first few years of ownership. Whichever finance option you plump for make sure you understand the exact terms of the agreement by reading the small print and asking questions of the lender, so you aren't caught out further down the line

Insurance - remember whether you go for a finance deal or a car loan you'll still have to get insurance for your car and pay the tax where applicable - and maintain the car. This will be your responsibility - not the lender's, even when you don't initially own the car, for example with a HP or PCP deal. MoneySuperMarket can help you find car insurance which suits your needs from a wide range of insurers across the market.
How to compare car finance with MoneySuperMarket
You can compare car finance deals with our partner Motiv. It's an online service that allows you to see if you're eligible for HP and PCP deals and the rates you'll pay.
It only takes a few minutes to enter your details and compare offers, it is free and searching for a deal won't harm your credit score.