Discover all you need to know about business insurance for remote workers
As more employers and employees embrace the world of hybrid working, you may have some questions about your new way of living. For instance, do I need business insurance to work from home? Whether you're running a business or simply working remotely, it's important to ensure that you're always covered for the job you do. Read our guide to learn more.
Working from home can come with an array of benefits. You can escape the frenzied morning commutes, be in control of how and when you work, and better balance your professional schedule with your personal life.
There are however some business insurance implications that you may want to be aware of. It's wise to be protected at all times should something unexpected happen to you, your employees, or work equipment.
Do I need business insurance if I work from home?
Whether you're running or working for a company from home, it is always worth considering getting business insurance.
At a basic level, you should strongly consider home insurance, which includes both contents insurance and buildings insurance and you should check the policy details carefully to make sure they allow for home working for your type of business. However, an additional working-from-home insurance package will help you cover any business-related mishaps that a standard home insurance won't.
For instance, if you're a dog groomer or a jewellery maker, you're likely to have valuable stock at home that is worth protecting. That's when you may want to consider taking out business insurance.
This type of insurance will cover you against damage, loss, or theft of your tools, materials, and finished products.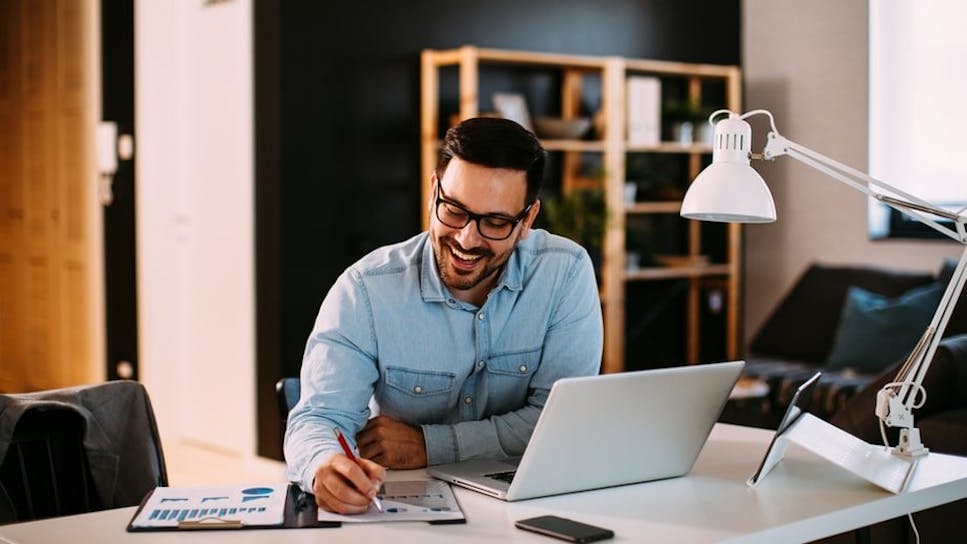 Do I need business insurance for home-working employees?
As an employer, you're responsible for the well-being of your members of staff. Do you have employees who come to your home to carry out their work duties? If so, you will have to take out employer liability insurance.
This is a legal requirement, and it will protect you against claims by employees who have suffered illnesses or injuries when working for your business. Be aware that you will need employer liability insurance even if you've only hired temporary or casual staff.
If you don't have it, you risk being fined up to £2,500 for each day you're not insured.
Does home insurance cover my work and business equipment?
It could depend on the nature of your profession. If you only need a phone and a laptop to carry out your duties, you possibly won't need specific home-working insurance.
If you're an employee, any equipment provided by your employer should be covered by them. If you're self-employed, there is a chance your equipment may already be covered under your standard home insurance policy. Make sure, though, to let your insurer know that you're working from home to avoid invalidating your current insurance plan.
On the other hand, your standard contents and buildings insurance policy may not be adequate to cover your specialist business equipment. For example, if your work requires the use an expensive photocopier or piece of audio-visual equipment. This is especially the case if the items in question exceed the value limit for individual tools (i.e. £1000 or £2000). In this scenario, you may want to consider an additional business contents policy to provide protection for your costly equipment.
You may also have tools and items that you carry around with you outside of your home. If that's the case, it may be wise to take out insurance that protects them against loss, theft, or damage when working away from home.
What kind of insurance cover do I need to work from home?
As mentioned, it is important to inform your insurance provider if you've set up your own business or work regularly at home as your policy may have to be updated to reflect and protect you against any new risks.
Here are some of the most prominent add-ons that can help you stay safe when working from home:
Public liability insurance – Do you welcome clients inside your home? Or do you visit other people's homes or offices when on business?Public liability insurancecovers you if clients injure themselves while on your property (i.e., falls, slips, trips, etc.) and file a claim. It also protects you if you accidentally damage somebody else's property when performing your work duties (i.e., scratches, spillages, etc.).
Professional indemnity insurance – If your job requires you to offer legal or financial advice, you could be sued if customers feel you've made a mistake which has cost them money. This handy addition will help you cover any compensation costs.
Product liability insurance – If you design, make, or simply sell products from home, you may want to consider taking out product liability insurance. You'll be covered should your product injure someone or cause property damage. It can also provide cover for claims made against faulty products, particularly if they're not able to carry out their intended function.
Stock insurance – If the stock you keep at home and use to run your business is destroyed, lost, or damaged, stock insurance will help you cover any replacement cost. If you rely on stock to carry out your work duties, from food products to sellable items, then it might be worth covering.
Vehicles and goods in transit – If you own a van for business use, you may want to consider van insurance to cover any potential claims. If you deliver products to customers or collect stock from suppliers, there is chance that they may be lost or damaged along the way. Goods-in-transit insurance is a beneficial extra that can help you preserve your finances in the event of an unwanted mishap.
Need business insurance for home workers?
Do you work from home? Are you looking for the right business insurance for your needs and pockets? MoneySuperMarket is proud to offer trusted, reliable business insurance powered by Simply Business.
Tell us a bit about yourself and your company. We'll strive to identify the perfect policies for you and your business, allowing you to carry out your daily duties with much-needed peace of mind.