When in life do you need life insurance?
Confused about what life insurance actually covers and why you might need it? We give you the lowdown on this important safety net.
Why is life insurance important?
Life cover helps to soften the financial impact your death could have on your loved ones.
Without a cushion in place, dependants can really struggle financially once you are gone.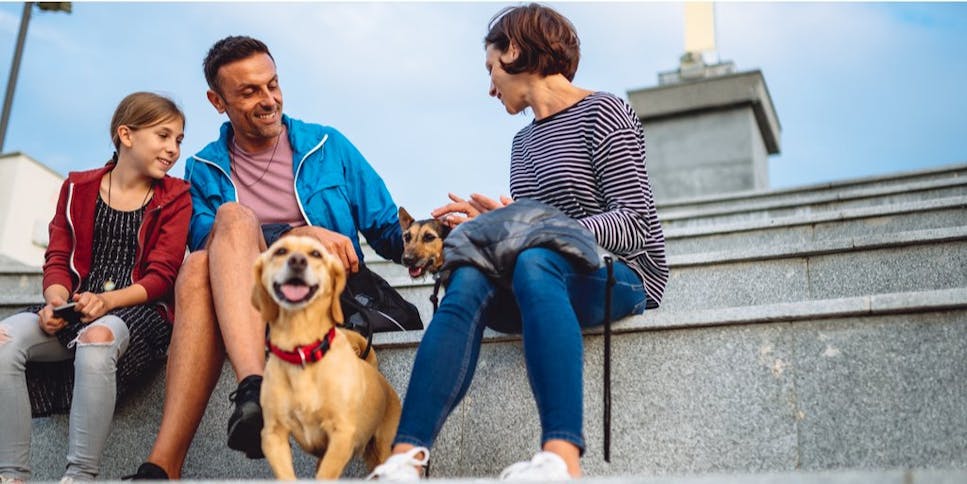 What does life insurance actually cover?
Many people mis-understand life insurance, and just have some notion of it involving a 'cash sum' being paid out in some way when the policyholder dies. Matters are not helped by life insurance being surrounded by confusing jargon such as 'level term policies' and 'decreasing term policies.'
In reality, life insurance is a type of protection designed to cover mortgages, debts and day-to-day expenses – and is there for your dependants when you're no longer around.
'Level term' and 'decreasing term' are just the names given to the different types of policy you can choose from (see below).
Who needs life insurance?
Life cover is a 'must-have' if you have a partner or children who depend on you. With this type of insurance, a tax-free lump sum is paid out on death, ensuring the mortgage and bills will get paid if you die unexpectedly.
How can you ensure you have enough cover?
If you're thinking about buying life insurance, you may be unsure about how much cover you actually need.
When working out how much to get, the key is to purchase enough to cover your debts – including what's left on the mortgage – pay the bills, and maintain your standard of living.
Are there different types of life insurance?
Yes.
The most straightforward option is a 'level term' policy which pays out a set amount if the policyholder dies within a fixed period of time.
A cheaper alternative is a 'decreasing term' policy where the amount that will be paid out in the event of death goes down over time – reflecting the estimated fall in the size of your mortgage as you pay it off.
What's the difference between 'single' and 'joint' life insurance?
If you are in a couple, you need to choose between joint life cover – where you and your partner are both covered by the same policy – and two separate single policies.
Joint life cover can work out cheaper, but two single policies may prove better value for money, as you have two policies, meaning there will be two payouts.
The key is to decide which option is most suitable for your needs.
What about cover from my employer?
If you are an employee, you should check your workplace benefits for a 'death in service' policy.
This will pay a tax-free lump sum to your family should you die while working for your employer, and will usually be a multiple of up to four times salary.
But note that while this can be a useful benefit, this type of cover ends as soon as you change jobs and move to a new employer.
Tips to get life cover for less
First off, check what policies you already have – including any cover from your employer – to avoid doubling up.
If you do want to buy life insurance, you should do this sooner rather than later. By taking out cover while you are healthy, as opposed to waiting for a few years, you can expect to pay lower monthly premiums. Premiums will gradually increase as you get older.
When purchasing life insurance, always shop around to find the best cover for your needs at the best price.
Note that the price you pay depends on how much cover you want and how long for, as well as your age, heath, and whether or not you smoke.
How to buy cover
One of the easiest ways to buy life insurance is by going online.
You can use MoneySuperMarket's comparison tool to see how different policies stack up – and what they will cost.
All you need to do is answer a few questions about you, your health and lifestyle, and the amount of cover you need. This will help MoneySuperMarket build tailored quotes to suit your circumstances.
Be honest
You must always be honest when purchasing any type of protection insurance policy.
This means declaring any health conditions.
If not, you risk your policy being cancelled, or your loved ones not getting a payout if you pass away.
What life events should trigger you to buy a life insurance policy – or make changes to an existing policy?
Protection products should be part of your financial planning, no matter what stage of life you are at.
Homebuyers are prompted to purchase life insurance when they take out a mortgage, but this is not the only life event which should serve as a reminder to revisit your protection needs.
As well as when buying a house, you should also think about life cover when you get married or have children.
The same applies if you have more children – to cover the needs of your growing family – or if you move to a bigger property, to cover the larger mortgage repayments.
While in both cases it will probably mean a higher monthly premium, you will then have the peace of mind of knowing you have a safety net in place, should anything happen.
Write your policy in trust
Once you've bought life insurance, it's worth 'writing it in trust.' This means your payout will go quickly to the right people in the event of a claim, and won't have an inheritance tax charge added to it.
Once money is held in a trust, it is no longer your asset – so not liable to inheritance tax.
Has Covid-19 affected my ability to buy life insurance?
The good news is, insurers have continued to sell life insurance throughout the pandemic.
However, some insurers now have Coronavirus exclusions, so make sure you check the small print before you buy.