What are the best and worst ways to pay for Christmas?
Set to start your Christmas shopping? Don't get stung by choosing the wrong way to pay
With only just over a month to go until the big day, shoppers will be hitting the high street in their droves.
At the same time, with Black Friday and Cyber Monday fast-approaching, many more will be set to spend big sums of money online.
But no matter how you choose to do your festive shopping, you need to tread carefully, to avoid ending up with a debt hangover in the New Year.
Here we take a look at the best and worst ways to fund the festivities, so you can be sure of starting 2022 in a positive way.
Best options
Cash
In an ideal world, you've spent the past few months building a savings fund for presents, food, drink and decorations, and can now start dipping into the money you have squirreled away.
While you're out and about, consider carrying only cash, as this can make you more mindful about what you spend, rather than losing track of multiple contactless payments.
That said, always be mindful about putting safety first when carrying around any sums of cash.
Cashback credit cards
If you're the type of person who consistently clears their credit card balance in full, you might want to look at s cashback card for your Christmas shopping.
With this type of plastic you earn cash rewards as you spend.
For example, with the Amex Cashback Everyday card, you get up to 5% cashback for three months, up to a maximum of £100. You then get 0.5% cashback on all spending up to £10,000, and 1% over this amount.
But you have to be confident about paying your card in its entirety each month. If not, you could find any benefits you receive will be quickly wiped out by interest payments.
Representative example: If you spend £1,200 at an annual interest rate of 24.5% (variable), your representative APR will be 24.5% APR (variable).
Purchase credit cards
If you have no choice but to borrow money to pay for the festive season, pick your plastic carefully.
The best approach is to shop around and find a competitive purchase card offering a decent stint interest-free. This will help you spread the cost of Christmas.
You can currently get up to 22 months at 0% with both Barclaycard and Sainsbury's. But be sure to check the interest rate at the end of this interest-free period. Aim to pay off the balance before the offer ends.
Make sure you look at all the small print, and remember not to use your credit card to withdraw cash.
Equally, remember that if you use a credit card for your Christmas shopping, you get added protection under Section 75 of the Consumer Credit Act for items costing over £100 (and no more than £30,000).
Representative example: If you spend £1,200 at an annual interest rate of 21.9% (variable), your representative APR will be 21.9% APR (variable).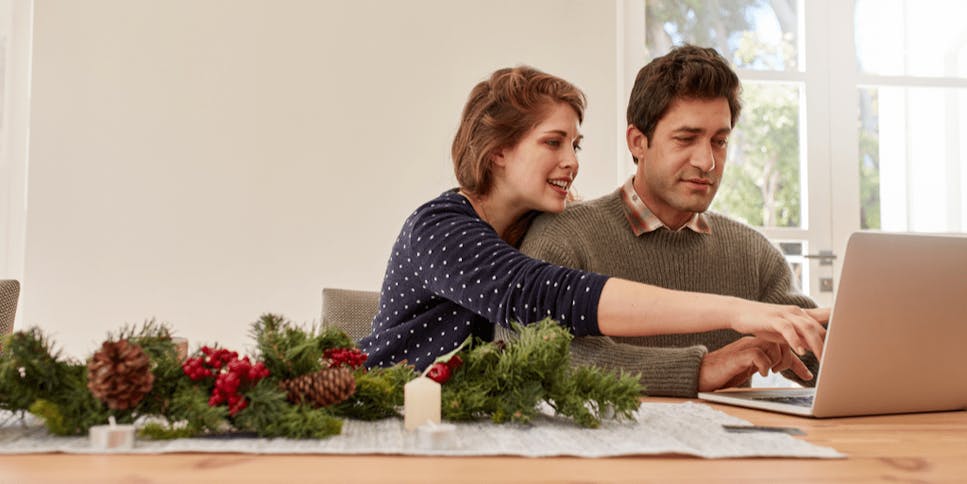 Worst options
Used wisely, credit can offer a lifeline at Christmas, but used irresponsibly, it can escalate into long-lasting debt and higher charges.
Buy-now, pay-later (BNPL)
While you may be tempted by the lure of no interest, no fees and no late charges with BNPL schemes which are widely advertised on retailer websites right now, you need to be wary.
When used responsibly, these schemes can allow shoppers to spread payments out affordably, but issues can arise if someone becomes over-reliant on these unsecured financial products.
If you're not careful, you could end up in a lot of debt. As purchases are spread over a number of weeks, you can easily lose track of your money.
If you're considering any of these schemes, it's imperative you scour the Ts and Cs. You also need to ask yourself if you can be confident about being able to pay off what you're spending.
If you're in any doubt, give BNPL schemes a wide berth.
Overdrafts
Borrowing on your overdraft may feel like an easy option, but these products are best used as a short-term solution.
Crucially, you must never breach your agreed overdraft limit to fund the festivities. If you do, you could get stung by a bundle of very high charges.
Store cards
It's easy to get lured in by a store card offering a hefty upfront discount on your festive purchases, but these cards can come with inflexible terms and eye-watering rates.
With APRs of up to 30 per cent, these cards can be very uncompetitive compared to standard credit cards.
And, if you fail to clear the plastic before full interest applies, it could take you years to get rid of the debt.
Think very carefully before signing up.
For more ways to save on your seasonal shopping, head here.