Tips to stay out of debt this Christmas
Finances feeling stretched? Here's some suggestions to help you survive the festive season
If your finances are feeling a little shaky due to the pandemic, you may be worried about being able to afford Christmas this year.
While the festive season can weigh heavy on your pocket, it's important not to rack up lots of debts for just one day.
1. Plan your budget
Research from the Bank of England shows that the average household spends almost £740 more in December – which is 29% more than in a typical month – so now is the time to set yourself a serious Christmas budget.
You need to work this out based on what you can afford to spend. It's not worth ruining all of next year by getting into debt to pay for a short period of festivities.
List your income and outgoings for the next few weeks – and calculate how much disposable income you'll have left over for Christmas. Once you've set your budget, be strict about sticking to it.
To find out more about budgeting, read our article: Five hacks to help you budget better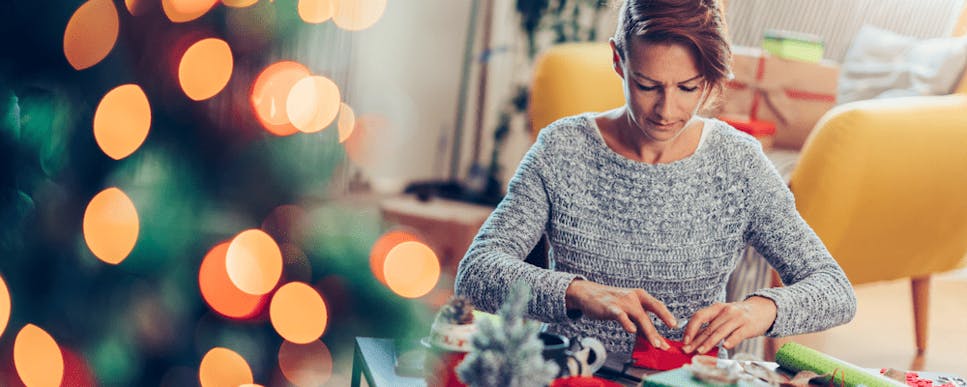 2. Stop impulse buys
It's easy to fritter away money if you use your card to pay for everything – especially with contactless payments.
Try taking cash with you instead when you hit the high street for your Christmas shopping, as it's harder to hand over cash on impulse buys.
But always be careful when carrying lots of money around with you when you're out and about.
3. Agree a price limit on presents
If you're worried about having to buy lots of gifts, why not agree a spending cap, or that you'll only buy gifts for children, and not for adults this year. This could save you lots of money; it could also save you a whole load of time and stress.
4. Organise a 'Secret Santa'
A good way to keep costs down when it comes to presents for work colleagues or groups of friends is by organising a 'Secret Santa' so each of you only has to buy one present.
You could set a price limit of just £5 or £10, and could ask everyone to buy their gifts at a charity shop (as buying pre-loved is better for the environment).
You could even suggest everyone gives a small donation to charity instead – rather than buy more bits of plastic which could end up straight in the bin.
5. Re-gift gift cards
If you've got spare gift cards tucked away in your wallet, dig these out and see if any are eligible for use online. You can then use them to buy presents. Alternatively, think about re-gifting them – just remember to check the expiry date first.
6. Write a 'promise note'
Think about changing the way you buy gifts this year. Agree with loved ones that you'll only purchase a few 'small' presents between now and December 25. Then write a 'promise note' that you'll buy items in the January sales once price tags have been reduced.
Bear in mind that cards, decorations and wrapping paper will also be heavily discounted in the new year, so think about stocking up on these items, too, ready for next year, while prices are reduced.
7. Don't wait until the last minute to post your cards
Save money by sending your Christmas cards second class. The last recommended postal date for your cards to arrive in time for Christmas with a second-class stamp costing 66p is December 18. So, get organised to ensure you make this deadline. If not, you'll have to buy first-class stamps costing 85p. The final posting day for first class cards is December 21.
8. Plan your meals
Many of us are guilty of buying too much food at Christmas, only to find that some of it ends up going to waste.
Try and plan meals and shop accordingly, rather than buying snacks, sweets and other festive items 'just in case.' You will save money, and you will also reduce the amount of food that ends up getting thrown away.
9. Make your own decorations
Don't spend a fortune buying decorations for your tree and home this year, get creative instead. Use items such as pine cones, holly, mistletoe and driftwood to make wreaths, turn empty wine bottles into candle holders and use a salt dough (made out of plain flour, table salt and water) to mould decorations to hang on the tree.
Also remember to check what decorations you already have. Your loft may be full of items you forgot you owned which have plenty of life left in them.
10. Don't leave debt on a purchase card for too long
If you have no choice but to pay for Christmas using credit, be sure to pick a purchase credit card with a long interest-free introductory offering.
But remember the debt does need to be paid off. You must do all you can to clear the card within the 0% period or costs could rocket once interest kicks in.
Read more at: What are the best and worst ways to pay for Christmas?
Seek help
Finally, if you do find yourself running up debts over Christmas, the key is not to bury your head in the sand. If you're struggling with your finances, seek free help from an organisation such as National Debtline or Stepchange.