How to cut the cost of public electric car charging
With energy prices remaining stubbornly high, it's no longer cheap to charge an EV. Here's how you can cut your costs.
Public electric vehicle (EV) charging is no longer as cheap as it once was. As more and more people have bought electric cars, places that previously let drivers top up for free have introduced fees and the rising wholesale cost of electricity has pushed prices up.  
In July 2023 the average price of using an ultra-rapid charger (+101kW) was 72p per kilowatt hour, according to the AA EV Recharge Report1. That compares to 69p/kWh in November 2022 when the AA began publishing its monthly report. Prior to that, EV drivers could expect to pay around 45p/kWh.  
Now, even slow public EV chargers (up to 7kW) cost 48p/kWh, on average, compared to 30p/kwh for charging at home with a 7kW charger.  
Despite the price rises, if you're reliant on the public network, there are ways to cut the cost of electric car charging.  
Find free electric car charging points 
Although the number of places which let you charge for free is dwindling, about 8.5% of all EV charging points (3,568 of more than 42,000) are still free to use, according to Zapmap2.  
Most of those are in Scotland as the biggest charge point operator there, ChargePlace Scotland, is backed by Transport for Scotland. That doesn't mean every ChargePlace Scotland charger is free, however, as each region sets its own tariff so you'll need to check your nearest one.  
You can search for EV charging points in the UK online via Zapmap and apply a filter to see which ones are free to use, before you travel. Bear in mind that any charging points, which are free of charge are likely to be in high demand, and some only give you 15 minutes of charging time. 
After Scotland, the South East and Greater London have the highest number of free EV chargers.  
Northern Ireland doesn't have many chargers per head of population but its national network ecarNI still provides free charging, Zapmap says.   
You might assume that most of the free EV chargers are in supermarkets but that isn't the case. General car parks, car dealerships, hotels and other accommodation, actually have the most free EV charging devices.  
According to Zapmap, there are 445 free devices at dealership forecourts. That's because dealers need to charge electric cars which are being serviced or top up any demonstrator EVs they have, as well as offering EV charging for visitors. You should call the dealership to check what their rules are, especially as the chargers will probably only be available during their opening hours.  
A better bet is so-called 'destination charging' at places like hotels, cinemas, shopping centres and visitor attractions where you're likely to be parked up for a while.  
Always check the signs, though, as some places may let you charge for free but expect you to pay to park. Alternatively, you may have to pay for charging but the parking is free for EVs. If you don't move your car once it's charged, some places will fine you.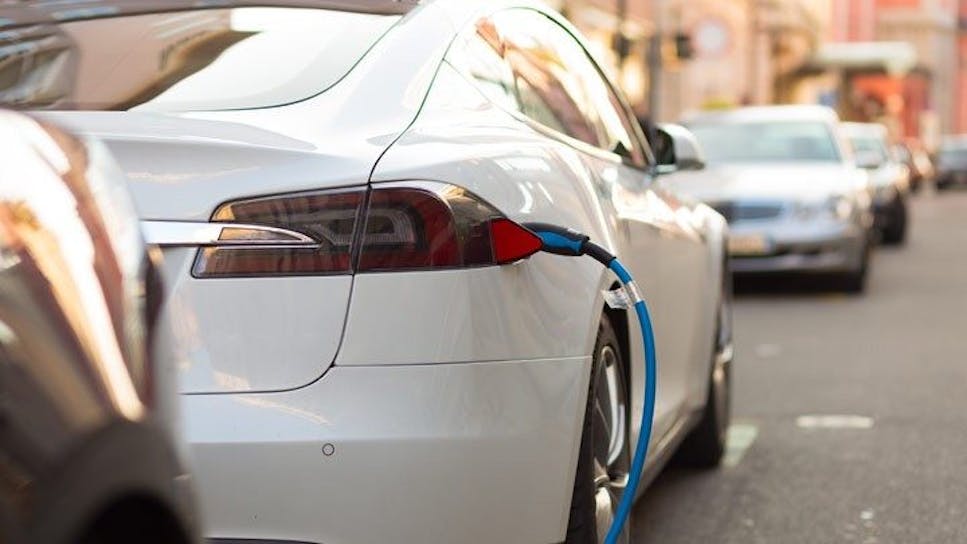 Do supermarkets still have free EV charging?  
When supermarkets first introduced electric car charging bays to their car parks many of them were free for customers to use, but that's much less common now. In fact, according to Zapmap data, supermarkets are only the tenth-most popular location type where you can charge for free.  
Your best chance of finding a supermarket charger that's free to use is at Sainsbury's. It has more than 200 EV chargers (3-22kW), which it provides to customers at no cost. It has also started introducing new ultra-rapid 150kW EV charging at some sites, which customers do have to pay for.  
Tesco launched EV charging in 2019 in partnership with Pod Point and Volkswagen, and now more than two-thirds of its stores have charge points, making it the biggest supermarket network, according to a study by Electrifying.com.3  
It started charging EV drivers to use its supermarket charge points at all stores from November 2022, with the revenue being used to help fund and expand the network. 
As of 3rd April 2023, using a 7kW charger at Tesco costs 44p/kWh, 22kW chargers cost 49p/kWh, 50kW units are priced at 62p/kWh, and the fastest 75kW units cost 69p/kWh.4  
Lidl has at least one electric car charge point at more than 935 stores, and, as of 10 March 2023, its rapid chargers cost 65p/kWh while its 7kW and 22kW fast chargers cost 40p/kWh.5 
Waitrose operates rapid charging services in its shops through its partnership with Shell and is aiming to have 800 Shell Recharge charging points in up to 100 Waitrose locations across the UK by 2025.  
Each site is expected to have six 22kW and two 50kW rapid charging points.6 Currently, the fees are 65p/kWh for 7-22kW charging and 85p/kWh for 50-175kW+ charging.7 
More than half of Morrisons' estate has at least one EV charger point. The majority of those are Equans chargers and it sets the price. The ones operated by Morrisons itself currently cost 64p/kWh for rapid and 49p/kWh for slow and fast charging. 
Consider taking out a subscription  
If you frequently use public EV charging points, it's worth considering signing up to a network or charge card. You normally pay a monthly or annual fee in return for a discount on the price of public charging, although some cards don't charge any subscription or transaction fees.  
Octopus Electroverse, for instance, is free to join and gives access to 502,852 EV chargers across the UK and Europe. Intelligent Octopus and Octopus Go customers receive an 8% and 5% discount respectively on all charging through Electroverse.8 
BP Pulse, which has more than 8,750 charging stations in the UK, gives you 20% off pay-as-you-go rates if you sign up to a full membership subscription (£7.85 a month, including VAT). As an incentive you get your first month's subscription free, plus £9 charging credit each month for the following five months, provided you remain a full member for six months from registration.9 
Charging app Bonnet offers two levels of discount on pay-as-you-go rates from more than 40 charging partners. For £2 per month, you get 10% off the pay-as-you-go rate or for £8 per month you get a 15% discount.10  
Alternatively, Elli, a sub-brand of the Volkswagen Group, gives access to 500,000 charging points in Europe, including 18,000 in the UK at various discount levels.  
The Volkswagen Group is currently standardising the tariff models for its charging services: SEAT and CUPRA Easy Charging, Powerpass and Volkswagen We Charge. 
Other car manufacturers also offer charge cards. Tesla's Destination charging network and Supercharger network are available to non-Tesla drivers but beware of overstaying at a Supercharger station if it's fully occupied, as Tesla charges £1 a minute.11 If you're planning to buy a used Tesla, check whether it still comes with free Supercharging.  
Sign up to community charging 
An alternative to the traditional public chargers is to rent a neighbour's EV charger (community charging). There are apps available, such as Co Charger and PlugShare, which formalise the process. 
Co Charger says that community charging is generally a third cheaper than public charging. You can book a charger in advance and there are no subscription fees.  
It currently has more than 4,700 registered hosts and expects this to grow to 25,000 by the end of 2024. 
To decide your best public EV charging options, it's worth plotting your most frequent journeys and seeing which chargers and networks are the most convenient.  Public electric vehicle (EV) charging is no longer as cheap as it once was. As more and more people have bought electric cars, places that previously let drivers top up for free have introduced fees and the rising wholesale cost of electricity has pushed prices up.