Planning Permission Report
Planning Permission Report
If you're thinking about adding an extension to your home or buying a house with a view to developing it in the future, you may want to consider the possibility that you will need to seek planning permission for your project.
Planning permission is usually required for new buildings and major alterations to a structure or purpose of a building, for example building an extension on your house or changing a building from residential to commercial use.
Decisions on the approval or refusal of planning projects are made by local planning authorities (LPAs).The process of seeking these approvals can be challenging, so this study aims to discover what obstacles you may face in the process and what the likelihood of gaining approval is.
We've looked at a range of government data sources on planning permission, as well as conducting a study with homeowners who have gone through the process.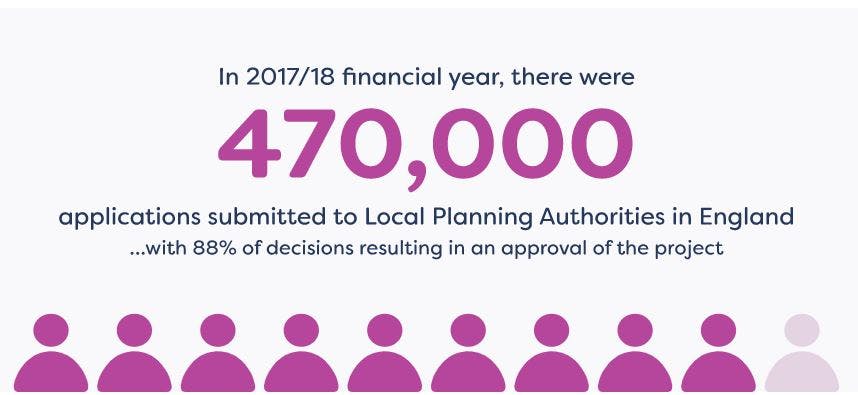 Despite the difficulties often associated with the process, the good news is that around nine in 10 planning applications are granted by LPAs.
Our consumer research shows that the most common type of application is for the approval of an additional kitchen or a kitchen extension, with 18% of those who had sought planning permission citing this as their reason. Creating new rooms (16%) and extending the loft (12%) are other popular reasons for applying.
When asked, 65% of people felt that they fully understood planning permission, despite three quarters of respondents saying that the application process was an unpleasant experience. However, the majority feel that seeking to extend or modify your home is easier than looking to move to a new house, with just 18% rating the planning application process as the more complicated of the two.
Planning permission applications 2006/07 - 2017/18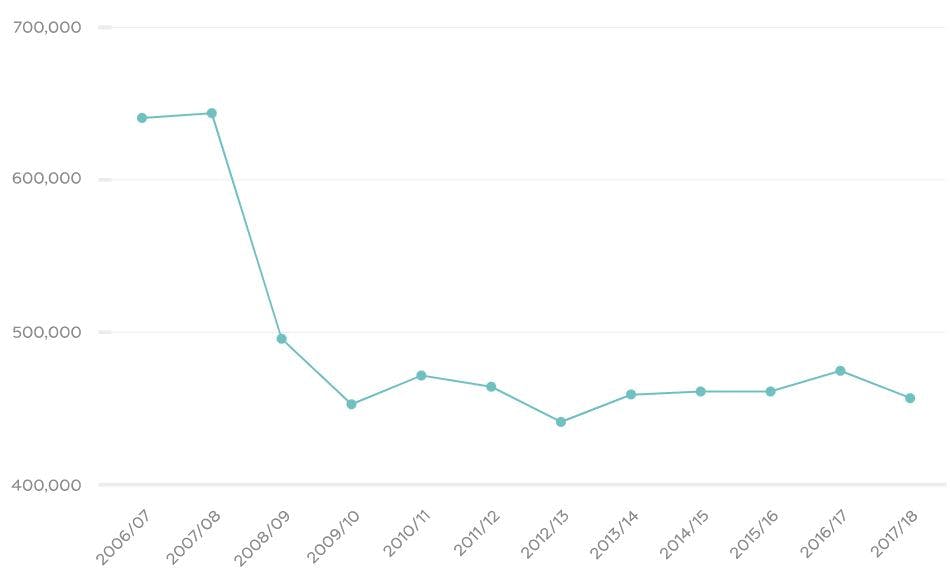 Back in 2007/08, there were 648,000 applications submitted to LPAs (38% more than the most recent figures in 2018).
It is notable that the amount sharply decreased in the years following the 2008 financial crisis, and the level of applications have never since recovered beyond 487,000 in any given year.
Obtaining approval on your project
Across England in 2017/18, LPAs made 431,000 decisions on applications, granting permission for 378,000 (88%) of these. The approval rate has steadily been on the rise in recent years, with this figure being as low as 82% back in 2006/07.
The approval rate also varies between the different LPAs around the country. Those looking to build or extend in Richmondshire might count themselves lucky as their LPA had the highest rate of approval in the final quarter of 2018 (99%). By contrast, only 62% of projects were granted by both Enfield and Hillingdon's LPAs over the same time period.
Not all applications are successful and the reasons that projects are rejected vary. Possible reasons for refusal include complaints from neighbours, effects on conservation areas and poorly planned design documents.
However, approval is not always required for every project and 5% of respondents to our survey said they discovered this after submitting and paying for an application.
One common misconception about planning permission is around solar panels being installed on homes – one in five people were unaware that no approval is required to install the panels (unless it is a listed building) [1].
There is also legislation in place that means permission for certain types of development has already been granted nationwide. This is known as 'permitted development rights' and you may be able to go ahead with your project without notifying the LPA if you comply with this legislation – details of which can be found on the Planning Portal website.
Those in Swansea and York were statistically most likely to have been informed that they submitted an unnecessary application (21% and 16% did not require approvals respectively), which would cost them over £200 for an application for a single development [2].
Speed of decisions by Local Planning Authorities
Authorities are usually set an eight-week deadline (13 weeks for major projects) to grant a planning decision [3]. This period is only ever extended when agreed in writing between the applicant and LPA, and approved by the Ministry of Housing, Communities and Local Government.
On average, English LPAs meet their agreed deadline on 85% of occasions, which means over one in 10 decisions are late. When asking those who have gone through the process how long it took to hear back, the average wait-time was found to be around 10 weeks.
During 2018, of the 339 authorities analysed, 12 LPAs met their agreed deadline for every single application, including Bury, Brentwood, Chorley, Coventry, and Rotherham. In addition, 42 other authorities met the deadline in at least 95% of cases.
By contrast, some authorities' records are not quite as impressive when it comes to sticking to the agreed timeframe. Craven, for example, is the only authority in England which met its deadlines on fewer than half of occasions (45%).
Appeals and overturning Local Planning Authority decisions
If you disagree with the outcome of your planning decision, you have a right to appeal – and it is free to do so. Delayed decisions by LPAs can also give rise to appeals. The standard window for you to launch an appeal is within six months of the decision notice, or from the decision due date in the case of delayed outcomes [4].
You may also wish to dispute a planning permission decision if you receive an enforcement notice, which could be sent to you if you start building work without seeking the necessary approvals first. If you wish to argue that you did not require permission from the LPA, the appeal timeframe drops to a much shorter 28 days.
Depending on the nature of the dispute, the full process – including stages such as validating the appeal and conducting a formal hearing – can last just short of a year.
The most recent publicly available figures (January 2016 – December 2017) reveal that 1.2% of decisions in England were successfully overturned. Hillingdon saw the greatest number of successful appeals (3.9%), while all of Rushmoor's original 884 decisions were upheld at appeal over the time period.
Planning permission considerations
If you are considering a significant home improvement or are applying for a mortgage to buy a house for future development possibilities, it helps to be as clued up on the process as possible.
There are a range of government resources available, as well as sites such as Planning Portal, to help you understand the application and decision-making process and to also learn when you need to seek planning permission from your LPA and when it is not required.
If you are seeking permission to build your own home, you will also need to apply for a specialist self-build mortgage.
Building work can also be costly, with elements such as labour and materials to consider, so it is important you are certain you can afford to fund these types of projects – it's best to draw up a budget and plan before you start work.
Larger planning projects, for example a major development of 50 houses, would also incur significant costs just for submitting planning applications.
While it is preferable to ensure that you have the means to cover the costs of the building work you have planned, suitable home improvement loans are also available. However, you will most likely need a good credit score and borrowing history to get a loan, and you would need to be sure you could afford to keep up with your monthly repayments before choosing to apply.
Sources
[1] https://hoa.org.uk/advice/
[2] https://ecab.planningportal.co.uk/
[3] https://www.gov.uk/guidance/
[4] https://www.gov.uk/appeal-planning-decision
Government planning permission data tables downloaded from: https://www.gov.uk/government/