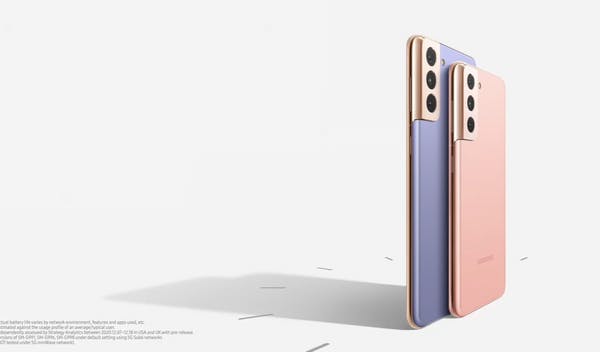 Released in 2021, the aptly named Samsung Galaxy S21 sports a refreshed design and some interesting tweaks from its predecessor. Read our page to find out more.
Our Samsung Galaxy S21 review in summary
To read more about the Samsung Galaxy S21 and compare deals, visit our page:
The Samsung Galaxy S21: At a glance
6.2-inch display FHD+ Dynamic AMOLED 2X Infinity-O Display with 2400 x 1080 resolution
120Hz refresh rate
Dimensions: 151.7 x 71.2 x 7.9mm
Weight: 169g
Triple camera: 12MP ultra wide lens, 12MP wide-angle lens, 64MP telephoto lens
4000mAh battery capacity
5G-compatible
Storage: 128GB or 256GB
8GB RAM
IP68 water and dust resistance
Released in 2021, the Samsung Galaxy S21 was an interesting update at the time. In a rare move, it launched at a price lower than the previous year's Galaxy S20. And to keep costs down, Samsung has removed a few features: namely the lower-resolution screen, lack of microSD card slot and a plastic – rather than glass – back.
While some of these cuts might sound like a downgrade, in reality they're barely noticeable and don't hinder your experience. Most users will be happy with this trade-off if it means a cheaper device from the get-go.
Not to mention, Samsung has retained and refined the more important aspects of a phone. You'll see improvements in terms of camera software, processing power and great all-round performance.
Camera
Hardware-wise, the S21 sports the same triple-lens set-up (albeit in a different design): a 12MP wide-angle main camera, a 12MP ultra wide lens and a 64MP telephoto lens with 3x hybrid optical zoom and 30x digital zoom.
Better picture quality comes down to its software, which has been upgraded to maximise the performance of the triple-lens camera system.
Some handy features include an improved Single Take, which lets you capture videos and photos using all three cameras at the same time. With a new slow-mo addition, it makes capturing fast-moving objects much easier. There's also a better night mode, as well as impressively stabilised pictures when using the 30x zoom.
The 10MP front camera also performs well for video calls and selfies, producing clear results and pleasing video quality.
As for video, you have a few options: 8K at 24 frames per second, 4K at 30 and 60fps and Full HD at 30, 60 and 240fps.
Design
Thanks to a complete design refresh, Samsung has made some big changes to the look and feel of the S21.
Instead of the full glass black, it now sports a 'Glasstic' back with a matte finish. 'Glasstic' is Samsung's name for plastic that's designed to look like glass. True, it doesn't feel quite as premium as a glossy glass rear, but it's definitely not a flimsy or cheap plastic. Its matte finish keeps fingerprints at bay, the soft-touch plastic isn't as slippery in the hand, and it's meant to be more durable.
The 'Contour Cut' camera module is a new addition. It's made of metal and blends in nicely with the phone's wraparound metal frame – all in all, it looks rather sleek.
The S21 comes in four colours: Phantom Gray, Phantom White, Phantom Pink and Phantom Violet.
Display
The S21 is the first to ditch the curved screen that's synonymous with Samsung phones, instead opting for a standard flat screen. Whether that's a pro or a con is down to your preference – you might miss the more expansive display created by the curved-edge screen, or you may be relieved that your phone will no longer be triggered by accidental touches with your palm.
On paper, the screen resolution is lower than that of the S20, only topping out at 1080p resolution. In practice, however, any drop in specs is hardly noticeable. The adaptive 120Hz refresh rate delivers super smooth scrolling, and, as always, Samsung delivers a great display full of contrast and colour. It has a peak brightness of 1300 nits, which should make for easy viewing in direct sunlight.
Measuring 6.2 inches diagonally, it's large enough for comfortable viewing, without being too large for one-handed use. There's just the tiny hole-punch selfie camera at the top, with slim bezels around the side for maximum screen real estate.
Operating system and performance
Depending on your location, the Galaxy S21 devices use either Qualcomm's Snapdragon 888 chipset (in the US), or Samsung's Exynos 2100 chip (everywhere else).
Both chipsets perform extremely well – they're perfectly capable of handling gaming, streaming and multi-tasking. They come with 8GB of RAM, as well as either 128GB or 256GB of internal storage. It's important to note that the S21 no longer comes with a microSD slot, so there's no option for expandable storage.
At launch, the S21 ran Android 11 with Samsung's One UI 3. It supports the latest operating system update, which, at the time of writing (July 2022), is Android 12.
Battery life
Powered by a 4000mAh cell, the Samsung Galaxy S21's battery life should comfortably last for a full day on a single charge. Plus, the adaptive refresh rate and improved chip efficiency will help prolong its longevity.
Fast-charging is an option, but you'll need to get a suitable charging brick. In another measure to keep costs down, Samsung no longer includes a charger in the box – just the USB-C cable.
Samsung Galaxy S21's deals and incentives
Galaxy S21 5G (128GB Grey)

Unlimited 5G data
Unlimited minutes
Unlimited texts
£309.00 device cost

24 month contract

From Fonehouse

Galaxy S21 5G (128GB Grey)

Unlimited 5G data
Unlimited minutes
Unlimited texts
£409.99 device cost

24 month contract

From Affordable Mobiles

Galaxy S21 5G (128GB Violet)

Unlimited 5G data
Unlimited minutes
Unlimited texts
£59.99 device cost

24 month contract

From MobilePhonesDirect.co.uk

Galaxy S21 5G (128GB Grey)

Unlimited 4G data
Unlimited minutes
Unlimited texts
£29.00 device cost

36 month contract

From Vodafone

Galaxy S21 5G (128GB Grey)

3GB of 5G data
Unlimited minutes
Unlimited texts
£239.99 device cost
Special offers with O2 Priority

24 month contract

From Buymobiles.net

Galaxy S21 5G (128GB Grey)

3GB of 5G data
Unlimited minutes
Unlimited texts
£239.99 device cost
Special offers with O2 Priority

24 month contract

From Affordable Mobiles
Samsung Galaxy S21 pricing
At launch, the Samsung Galaxy S21 was priced at £769 for the 128GB version, and £819 for the 256GB one.
Now, at the time of writing (July 2022), it's no longer the latest release in Samsung's line-up. So you'll be able to get some cheaper deals for this handset.
Samsung Galaxy S21 review: Verdict
At first, the Samsung Galaxy S21 seems to be a bit of a downgrade, with its plastic material and lower resolution screen. But when using the device, you'll find that there's no real step down in terms of quality – the plastic doesn't feel cheap, and the lower resolution is unnoticeable.
As is common with the latest flagship phones, the S21 omits features that many still miss: there's no reintroduction of the 3.5mm headphone jack, while the microSD card slot has also disappeared. Furthermore, a charging brick is no longer included in the box.
However, what Samsung takes away from the S21, it makes up for in terms of performance and price. With its fantastic cameras, bright and vibrant screen and powerful chipset, its day-to-day capabilities are more than enough to appease most smartphone users. Plus, the fact that it launched at a cheaper price is commendable.
Pros and Cons of choosing Samsung Galaxy S21 in 2022
Pros
Great and reliable performance
High-quality camera system
Cheaper starting price than the Galaxy S20
Cons
No expandable storage
No charging brick in the box
Plastic material feels less premium
Not a significant upgrade from the S20
How does Samsung Galaxy S21 compare against other phones?
The other flagships released in 2021 include the Apple iPhone 13 and the Google Pixel 6.
If you're willing to move to iOS, the Apple iPhone 13 is a failsafe contender; it uses the far more powerful A15 Bionic chip, though it lacks the adaptive 120Hz display. For those wanting to stick with Android, the Google Pixel 6 is a good-value flagship that offers spectacular camera capabilities.
If you don't want a flagship phone, you could consider the Samsung Galaxy S21 FE. It's Samsung's slightly cheaper answer to the S21, as it takes most of its features and packs them in a larger, more affordable frame.