Will purchasing a dashboard camera save you money on your car insurance?
Our guide explains the benefits of dash cams, how they can help when making a car insurance claim and whether having one can even lower your premiums
Dash cameras are in-built, handy car tools that can have an array of advantages. When it comes to car insurance, they can actively help you strengthen your claim in the event of a road accident.
MoneySuperMarket explores all you need to know about dash cam insurance.
What is a dash cam?
A dash cam is an in-car camera that records audio and video footage of your journey. It provides a driver-eye view from the front, and sometimes rear, of your car.
They are becoming increasingly popular with drivers and, as such, are becoming more affordable.
Some higher-spec cars even have built-in dash cams. Manufacturers such as Tesla, BMW, and Subaru have cameras that help with functions such as lane-assisted driving and reversing. But these can also automatically record footage from an incident.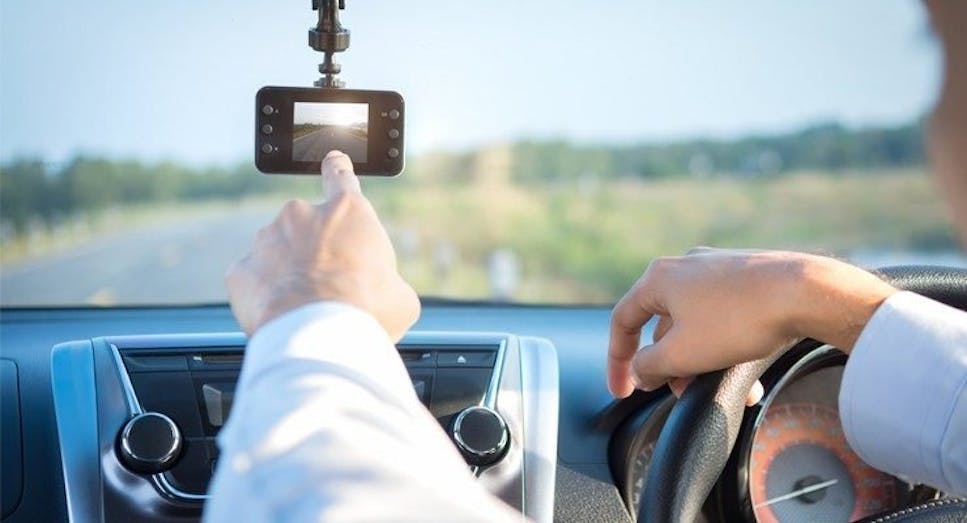 What are the benefits of having a dash cam?
There are more benefits to having a dash cam than you might think.
Having proof of accidents. The footage can be used to show you were not at fault for an accident. It can quickly establish who caused the crash or bump, saving both time and money.


Saving money and protecting your no-claims bonus. If you have the evidence on video, you can avoid paying the excess for an incident that wasn't your fault or it can be reimbursed later.  It can also mean protecting your no-claims bonus, which often takes years to build up.


Helping uncover fraudulent claims. 'Cash for crash' cases are where another driver might instigate a collision and try to pin the blame on you. They have been on the rise for the past few years.


A reminder to drive more carefully. It means you're likely to be kinder to your car and safer on the road, which reduces the chances of an accident and an insurance claim. This is backed up by research from the RAC.


Allows you to forward footage to authorities. Aggrieved drivers can send video files to the relevant authorities through the National Dash Cam Safety Portal. This means you can take action against suspected dangerous drivers, even if they don't stop to exchange details. Some individual police forces also have websites where you can upload footage.


GPS tracking. Location sensors within the dash cam will pinpoint where and when an accident took place, show your route, and register the speed you were travelling. It can also help authorities find your vehicle if you break down or you're involved in an accident.


Footage is stored. The recording will be on an SD card that can be downloaded to a computer for safekeeping. When the card is full, some dash cams will also automatically save moments of high G-force. This can be, for instance, the moment a collision took place.


Works even when parked. If your dash cam has a parking mode, it will automatically start recording if it senses a collision when you're parked.


Clear footage. If you have a 1080p screen, it's equivalent to Full HD and will provide a clear, sharp picture.
Are dash cams legal in the UK?
The answer is yes. As long as your camera does not block your view of the road, there are no rules preventing you from having and using a dash cam in the UK.
Can dash cam footage be used in court in the UK?
Yes. Dash cam footage can be used in court in the UK. However, it is crucial that footage and important details, such as number plates, are both visible and clear.
Am I entitled to a dash cam car insurance discount?
A handful of insurance providers, such as Adrian Flux and MyFirstUK, offer discounts on car insurance for those with dash cams.
But you need to look closely at the terms & conditions and make sure you have an insurance-approved dash cam. For example, only certain types of dash cams qualify or the discount may only apply for drivers under a certain age.
Many other insurers are yet to be persuaded that they should offer lower premiums. That said, they do point out the benefits of a dash cam for providing evidence to clear up claims. 
How easy is it to fit a dash cam?
Most dash cams are easy to fit. The simplest type works by having a rubber suction-cup that you stick to your windscreen, with the dash cam powered through your car's USB charger or cigarette lighter port.
It will then start recording when you turn the ignition on and stop when you turn it off. Higher-range vehicles may have automatic dash cams already built-in or other cameras that effectively perform the same function.
Can I use dash cam footage to support my insurance claim?
Yes. It is increasingly common for insurers to accept dash cam footage to help provide evidence of what happened in an incident. Indeed, it is way better than relying on word of mouth from those involved.
How much do dash cams cost?
They don't have to be expensive. But what you save in pounds, you'll probably lose in quality of the recording.
You can pick up a cheap dash cam for as little as £20, but the footage is likely to be inconsistent. A standard dash cam will probably start at around £50, whereas higher-end models can be towards £300 or even more.
It's also worth checking what technology your car already has. If you have a modern vehicle with built-in cameras, these may already be functioning as a de facto camera in case of an accident.
How can I ensure my dash cam captures clear footage?
In the event of an accident, you want your dash camera's footage to be as clear as possible. Here are a few steps to take to make sure it captures reliable footage:
Place the dash cam behind the rear-view mirror and in the centre of the screen

Ensure your windscreens are clean and use the wipers on rainy journeys

Remove any items that are hanging down from your rear-view mirror and could obstruct the footage

Pick an SD card with sufficient memory space, so that it does not fill up way too soon

Check the settings to select the resolution that suits you best

Check your footage on a regular basis to ensure your dash camera is working and recording as it should
What if my dash cam does not record the accident?
There may be some instances in which your dash cam is not able to film the accident. If you have a front-facing dash camera and someone hits the back of your car, the incident may not be captured by the footage.
There is also a chance that video footage may be lost if the SD file on which it is stored is corrupted. In this case, using video recovery software may help you retrieve the footage.
But if you have lost the recording, or your camera simply did not film the accident, you will only be able to rely on your own statement, pictures you have taken at the scene, and testimony from any witnesses.
Are there any disadvantages of having a dash cam?
While there aren't many disadvantages to having a dash cam, there are a couple of things to consider.
Distraction. If incorrectly positioned on the windscreen or your dashboard, a dash cam could create a small blind spot or simply catch your eye to take your attention off the road.

Theft. Unless you hide the dash cam after every journey, given its location on the dashboard, it will be within line of sight for opportunist thieves.

Invasion of privacy. This is a contentious area, as footage can be used in court and to help with insurance claims. But be wary of inflaming situations through social media. Others may not take kindly to having themselves and their driving posted all over the internet. It could also jeopardise a court case, especially if evidence you want to rely on has first been made public for others to comment.
Compare dash cam insurance
Finding cheaper car insurance is quick and easy with MoneySuperMarket.
Let us know a few details about yourself, your car, and driving history, as well as any named drivers. We'll scour the market to find you the cheapest car insurance that offers the cover you need.
We can also remind you when your MOT and tax are due, so you never miss your renewals.