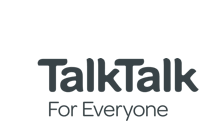 Are TalkTalk routers any good? What features do you get? And how strong is the signal? We've weighed everything up...
How to get a TalkTalk router
TalkTalk supplies new routers to all new and upgrading broadband customers. There are two available: the TalkTalk WiFi Hub and WiFi Hub Black. The latter comes with its basic fibre deals, while the former is reserved for customers on its ultrafast packages.
It's also possible to upgrade your TalkTalk router by buying one from its online store, although it's worth calling to see if you're eligible for a new one before doing so.
Which is the latest TalkTalk router?
TalkTalk offers two different routers: the TalkTalk WiFi Hub and WiFi Hub Black.
While the specs of both are similar, there are key differences, which is why the WiFi Hub Black is only available for customers on its slower packages that still rely on the OpenReach network.
The TalkTalk WiFi Hub is designed for full fibre services, where customers get fibre broadband right into the home, without having to use OpenReach's old copper wiring.
Router specs
TalkTalk WiFi Hub's key features include:
AC standard WiFi
Broadcom chipset that controls traffic and communications
Smart channel selection automatically picks best frequency
Smart WiFi tech scans for any issues constantly
ADSL2+ and VDSL 2 support, the latter for full fibre connections
Seven antennae for decent connection throughout the home
Four gigabit Ethernet ports for connecting devices like games consoles, plus a WAN port
Dual band, with support for 2.4 and 5Ghz
TalkTalk WiFi Hub Black
Comes with cheaper fibre and ADSL deals
Traductor chipset
AC standard WiFi
Smart channel selection
Smart WiFi tech
ADSL2+ and VDSL 2 support
Seven antennae
Dual band support
Four gigabit Ethernet ports, plus a WAN port
Setting up a TalkTalk router
TalkTalk may require an engineer to come round to set up your broadband, especially if it's a full fibre connection. If so, they'll do this part for you.
If not, TalkTalk will send you a router to set up yourself. Don't panic, it's an easy process and simply requires you to connect it to the mains as well as your wall mounted phone socket.
If this seems tricky, then TalkTalk's own step-by-step guide is a great resource, with easy-to-follow diagrams. You'll be connected within minutes.
Does TalkTalk replace old routers for free?
TalkTalk will replace old routers for upgrading customers. However, if you're happy with your deal and simply want a new router, you may have to pay for one.
We recommend calling and asking if it's possible to get a new model, especially if you've been a loyal customer for some time.
Legacy TalkTalk routers
TalkTalk Super Router
Much loved by its users, with ADSL and VDSL support for full fibre connections, the Super Router packed a USB port for connecting devices such as hard drives.
With dual band support and ac WiFi as standard, it's no longer available but still well regarded.
Other routers
Frequently asked questions
How do I know which router I have?
It can be tricky working out what router you have just by looking at it. But find the sticker with your password details on it and the model number will be there too.
This means you can easily search and find out how old it is and if you need to upgrade.
How do I upgrade my router as an existing customer?
If you're an existing customer, the cheapest way to upgrade your TalkTalk router is to take out a new deal. Be sure to call and haggle, so you can get the best offer available.
Alternatively, you can upgrade by buying a new router from TalkTalk without changing your existing package.
Do all new customers get the latest router?
Customers on TalkTalk's ADSL, Fibre 35 and Fibre 65 will get a new WiFi Hub Black.
Customers signing up to its full fibre Fibre 150, Fibre 50 or Ultra Fibre Optic will get a cutting edge WiFi Hub.
Can I use a different brand of router with TalkTalk broadband?
You can use a different router, yes, although those from other providers may not work as often they're configured for specific networks.
Generic devices such as Google Nest and Amazon Eero will work, but TalkTalk's own routers are more than up to the job and won't cost if you take out a new deal.