Compare travel insurance for Rio de Janeiro
Your next trip to Rio de Janeiro should be remembered for the right reasons, so it's important you get travel insurance to protect you
Why do I need travel insurance for Rio de Janeiro?
Travel insurance for Rio de Janeiro is an essential part of your holiday planning. It gives you peace of mind that if anything were to happen whilst away, you will be protected – meaning less stress and more time to explore the beautiful city.
From lost luggage or a stolen passport, to medical treatment and cancelled flights, travel insurance can protect you and cover the costs should you need it.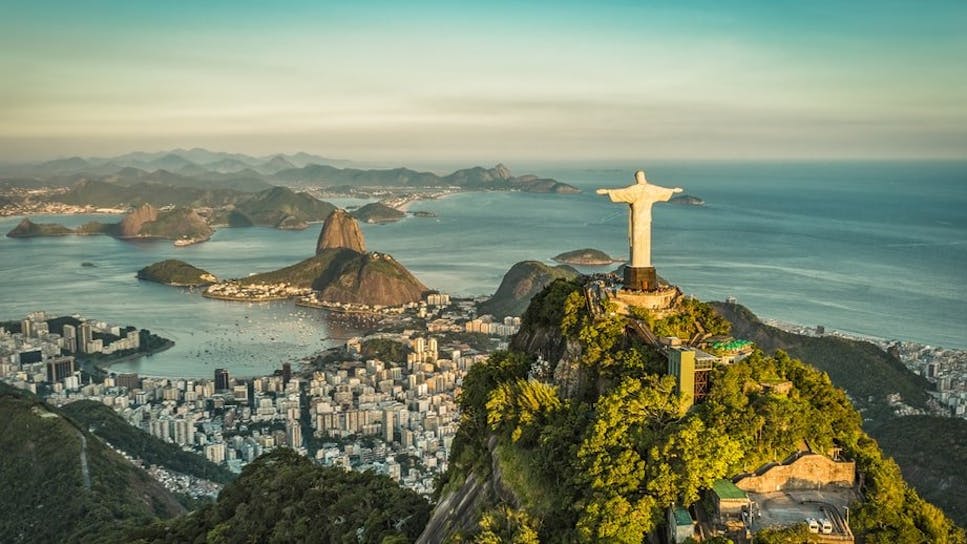 What type of travel insurance do I need for Rio de Janeiro?
Your trip to Rio will typically be covered by any worldwide travel insurance policy. However, there are various other types of insurance that might suit your holiday better. You can find the best travel insurance deals through MoneySuperMarket and can tailor your policy to the cover that you need.
If you're only visiting Rio de Janeiro, a single-trip travel insurance policy may be the right option for you. Single trip cover is designed for a one-off trip, to protect you from when you take out your cover, to when you return home. 
If you're a regular traveller and are planning multiple holidays throughout the year, including Rio de Janeiro, an annual multi-trip policy may be your best bet. This means all your trips will be covered under one policy, which is easier to manage, and can work out cheaper than buying multiple single-trip policies.
If you're backpacking across the globe and stopping off in Rio de Janeiro, backpacker travel insurance may be the right option for your needs. You can be covered for one trip to multiple destinations during an extended time period.
Rio de Janeiro include?What should my travel insurance policy for
When you're choosing a travel insurance deal for your holiday to Rio, there are a number of things you should make sure are included:
Medical cover: If anything were to happen to you that required medical treatment while away, you would likely have a large bill on your hands.  Medical treatment cover can protect you, with most insurers paying costs up to a limit of £5m. It's important to tell your insurer if you have any pre-existing medical conditions when you take out your policy to make sure you're fully covered

Cancellation cover: Covers you if you need to cancel your trip, or cut your holiday short because of emergency

Baggage cover: Make sure your belongings are protected with baggage cover. High value items, like your camera or jewellery, may need to be covered separately 

Repatriation cover: If you need to be brought home to the UK in an emergency, repatriation cover will cover the cost

Passport cover: Protects you if your passport is lost or stolen, as getting a replacement while you're abroad can be expensive

Travel delays and missed departures: If you miss your flight due to an event beyond your control (like your car breaking down or a family emergency)

Gadget cover: If  gadgets like your mobile phone or laptop is stolen or damaged while you're on holiday, gadget cover can help you replace it

Cash cover: If your money is lost or stolen while you're away, cash cover can help you get some of it back. Most insurers will only cover you up to £300 as standard
Rio de Janeiro travel insurance: exclusions and what to watch out for
There are some types of cover that don't come as standard with travel insurance policies. This means you may need to pay extra to add them to your policy and make sure you're fully protected. They include:
If you have a pre-existing medical condition or you've received advice or treatment in the past, you may find you're charged a higher premium – this is because your insurer views you as more of a risk. It's important to disclose any pre-existing medical conditions you have to your insurer, so your policy can protect you fully.
Cover for unexpected incidents that may affect your holiday, like civil unrest, war, terrorism and natural disasters
Cover for travel to locations that the Foreign, Commonwealth & Development Office (FCDO) has said British holidaymakers should avoid. Some insurers will make your policy invalid if you travel against government advice. Worried about COVID-19 affecting your travel plans? Take a look at our guide on coronavirus and travel insurance
If you're an adrenaline junkie planning some higher-risk activities, like water sports or rocking climbing, you might want to consider adventure cover.
Is healthcare free in Rio de Janeiro?
Medical treatment isn't free for foreign travellers in Rio de Janeiro. This means all doctors' fees, medication and hospital treatment in private clinics must be paid for, which can be expensive. Travel insurance is essential if you want to be financially protected.
Rio de Janeiro fact file
Travelling to Rio de Janeiro: Key Information

Language(s)

Portuguese

Currency

Dialling code

+55

Plug sockets

C & N

Emergency contact number

190 (police), 193 (fire or ambulance)

Embassy address

Praia do Flamengo, 284 - Flamengo, Rio de Janeiro - RJ, 22210-030, Brazil

FCDO travel advice

FCDO advise against all but essential travel to Rio de Janeiro
Top tips for travelling to Rio de Janeiro
A lively city with stunning beaches, beautiful people, captivating culture and fantastic food: Rio is a city for your senses. Whatever you enjoy doing, the place will entice you in. Here are just a few things to note when travelling in Rio de Janeiro: 
When to visit: The best time to visit Rio is between December and March, when the weather is warm and sunny enough to hit the beaches. The city's seductive samba beat and incredible panoramic views last year-round, but arrive in February to experience Carnival

Getting around: Most major attractions can easily be reached by foot and it's a great way to explore the city. Taxis are relatively cheap and the metro is super clean

Language: The national language of Brazil is Portuguese and most Brazilians don't speak English. You should be able to get by in Rio as there are more tourists. But it's also useful and nice for locals if you learn the basics

Crime: The crime rate in the city is high, protests are common and can spring up without much warning, these can be violent. So, it's sensible to be extra vigilant when you're exploring crowded areas and try to avoid any demonstrations that take place (the local media and local authorities should be able to advise on these)

Photocopy your passport: Under Brazilian law, you're required to have some kind of ID on you at all times. It's likely you'll never be asked – but just in case, it's a good idea to make a clear photocopy of your passport to carry around with you. That way, you won't have to worry about losing it to pickpockets

Don't drink tap water: Even locals don't drink it – you'll easily find bottled water everywhere

Tipping in restaurants: A "servico" 10% charge is often added to the bill. It's customary to pay, but you're not legally required to