Pet insurance quotes
Pet insurance can give you peace of mind if anything were to happen to your beloved companion - here's how to find an affordable quote
See why you need pet insurance
If you have a pet, the likelihood is that you consider your pooch or moggy part of the family – and you would be devastated if anything happened to them.
In 2019, 40% of households owned a pet of some kind.* Although adorable and great companions, animals of all shapes and sizes can suffer from an array of illnesses and accidents. Unlike us, they can't turn to the National Health Service for free treatment – instead, expect a trip to your local vet.
Vet bills aren't cheap; treatments can range from hundreds to thousands of pounds, depending on the treatment required.
*According to Statista data from 2019, accurate as of March 2020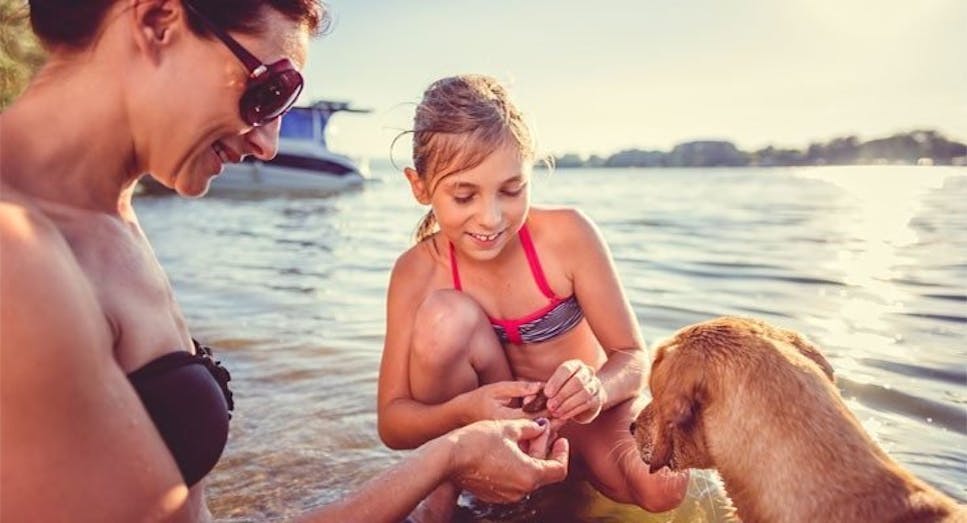 How much do treatments cost?
Vet bills have been on the rise over the past couple of years, with pet insurers paying out a record £785 milion in 2018 – which the ABI says is driven by an increase in the average pet insurance claim.*
The most common illnesses in dogs are cataract, hip dysplasia, patellar luxation and progressive retinal atrophy. The most expensive pet insurance claims are typically made for the following illnesses:
●     Fractures
●     Spinal Injuries
●     Face Injuries
●     Immune System Disorders
●     Hernias
●     Lymphatic Illness
●     Reproductive Illness
●     Blood-Related Illness
These illnesses, depending on the severity, size of your pet and treatments required, can range from around £400 to £8,000, which is why pet insurance is so important. However in 2019 only 45% of all pet owners had bought insurance for at least one of their pets, down from 55% in 2018.**
The cheapest policies have a monetary limit on how much you can claim for each condition, such as £500, so be sure to check the small print. When renewing your policy each year be sure to remember that a new insurance quote from a different provider will exclude any pre-existing conditions.
Alternatively, if you're on a per condition policy, the cover can be exhausted and then your pet won't be covered for that specific injury or illness again.
This is why a lifetime policy may be the preferred option for many pet owners, especially with breeds more susceptible to particular illnesses, such as flat-faced dog breeds (Pugs, French Bulldogs and Bulldogs). These have an average of 33 disorders per breed compared with an average of 11 disorders for non flat-faced dogs.***
One other thing to note here is that some lifetime policies have a limit on how much can be claimed per condition each year, although these are generally reset at the start of the new policy year.
*According to ABI data from 2018, accurate as of March 2020
**According to Mintel/Lightspeed data from 2019, accurate as of March 2020
***According to RVC data from 2018, accurate as of March 2020
How does pet insurance work?
When you take out a pet insurance policy, you'll pay a monthly or annual premium for the animals you're insuring. If your pet has an accident, injury or illness and requires veterinary care, you can then claim back the cost of treatments covered by your insurance – minus any excess.
Investing in pet insurance can give you peace of mind that, whatever adventures your furry friend embarks on, the insurance will cover the cost should they ever need vet treatment.
There are different types of pet insurance you'll be able to take out. Some cover accidents only for a specific time limit and need to be renewed yearly, while others will cover your pet throughout its whole life for a fixed yearly premium.
It's important that you know exactly what your insurance policy covers, so be sure to read the small print.
Almost four in five pet owners own high- or mid-level insurance, with the highest level available offering lifetime cover. These are generally the more expensive policies and your cat or dog will be covered for ongoing as well as future conditions.
With lifetime cover you will get an annual allowance, for example £10,000, which you can use for claiming on any condition that your pet suffers. The only exclusion would be a 'pre-existing condition' suffered under a different insurance policy.
Some providers also offer multi-pet discounts if you have more than one animal living within your household.
What does pet insurance cover?
Like any other form of general insurance, pet insurance policies vary – so be sure to check the fine print to know what you're covered for.
Most standard insurance policies cover:
●     Vet's fees: up to a certain annual sum per year for each condition but not pre-existing conditions
●     Death by accident or illness: unless your animal is over the age of 7-8, for which most insurers will not pay out, or alternatively will expect a contribution. Some providers will even contribute to the cost of your pet's euthanization, cremation or burial
●     Missing pet costs: the cost of putting up posters and paying rewards
●     Dental: most pet insurers will cover dental accidents, and sometimes even dental illness.
●     Overseas Pet Insurance: most, but not all providers, will cover the cost if your pet falls ill abroad.
Always check the small print before taking out an insurance policy, to understand what your pet will and won't be covered for.
What might not be covered:
Regular treatments are unlikely to be included – for example, neutering and vaccinations fall under this description, so you won't be able to claim for these or other routine trips to the vet.
Pet insurance policies can be multi-faceted, with additional features sometimes costing extra to provide that comprehensive cover. For example, if you face cancelling an event such as a holiday because your pet falls ill, losing out financially as a result, standard policies are very unlikely to meet this cost.
The treatments, timescales and costs covered will vary depending on your policy, so be sure to read and understand it in detail, especially if you are choosing the cheapest cover possible. Remember that some injuries will cost thousands to fix, so if your insurance only covers claims up to £500 you will have to cover the remainder of the cost.
A more expensive deluxe policy, however, may well cover this eventuality. Some also provide protection against losses you incur if it's you who falls ill, and your pet has to go into boarding or lodge with a friend while you recuperate.
Rather than simply opting for the cheapest cover, you need to make sure you find the right policy for your particular pet.
Getting the best pet insurance for you
Rather than simply opting for the cheapest cover, you need to make sure you find the right policy for your particular pet. You don't want to find out you're not covered when you need it most.
The cost of pet insurance varies according to the type of policy, the average vet fees in your area, the breed and age of your pet. Dog owners generally pay more than cat owners.
Average Premium

Cats

Annual

Monthly

Moggie

£265.82

£26.24

Pedigree

£307.96

£28.95
Average Premium

Dogs

Annual

Monthly

Pedigree

£467.51

£41.38

Crossbreed

£331.54

£29.50

Mongrel

£384.79

£33.95
Stickee data, using average premium prices from 2019
There are different types of cover, and the one that you choose will likely depend on your budget and your pet. These are:
●     Accident only
●     Time limited
●     Per condition
●     Lifetime
Accident only is seen as the lower-budget option and covers vet fees for minor health issues or accidents within a 12-month period. Financial and time limits may apply with these agreements depending on the policy's terms and conditions.
A time limited policy covers accidents, conditions and illnesses for 12-months, after which it will expire. However each policy will have limits on how much you can claim, and once the policy has ended your pet won't be insured. Consequently, when you take out a new policy any pre-existing condition will not be covered.
Per condition cover is for accidents, illnesses and conditions up to a certain vet fee amount, as long as the policy remains active. Once this limit has been reached for a specific illness you can no longer claim on this type of insurance and the condition will be excluded.
Lifetime cover is the most comprehensive policy type, and it offers continuous cover for accidents and illnesses as long as the policy is active. Each condition has an annual limit which is refreshed when you renew the policy with the same provider. This insurance is great if your pet has a long-term illness. Most new policies often have a maximum age limit of nine, 10 or 11 years depending on the breed and whether it's a dog or cat. With a lifetime policy, you are covered even as your pet ages. However, you'll need to stick with the same insurer and make sure that the policy is always in place by paying your premium every year. Also, when you switch providers pre-existing conditions may no longer be covered.
Compare pet insurance with MoneySuperMarket
To get to grips with what's on offer from pet insurance providers, it's useful to use a comparison site like MoneySuperMarket. This way, you can compare pet insurance policies to see what typical prices are, which is the cheapest, and what different levels of cover are on offer.
However, remember that there are some general exclusions from many providers, such as cats or dogs not being insured under an annual policy when they are older than 10 years (this age might differ according to the breed).
Also, some pets are more expensive to insure than others, this depends on pre-existing conditions, the size of your pet, age and breed. So if you have a British Bulldog, for example, you'll find they'll be expensive to insure as they tend to suffer from more health complaints.
Ready to save on your pet insurance? Or need to know more before you get a quote? We're here to help.