Where owners have the best access to affordable dog walkers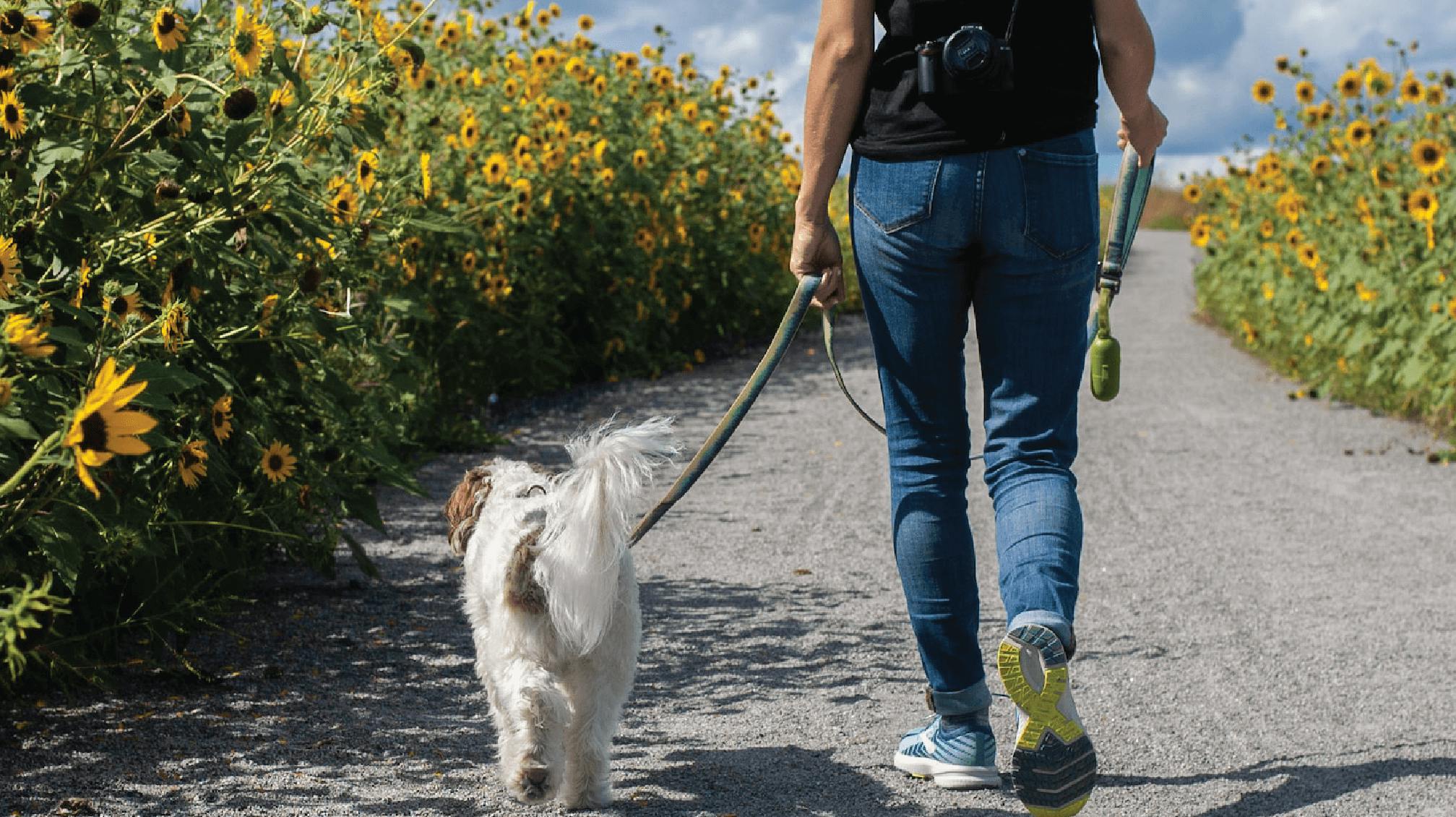 The shift to remote working has meant that many of our furry friends have got used to having company and the occasional lunchtime walk.
However, balancing remote working and a social life can lead to changes in routine that leave our pets feeling confused and distressed, which can sometimes result in destructive behaviour.
Sending your pooch to doggy daycare, hiring a dog walker or just having someone pop in during the day are all great ways of helping to keep your cat or dog happy and healthy, while also reducing the likelihood of pets damaging your belongings if they're left alone.
But where do pet parents have the most choice when it comes to hiring caregivers, where do you pay the most for these services, and which towns and cities have the most demand for dog walkers?
MoneySuperMarket Pet Insurance analysed the profiles of dog walkers advertising their services on leading apps and websites such as Rover, Wag and Pawshake to find the best cities in the UK and the U.S. for hiring a dog walker.
Locations were scored on the number of dog walkers for every 10,000 residents, the average cost of a 30-minute dog walk, as well as the average cost of additional services on offer such as sitting, boarding, daycare, and drop-in visits.
Best places to hire a dog walker in the UK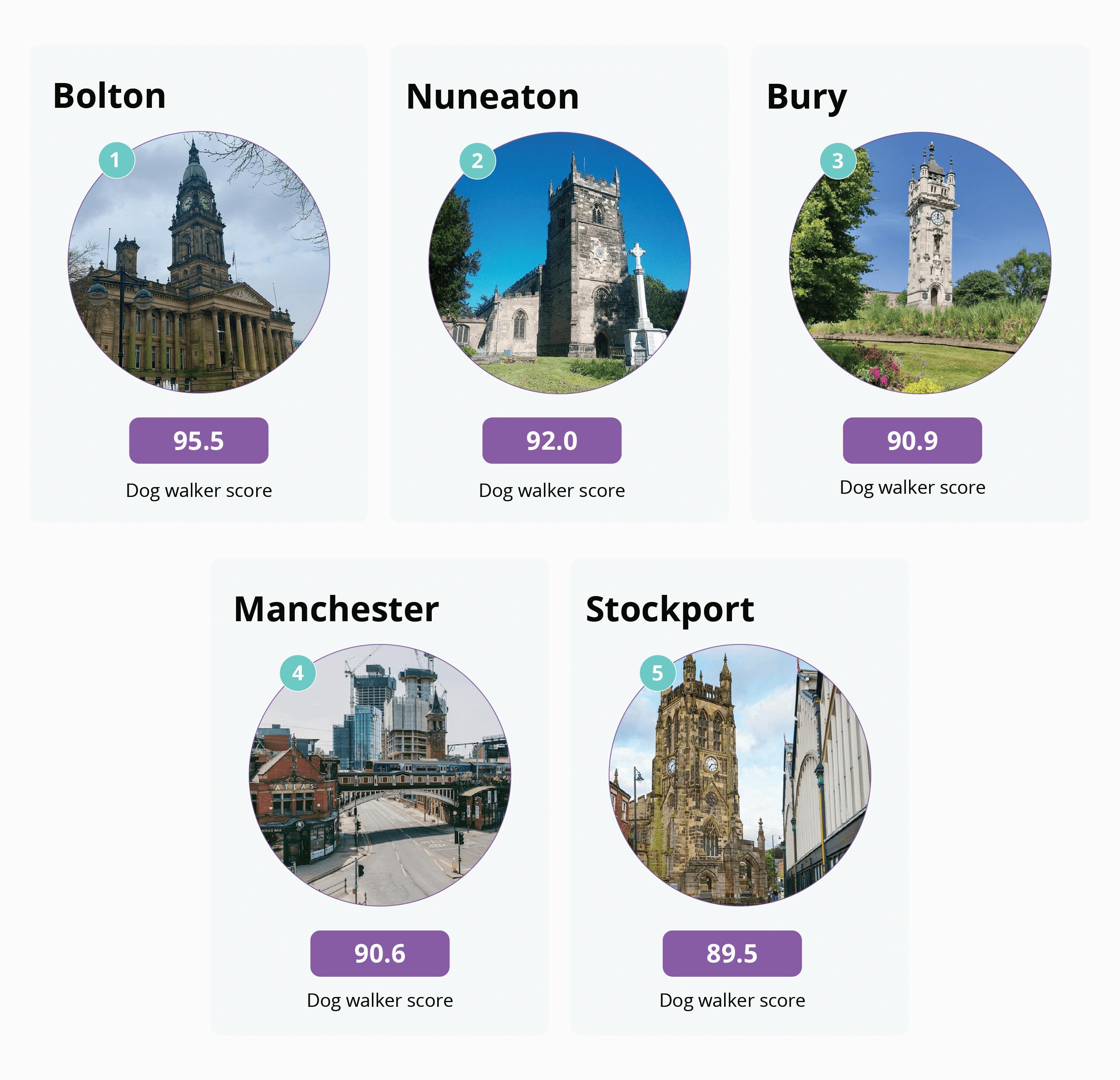 Scoring 95.5 out of a possible 100 points, pet owners living in Bolton have better access to affordable pet care than the residents of any other UK town or city included in our study.
With roughly 30 walkers per 10,000 people, only St Albans (33 per 10K people) offered more choice, while the average cost of £12.50 for a 30-minute walk was just below the national average of £13.
Despite having a much lower supply of pet walkers on hand (16.89 per 10K people), the cost of other services such as pet sitters, boarding and drop-ins were all cheaper in Nuneaton than in Bolton, helping the West Midlands town secure second place.
Back in the North West, Greater Manchester narrowly missed out on a clean sweep with Bury taking third place with a score of 90.9 while Manchester and Stockport came in fourth and fifth with scores of 90.6 and 89.5 respectively.
Top 25 places in the UK to hire a dog walker
Places in the UK with the most expensive dog walkers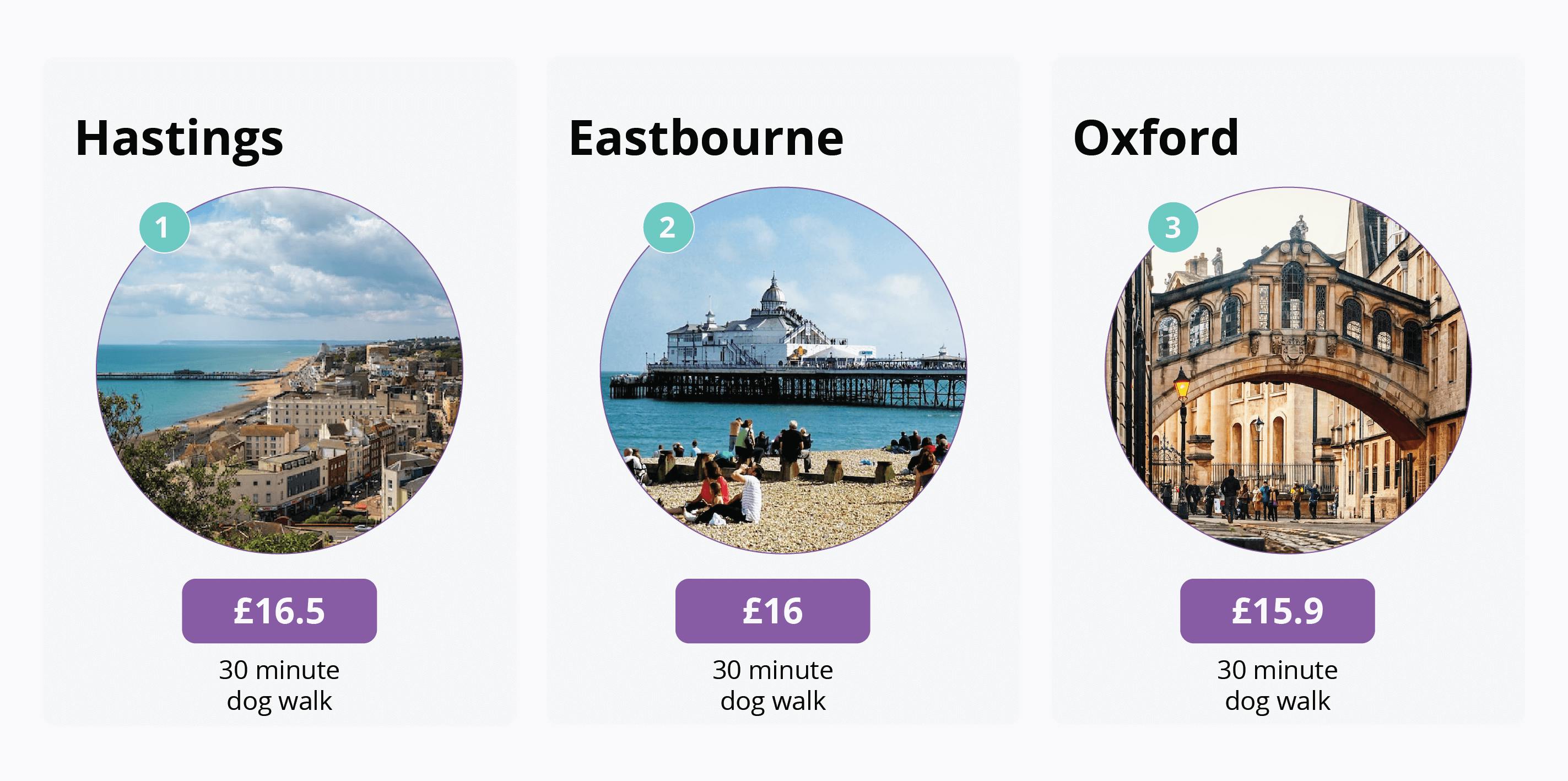 At an average cost of £16.50 for a 30-minute walk, Hastings is the most expensive place in the UK to hire a dog walker.
Looking at the other pet services on offer such as sitting, boarding and daycare, Hastings, Eastbourne and Oxford consistently ranked among the top three most expensive locations in almost every category.
However, even in these areas, we saw prices vary from £7 to £35 so it really does pay to shop around and find a dog walker that you can trust at a competitive price.
Places in the UK with the least dog walkers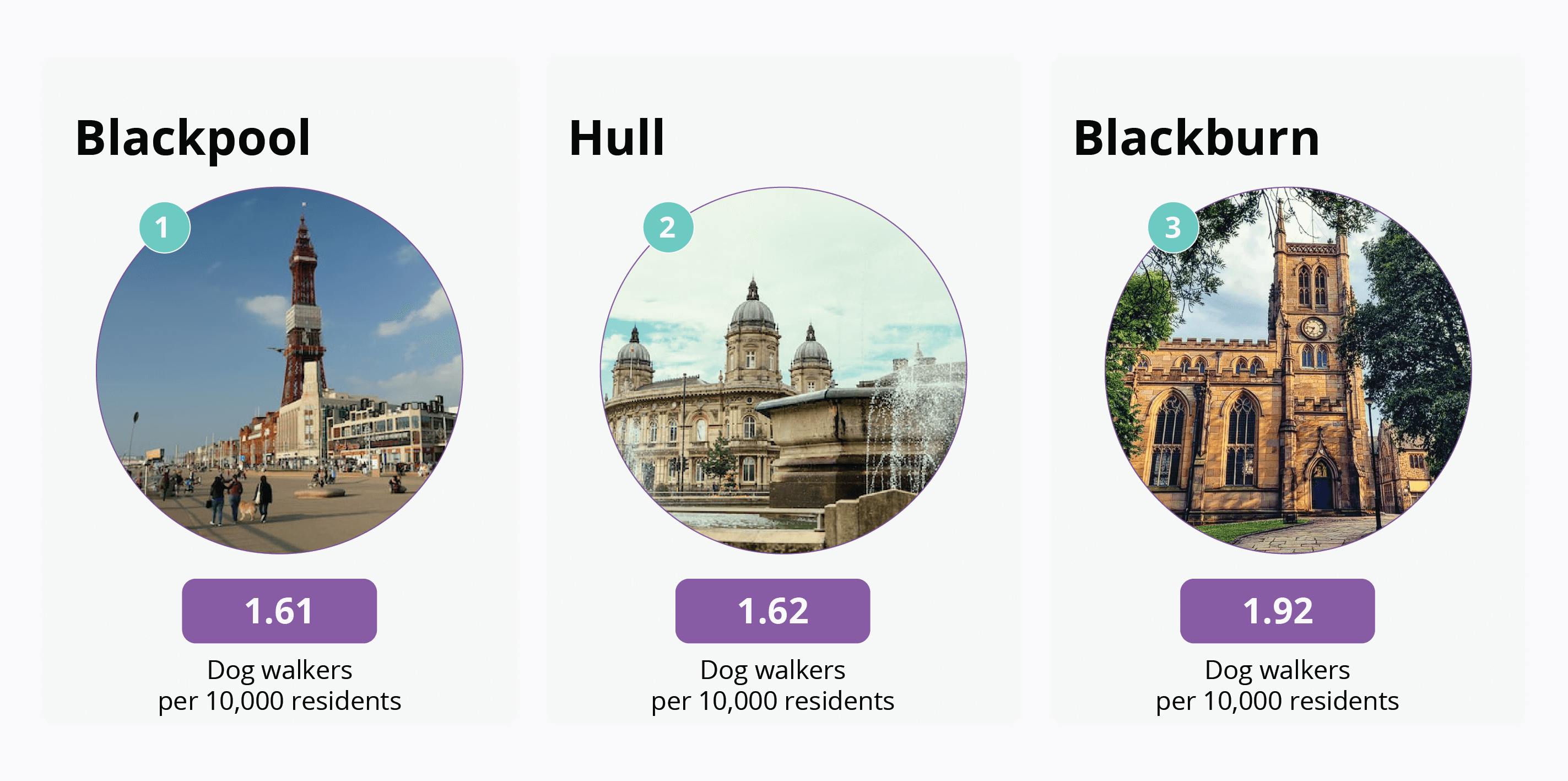 Looking at availability, Blackpool has the lowest supply of dog walkers with just 1.61 per 10,000 residents. Budding dog walkers in the area could look to take advantage of a gap in the market and make an average of £13.30 for a 30-minute walk.
With just 1.62 walkers per 10,000 people, Hull is also likely to have a high demand for dog walkers while Blackburn had the third-lowest ratio at 1.92.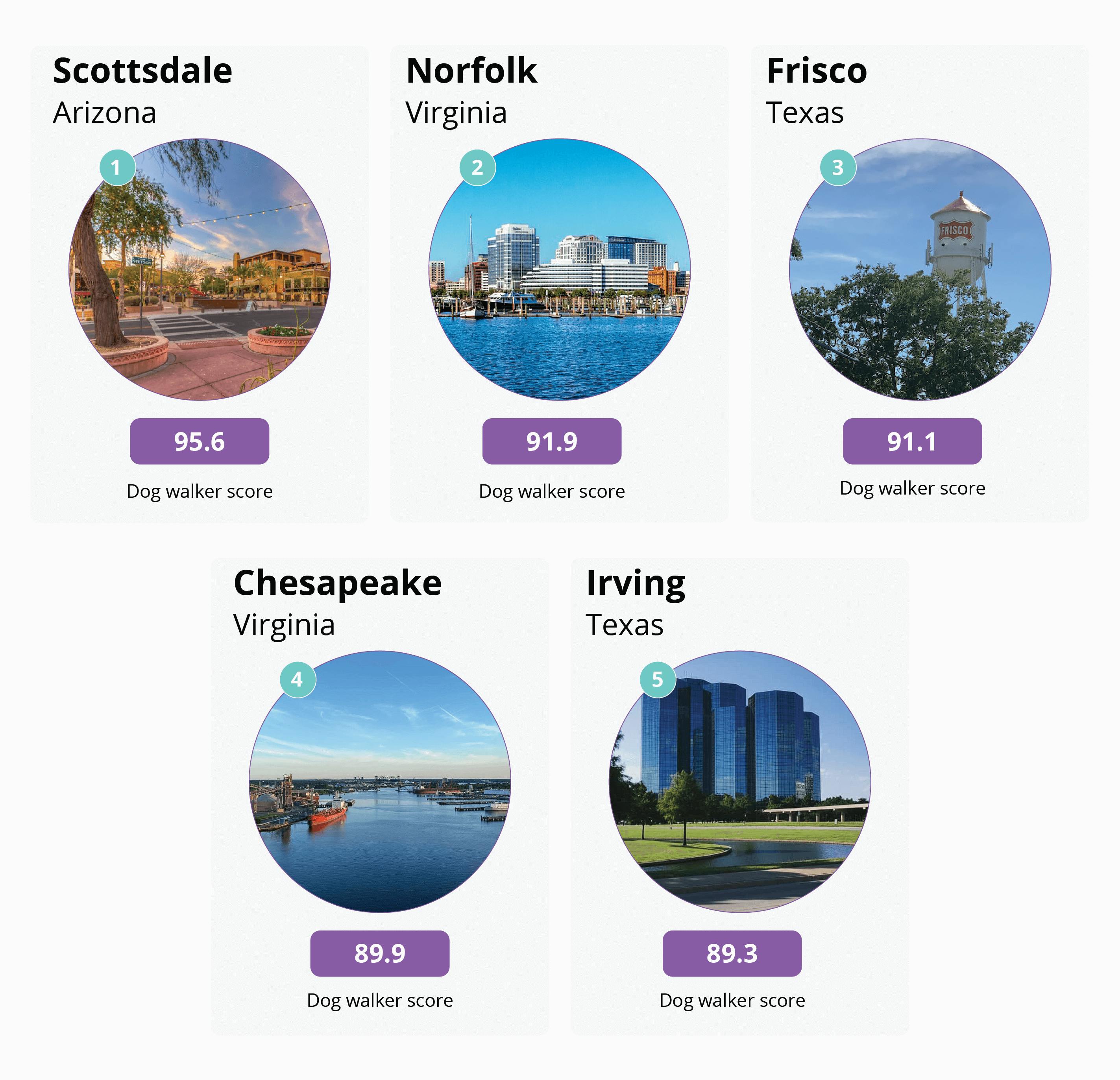 With 61.7 walkers per 10,000 residents and service costs that are either in line with or just below national averages, Scottsdale is the best city in the U.S. for hiring someone to help care for your pets.
While the availability of walkers may only be half that of Scottsdale (30.1), Norfolk boasts some of the most affordable dog walkers and sitters in the country ranking in, or just outside of, the top 10 cheapest in each category.
In third place was Frisco with an overall score of 91.1 out of 100, while Chesapeake and Irving secured a second top-5 finish for both Virginia and Texas with scores of 89.9 and 89.3 respectively.
Top 25 places in the U.S. to hire a dog walker
Places in the U.S. with the most expensive dog walkers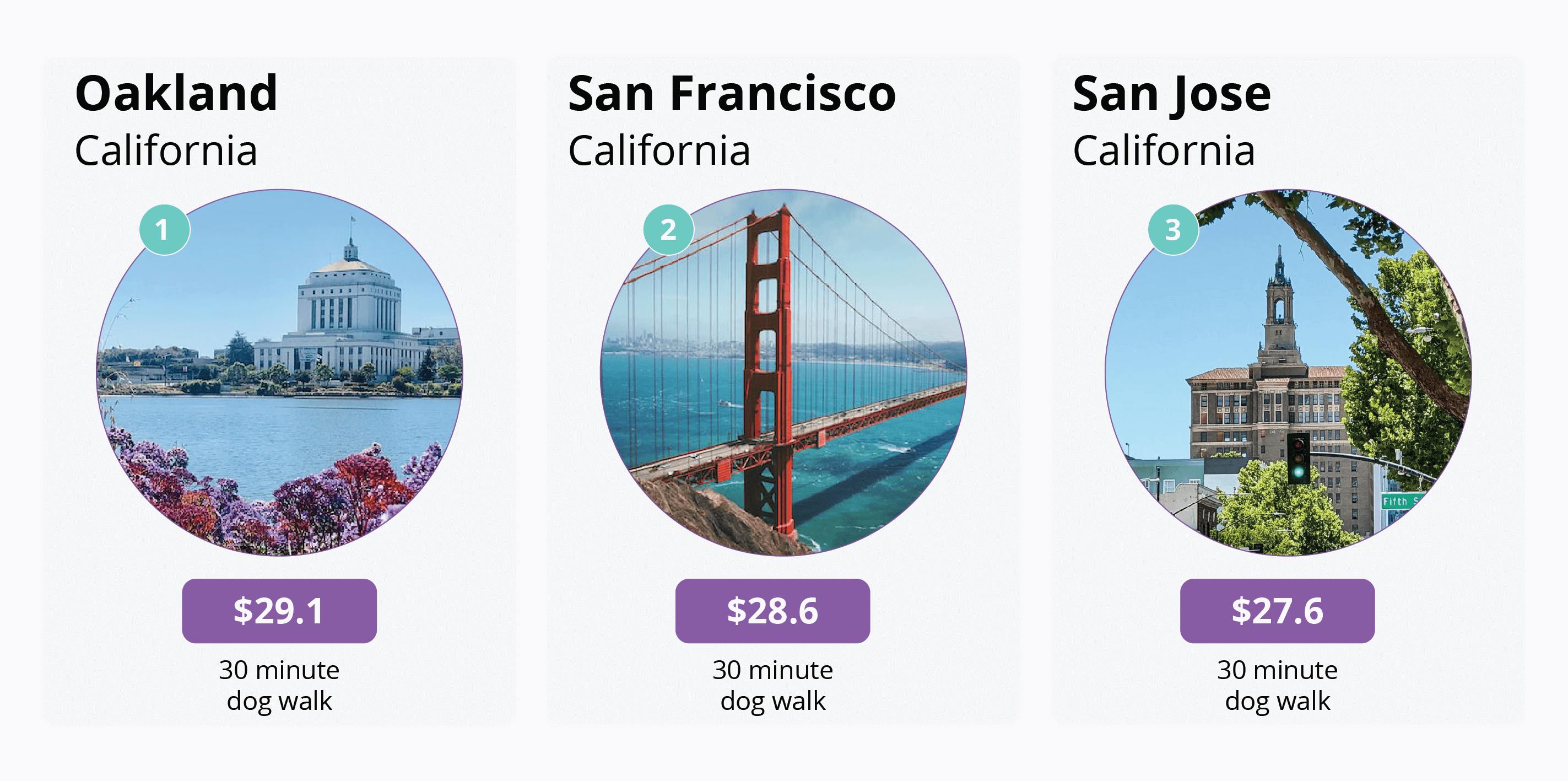 The San Francisco Bay area is officially the most expensive place in the U.S. to hire a dog walker with Oakland, San Francisco and San Jose all appearing in the top 3 and ranging from $29.1 to $27.6 for a 30-minute walk.
In fact, 9 of the 10 most expensive cities in the U.S. were in California. Seattle was the only out-of-state entry at $24.5 a walk while Lubbock, Texas had the cheapest average cost at $16.9.
Places in the U.S. with the least dog walkers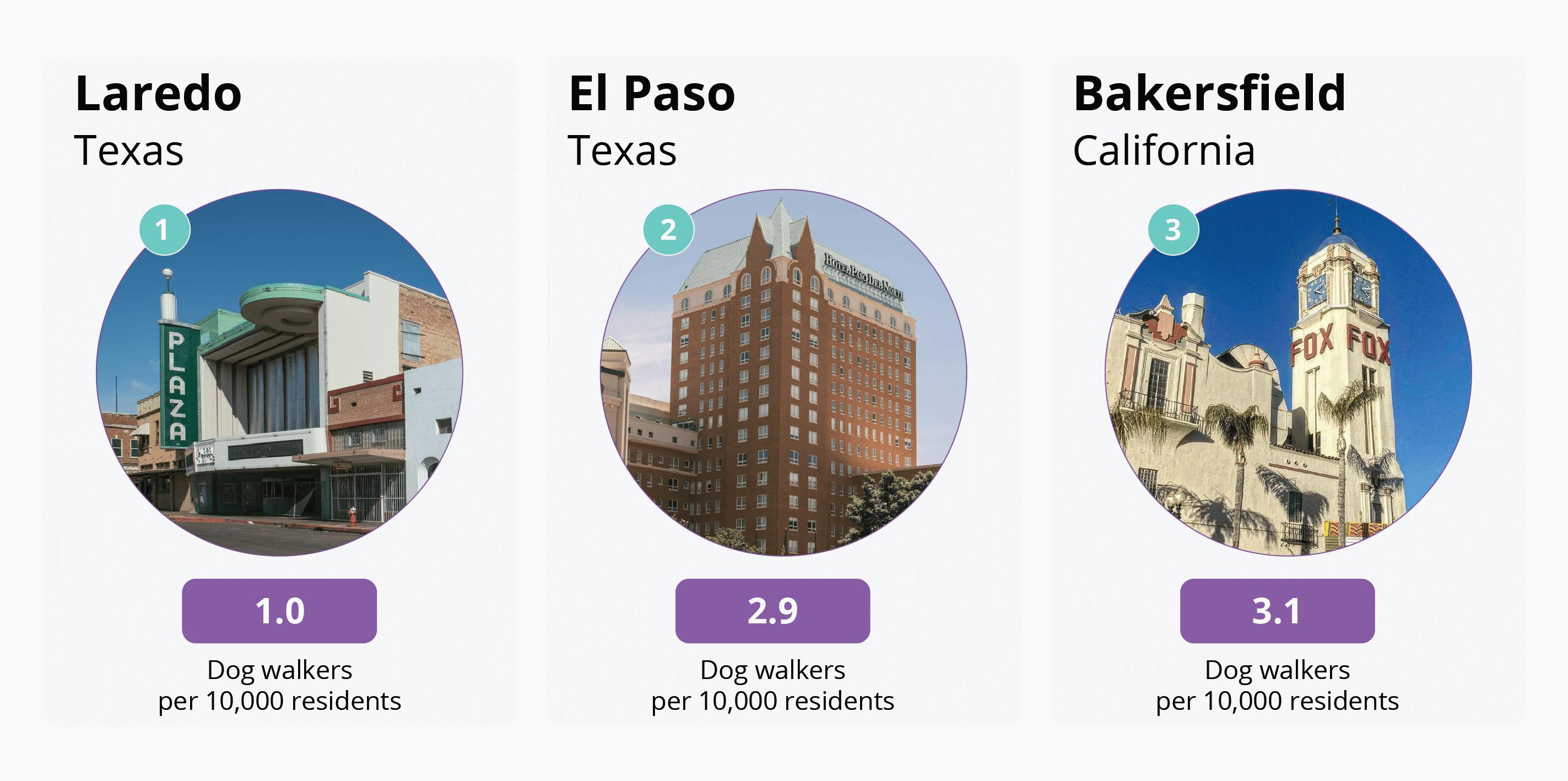 With just 1 walker for every 10,000 people Laredo, Texas is the city most in need of dog walkers. However, pet owners in Laredo who manage to find a walker will benefit from some of the cheapest rates in the country with an average cost of $17.90 for a 30-minute walk.

In second place was El Paso, Texas with a ratio of 2.9 walkers per 10K people, while Bakersfield, California finished third with 3.1.
MoneySuperMarket pet insurance expert, Saarrah Mussa, has the following tips for hiring a dog walker or sitter:
Confirm their identity
Whether you're hiring a local business or using an app-based service, you'll naturally want to know who you're leaving your pets with.
Reading reviews and asking for recommendations can help establish whether someone is legitimate or not, while people who advertise on apps may be awarded a badge in their profile for completing an identification confirmation process.
Check they're insured
When leaving your pet in someone else's care, it's important to know where you stand should your pet or property come to any harm.
If you're using a local business, confirm that they have the right type of business insurance, such as public liability cover. Dog walker apps and websites will likely have insurance or a customer guarantee so take the time to familiarise yourself with the terms and cover levels.
Start with a meet and greet
After confirming who they are and that they're insured to do the job, meeting in a public place can help with deciding whether or not they're the right fit.
Pay close attention to how your pet interacts with them and if the meeting progresses well, you could also consider a trial walk. Seeing how your dog behaves when someone else is in charge of their lead, as well as how comfortable they look when in control of your dog can be an indicator of whether you've found a good match.
A meet and greet may also be mandatory in order to be covered by a customer guarantee. Always meet in a public place during daylight hours and take a friend or family member with you if possible.
Behaviour, quirks and habits
It's just as important that a walker or sitter be comfortable taking care of your pet as you are leaving pets with them.
Sharing key information such as whether or not your dog gets on well with other animals and children, if they're house trained, or if they can get protective of their toys or food will all help with identifying whether your dog and carer are the right fit for each other.
Go over rules and practicalities
Going over care instructions and household rules can help with providing a level of familiarity for your pets while they're getting used to a new caregiver.
Consider sharing key information such as mealtimes, their walk schedule, when they may expect a treat, any medication they may take or any health issues to keep in mind.
Other general housekeeping information such as where they can find a towel in case your dog gets muddy might also be handy to share.
Check the boarding or daycare facilities
If you plan on leaving your pet at someone else's home, you may want to have a look around first to see how your pet behaves in a different environment. You might also want to check that they have adequate outside space and pet-proofing measures in place.
Ensure you've met them in a public place at least once before agreeing to visit them in their home and take someone with you if possible.
Read your pet insurance policy
Before leaving your pet in someone's home, take the time to familiarise yourself with terms and cover levels of your insurance policy.
`Knowing whether or not your pet insurance offers third party liability cover could save you from paying out of your own pocket should your dog cause any damage to their property.
Hiring a walker or sitter is a great way of keeping your four-legged friend happy and healthy, but in the unlikely event that your pet does develop a health issue, the cost of vet bills can quickly add up. See if you could save money while ensuring your pet's well-being by comparing pet insurance quotes with MoneySuperMarket.